Osher May Have Just Let Slip Who The Final Two On 'The Bachelorette' Will Be
We've finally entered Bachelorette finale week and tonight Angie will make the choice as to who she's taking through to the finale.
Whether that's picture-perfect Carlin, dog lover Ryan, or chaotic Timm is yet to be decided, but host Osher Gunsberg appeared on The Kyle & Jackie O show this morning to discuss the finale, and accidentally let slip a big old spoiler about who may actually make it into the top two.
Drumroll please.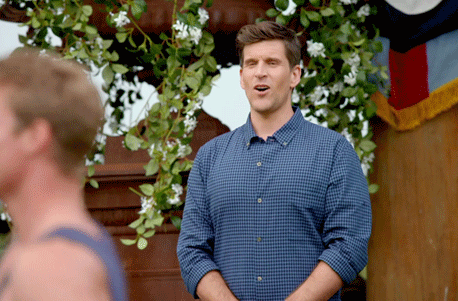 All hints dropped by Osher are leading to eccentric "party boy" Timm nabbing a spot in the final two.
"The emotions you see her feeling on screen are 100% real. She had quite a tumultuous time towards the end of it actually. She's torn," Osher told Kyle and Jackie O.
"It's not like in some years where we have the two similar people right at the very end. These are two very different–" he continued, before getting cut off and his line going dead.
"It's not the final tonight is it?" Jackie O asked, with Kyle confirming the finale is indeed, tomorrow night. "He thinks it's the final tonight," Jackie said. "We can trick him when he comes back!"
Jackie noted that Osher mentioned two "very different" people which implies Timm has made it through to the final two.
When Osher got back on the line, Kyle tried to carry on like they were talking about the final two but Osher didn't fall for it. "So the guy who got the flick yesterday, what's his name again?" Kyle asked Osher, who laughed in response. "I did get confused, I thought it was the wrong day," the new dad said.
"But it's the classic, classic Bachelorette ending," he said as a way of digging himself out of his shallow grave. Which we take to mean that Angie is happily coupled up with whoever the winner may be.
So we think it's PRETTY safe to say that Timm, being the most "different" one will be making his way to the big ol' finale tomorrow night. Who will join him though? Stay tuned to Channel 10 at 7:30 pm tonight to find out.