Every Time The Real Housewives Of Melbourne's Gina Liano Was Your Life Coach
As the Real Housewives of Melbourne rolls around for its fourth season, with new additions Venus Behbahani-Clark and Sally Bloomfield, there is still no denying that one kween, one housewife, still reigns supreme: Gina Liano.
From the second Gina sauntered on to our screens in sky-high stilettos, her trademark glitzy body-con dress and huge AF hair, she not only inspired drag queen envy the world over, her bold and no-fucks-given personality made TV magic.
While she regularly clashes with her fellow cast mates (this season she has Gamble Breaux in her sights), she never fails to deliver hilarious take-downs that keep everyone honest or at least entertained.
Amid her iconic one-liners is some good (and v. bad) advice for living your life to the fullest. Think of Gina as your own slightly deranged reality TV life coach.
Here's every time Gina taught us all a necessary life lesson:
Ignore the white noise. Warn your friends when they need to get their shit together.
If that doesn't work, you know what to do.
Resist getting physical… unless you really wanna slap someone. Then go for it.
Know your brand and werk, werk, werk it. When put on the spot, lie at all costs.
Always remain tough like the cold hard bitch you are inside.
Remember: feelings are bad. Stay cool and suppress all emotion.
Never mince your words.
Take charge and live your life with courage, conviction…and balls.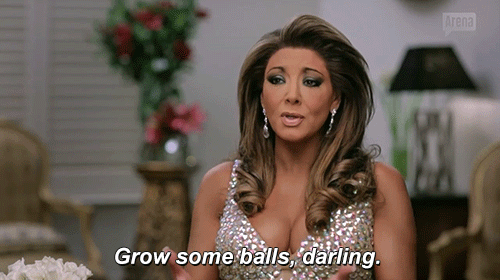 Encourage all forms of flattery. It gives you oxygen.
In times of conflict, it's important to first identify your target.
Confidence is key. Never be afraid to try unusual tactics in your defense.
Again, don't sugar coat anything… like ever. Thank you Gina.
Forever iconic…