The 10 Greatest Taglines In 'Real Housewives' History, Ranked
A tagline on Real Housewives can make or break one of the show's stars.
And there have been some truly godawful taglines put out there in more than 20 spin-off variations of the TV franchise. From the super basic "If I want your opinion, I'll give it to you" by Orange County's Kelly Dodd to taglines that simply make no sense, like Melbourne's Janet Roach's "When life throws rocks, I melt them down into diamonds!" Ugh, what??
Taglines should skirt a fine line between dropping something iconic about the housewife and being witty or funny — but they also need to make sense. Writing a tagline is a fine art, and one that some constantly excel at — like Lisa Vanderpump (BH) and Ramona Singer (NYC) — while others never manage to get right.
But we're here today to celebrate the taglines that truly understood the assignment. The taglines so perfect that just relaying them here has made me want to shed a tear.
The 10 greatest taglines in Real Housewives history, ranked:
---
10. "I'm not a housewife, but I am real."
Bethenny Frankel, Real Housewives of New York City
Very simple, but very effective!
9. "I deal in fact, not friction."
Gina Liano, Real Housewives of Melbourne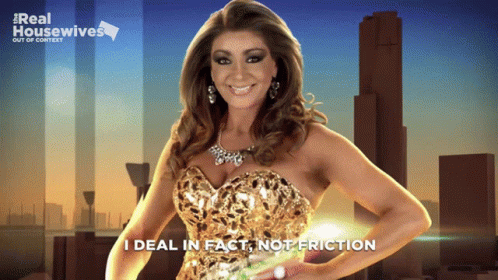 The only Melbourne housewife to make this list, Gina gives good tagline, and this one is a clever nod at her job as barrister.
8. "If you can't be cool, you can't be with the countess."
Luann De Lesseps, Real Housewives of New York City
One of the greatest scenes on the NYC season was Luanne telling the group of ladies to not be "all uncool" about her one-night stand. This hilarious line now lives on in Housewives history, and Luanne simply had to work it into her tagline on the following season.
7. "Why be so nasty and so rude when I can be so fierce and so successful."
Nene Leakes, Real Housewives of Atlanta
After uttering the words "so nasty, so rude", this became Nene's catchphrase — making it ideal tagline material.
6. "I believe in an excess of everything… except moderation."
Dorit Kemsley, Real Housewives of Beverly Hills
This is just so true to Dorit's character — the queen of being extra.
5. "I used to flip tables, now I'm turning them."
Teresa Giudice, Real Housewives of New Jersey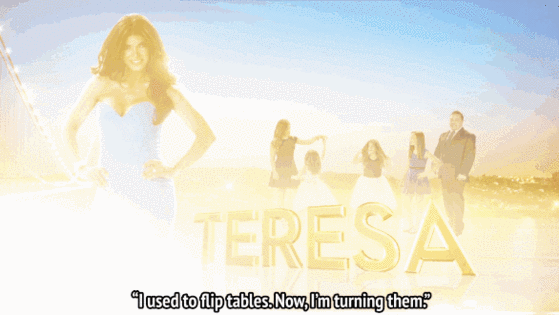 We stan a housewife poking fun at their messy history.
4. "I'm an acquired taste. If you don't like me, acquire some taste!"
Ramona Singer, Real Housewives of New York City
Ramona has had quite a few good taglines, but this is just on another level.
3. "I don't have to buy it, 'cause I already own it."
Lisa Rinna, Real Housewives of Beverly Hills

This is classic Rinna. She's known for shouting "Own it!" at anyone who will listen, and she makes it work.
2. "If you're going to talk about me behind my back, at least check out my great ass."
Carole Radziwill, Real Housewives of New York City
Carole is my favourite housewife of all time, and this tagline is high art. We bow down.
1. "I'm passionate about dogs, just not crazy about bitches."
Lisa Vanderpump, Real Housewives of Beverly Hills
Lisa Vanderpump has never done a bad tagline, she just gets it. But nothing has ever, or will ever, compare to this true takedown of her Beverley Hills costars.
Icons only!