These Hilarious Tweets About Working In Hospo Over Christmas Are Way Too Real
Ever wonder why retail workers complain so effing much?
They have set hours, set policies, and don't have to deal with a dude throwing a fit about his coffee temp.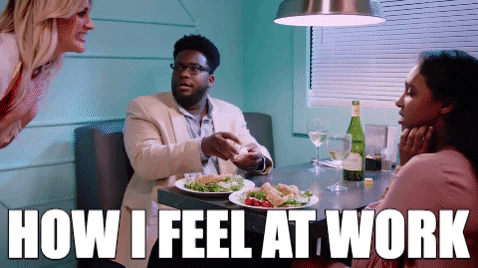 I'm sorry, but if you're b*tching about retail then you probably wouldn't last one day in hospo. The customers are crazier, they complain about sh*t you never even knew existed, you never finish on time, and all those days that the public get off? Yep, you gotta work them.
Christmas is everything you hate about hospitality but on drugs. It's the time of year when groups come together to try and ruin your life. They've suddenly got more balls, like things done ten different ways, and don't even get me STARTED on split bills.
So whether you have to work Christmas Day, Boxing Day, New Year's Eve or New Year's Day, just know that you're not alone – I too will be right there with you.
Here are the most relatable tweets about working in hospitality this Christmas:
1. On working fk'd up hours
7am- gone midnight days at work just ain't it. Thinking of those who are working in retail/hospitality this Christmas and giving you all a big ass hug

— Megs Smith (@megs_smithy) December 8, 2019
Can't beat working Christmas in hospitality. Bed at 4:30am and back in at lunchtime 😴😴

— Vicki Watt (@vicki_watt14) December 7, 2019
2. On never having a single weekend off
Everyone is all excited because tomorrow is Friday. I'm just over here like.. I'm a server. What's a weekend? #serverlife

— Heather 🥀 (@breakingheather) July 28, 2016
Ah yes, another weekend working in Hospitality

*Looks at all my M-F 9-5 working friends* pic.twitter.com/027CEUorDW

— Andrew Martin (@AMartin0994) August 24, 2019
3. On dealing with customers who get pissed at the dumbest sh*t
Working in the hospitality / bar industry is fuckin wild man 😂😂 cunts full scale SCREAMING at young girls workin 15 hour shifts cos there's no salt on the table hahahahah

— Jen McNulty (@jenn1fermcnulty) December 7, 2019
a customer choose to come into the cafe for the sole purpose of making fun of the coffee we're serving and asking if we "ever have normal coffee" & I'm just left wondering where ppl find the energy for such dumb behavior

— Dial 9 to Get Out (@24hr_diner_menu) April 12, 2018
4. On wasting precious seconds of your life on slow customers
When people take a million hours to decide what they want to order #serverproblems pic.twitter.com/j6cjSKxW2n

— Aubrey Sargent (@aubrey_sargent) December 14, 2014
5. On never finishing up on time because people turn up last minute
We close in a half-hour. Table 5 just got the party started and Table 14 is asleep at their table. I'm not leaving anytime soon. #serverlife

— bitch queen (@knightmarewoman) July 31, 2016
this customer walked in 10 SECONDS before we CLOSED and she had the audacity to yell "yay i made it" bitch you made what? made me mad?

— evelyn (@evelynnleee) February 19, 2019
6. On losing stationery
@DannnV And one of the worst things about working in a restaurant as a server is losing all of your pens.

— Tammy Whetham (@misstamjam) February 11, 2013
7. On hearing about people's life events, when you don't give a sh*t
When my table tells me they're celebrating their 3 month anniversary.. #serverproblems pic.twitter.com/WeDswkN5UD

— Alexa Frisch (@alexafrisch) January 13, 2015
8. On regretting taking up more shifts
When you show up for a shift that you picked up pic.twitter.com/xP43TFj1x7

— Server_Life (@TipOrGoHome) November 9, 2015
9. On customers saying stupid things
Customer: Man I am STARVING

Me, a server at a restaurant that sells food: Well sir you're never gonna fucking believe this

— Imagine Dragons Hate Account. (@_21Average_) December 8, 2019
10. On having to work Christmas Day
Working in hospitality means working Christmas Eve, Christmas Day and Boxing Day. FUNNNNN😭😭😭

— Abbie Beaumont (@Abbie_beaumont) December 15, 2016
FUCK working in hospitality on Christmas Day for a laugh today was horrendous

— CC🌼 (@cchildx) December 25, 2017
11. On crying 99% of the time
*working in hospitality in a bad mood and a customers an asshole*

person – "how was work?"
me – "i cried"

— Rhiannon peace (@rhiannonpeace) August 2, 2018
Some nights working in the hospitality industry is amazing, tonight is not one of those nights. I got home and cried. Be nice to waiting staff pls.

— Fran (@francescarrrrrx) July 12, 2018
12. And of course, when customers ask to split the bill
love working in hospitality at christmas !!!!! love the customers !!!!! love when a table of 15 wants to pay separate bills !!!! love love love it !!!!

— A 👼🏻 (@disintegrati0nn) December 4, 2019
customer: hi can we split the bill 4,328 ways

me: yeah dude super sick i'll be right back

— braden (@ABoyBraden) June 4, 2018