Ryan & Davina From 'MAFS' Are Beefing On Instagram Over Ryan's Comedy Material
ICYMI, Married at First Sight's Ryan is now a stand-up comedian and his controversial material has sparked a new Instagram beef with his ex Davina.
Since his tour began, news quickly filtered down that during his stand-up gigs Ryan definitely isn't holding back. But it's his words directed at former MAFS contestants, Nasser and Ashley, that has been drawing the most controversy. News outlets have reported that during Ryan's show he has speculated about Nasser's sexuality, and bragged about sleeping with Ashley. Charming stuff, eh.
Now Davina has gone in on Ryan on Instagram. But like most reality TV stars, they speak only through Daily Mail headlines.
Here are Davina's story screenshots on Ryan:
And then this:
Davina also posted a short video addressing the controversy, where she said:
"I try to keep my Instagram like really positive and light-hearted but when it comes to people talking about sleeping with my friends, you know, and degrading women like that, it just shits me to tears.

"Especially when people think they can comment about their sexuality and things like that. It's absolutely disgusting and I feel like people need to be called out on this kind of behaviour because it's not on."
Can't disagree with her, really. She didn't stop there:
"It's no big deal about what Ryan has to say about me. I actually don't care. I live a very happy life," she continued.

"But when it comes about talking about the other cast members in such a derogatory and disgusting way, like, it's just not cool."
Ryan posted on his Instagram story in reply, with the below response to Davina:
Then he posted these messages presumedly directed at his MAFS ex:
Then this:
So there's a lot to digest here.
Yeah, Davina sharing a Daily Mail story to make a point about bullying is somewhat comical. However, Ryan's stand-up material having to rely on leaking Nasser and Ashley's private information is pretty gross and petty.
Just stick to the 'Dickhead Dean' stuff, m8.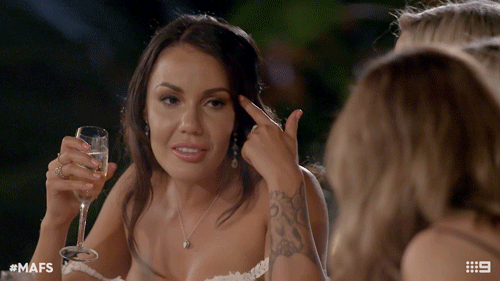 Get Punkee's Bachelorette Recap Alerts!