Ryan From MAFS Announces Nationwide Comedy Tour & We're Not Even Joking
If, like me, you're suffering some serious Married at First Sight withdrawals, then today is a miraculous day. Everyone's fave single lad and Davina survivor victim, Ryan, has announced he's doing a nationwide stand-up comedy tour.
The series fave will do shows in Melbourne, Sydney, Brisbane and Adelaide in May.
Ryan dropped the exciting news, posting to his Instagram saying:
"Very happy to say my first tour of stand up is on sale now, can't wait to see everyone at the shows."
The 75 minute set for his upcoming tour will follow Ryan doing his first slew of stand-up gigs following MAFS ending, which the naturally funny bloke absolutely slayed.
The new show promises that, "Ryan Gallagher is set to bring his extraordinary story of life before, during and after MAFS to stages across the nation. Expect big laughs, sensational secrets, and hard-fought insights on how to handle occasionally feeling alone."
If Ryan doesn't spend at least half his set talking about Dickhead Dean, then we'll want a refund tbh.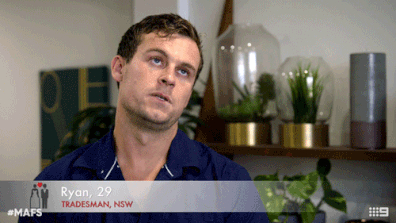 Here are all the deets:
Sydney
Manning Bar, Sydney
11 May, 2018
Brisbane
The Sit Down Comedy Club, Brisbane
12 May, 2018
Melbourne
Yarraville Live, Yarraville
18 May, 2018
Adelaide
Arkaba Hotel, Adelaide
19 May, 2018
Get your hands on tickets here.
Get Punkee's Bachelorette Recap Alerts!