It's Been Months And I Still Can't Get 'A Little Bit Alexis' Out Of My Head
Whether you've been catching up on episodes during your iso TV binge, or started watching after it swept up awards at this year's Emmy Awards, Schitt's Creek has been one of the most-loved shows of the year.
It's been months since I watched the final episode of Schitt's Creek and yet, there's one specific scene from the series that continues to live in my brain rent-free. That, of course, is Annie Murphy's performance of 'A Little Bit Alexis'.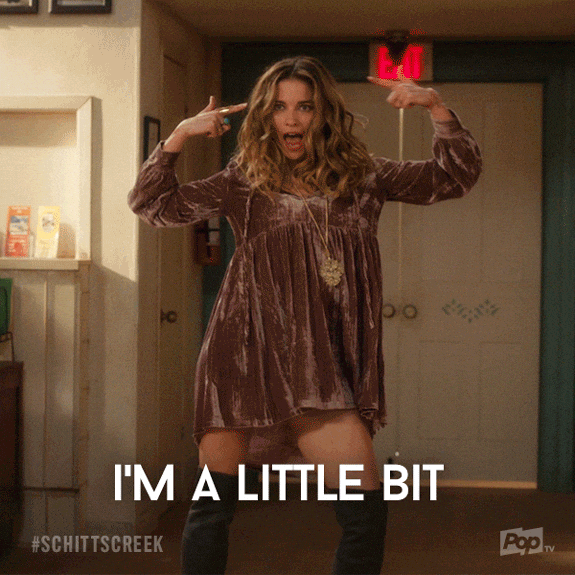 'A Little Bit Alexis' is an astonishing piece of television entertainment that deserves all the critical and commercial acclaim it gets. It honestly deserved its own Emmy, Grammy, and Tony.
For a reminder of this scene, cast your minds back to Season 5, Episode 8, AKA 'The Hospies'. Here, Alexis auditions for the Cabaret musical by performing the "title track to her short-lived reality series A Little Bit Alexis." Every single element of this scene is laugh-out-loud worthy, whether you're looking at Moira kicking Jocelyn under the table, paying close attention to Alexis' choreography, or simply listening to the lyrics of the song.
Honestly, just do yourself a favour and watch the clip again:
'A Little Bit Alexis' Was A Cultural Reset
Unsurprisingly, 'A Little Bit Alexis' has become quite a cultural phenomenon. You can find it on streaming services, where the track has racked in over 2-million streams. Not to mention, the club-ready banger hit number 21 on the Billboard US Dance/Electronic Digital Songs.
But, perhaps more notably than these streaming numbers, 'A Little Bit Alexis' has really been cemented into pop culture after it got the live-remix treatment from none other than Kelly Clarkson.
On The Kelly Clarkson Show, Annie Murphy was the musical guest who welcomed the songstress host for a guest verse. You can watch 'A Little Bit Alexis / A Little Bit Texas'', which Dan Levy loved by the way, here:
The Schitt's Creek cast has very much expressed their love for the song as well. Dustin Milligan said that he "immediately added it to (his) make-out mix", Emily Hampshire hopes the song will make it big in Japan, and Noah Reid has even gone so far as to cover the track live.
Oh, and did I mention it's become a TikTok sensation too? Legends only.
At this point, let's just hope that more musicians take note of Alexis Rose's talent, so she can finally become the pop star she deserves to be.
Stevie Nicks feat. Alexis Rose on Edge of Seventeen is better than it has any right to be #SchittsCreek pic.twitter.com/btt1AaInvb

— Jarett Wieselman (@JarettSays) November 18, 2020
While we're on the topic of Schitt's Creek, did you know that the actress who played Moira Rose also played the mother in Home Alone? Neither did I.