A Definitive Ranking Of The Most Memorable Super Bowl Performances, From Worst To Beyoncé
Performing at the Super Bowl has slowly, but surely, become the music industry's highest honour. Only the best of the best get to do it. And today, The Weeknd is rightfully going to cement his legacy into god-tier status when he performs at the 2021 Super Bowl.
But, with this performance coming up, it's reminding me of all the Super Bowls gone by. All the hits and all the misses. So, to reflect on the world's biggest stage, I thought I'd rank all the most memorable Super Bowl performances from recent history (aka Prince and Micahel Jackson will not be on this list, but if they were, they would be bloody high).
Let's Get Into The Super Bowl Ranking
#10. Maroon 5, Travis Scott, Big Boi (2019)
Oh God, what a bloody mess this was. For context, there is always a lot of anticipation for who would do the Super Bowl performance. In 2018, the names of Taylor Swift and Rihanna were being thrown around for the following year's extravaganza. So you can imagine the disappointment when Maroon 5 were announced.
Their entire performance was exactly as expected. Adam Levine took his shirt off, there was a chaotic tonal shift when the guest performer came on, and the quality of the show was only OK.
#9. Justin Timberlake (2018)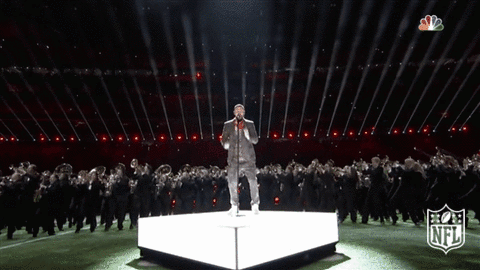 Now, I should preface that this performance is so low on this list for reasons other than the actual quality. I'll admit, the man can sing and the man can dance. This is his third Super Bowl for crying out loud. But, I will never forgive Justin Timberlake for what he did in the aftermath of the 2004 Super Bowl.
After Justin famously exposed Janet Jackson's left nipple in 2004, Janet became the target of so much media hate while he stayed silent. Her career never recovered whilst his thrived. And so, for Justin to not invite Janet Jackson back is inexcusable and rude, to say the least. Also, how dare he not reunite *NSYNC.
#8. Madonna, LMFAO, Nicki Minaj, M.I.A., Cee Lo Green (2012)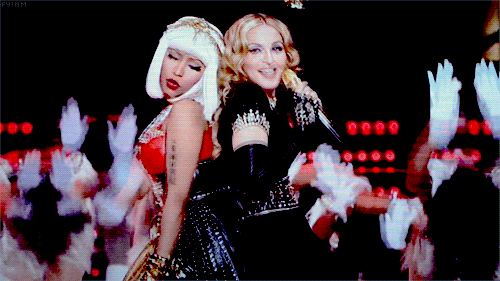 Well, ain't this just a chaotic mess. Everything about this lineup is so quintessentially 2012. If you haven't checked this performance out in a while, I highly recommend giving it a rewatch. It features some hectic Cirque du Soleil choreography, a 200-person choir, M.I.A. putting up her middle finger and, how could we forget, Madonna shuffling.
#7. Black Eyed Peas, Slash, Usher (2011)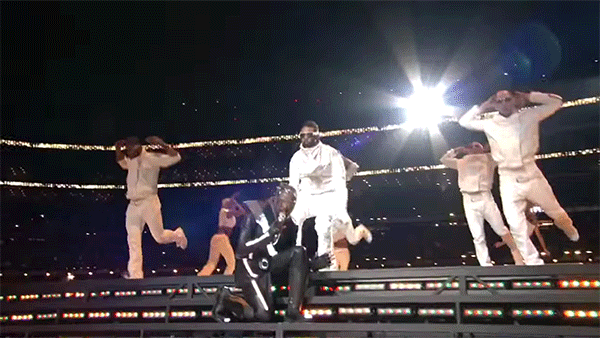 I am absolutely here for will.i.am screaming the lyrics to 'I Gotta Feeling' into an auto-tuned mic. This performance screams chaotic 2011 energy. We were obsessed with anything the Black Eyed Peas-related and, to be honest, they delivered a pretty epic performance. The guest appearances by Usher and Slash really worked well with their whole 3008 vibe. Well done.
#6. Katy Perry, Missy Elliott, Lenny Kravitz (2015)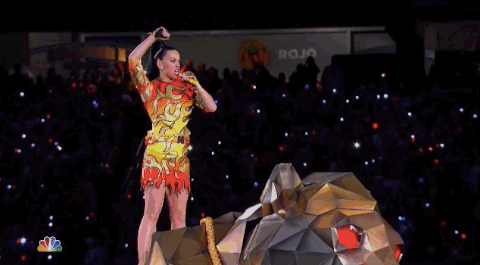 Ah, Katy Perry. Before Witness, '365' and Smile, Katy Perry was once on top of the world, and she was hitting new levels in her Super Bowl halftime show. This performance had it all: over-the-top sets, rebirthed legends and, how could we forget, left shark. Left shark alone is why this halftime show remains iconic.
#5. Coldplay, Bruno Mars, Beyoncé (2016)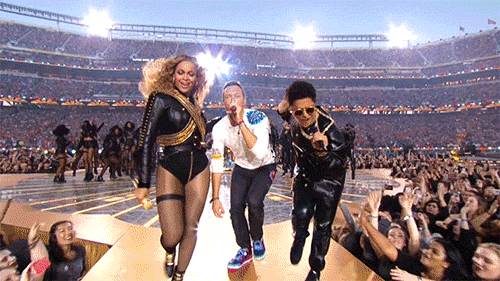 Coldplay headlining the Super Bowl was not what I expected. Don't get me wrong, I love Coldplay. 'Clocks'? 'Yellow'? 'Fix You'? All bangers. But, they don't exactly get you in the 'pump-up-fuck-yeah-sports-sports-sports' kind of mood (which I've been told is what the Super Bowl is actually about).
But, they did do the right thing by nabbing both Bruno Mars for 'Uptown Funk' (which was the biggest song in the world) and Beyoncé for 'Formation' (which was about to become the biggest song in the world). All-in-all, it was nice that Bruno Mars and Beyoncé shared the spotlight with Chris Martin, in the end.
#4. Bruno Mars, Red Hot Chilli Peppers (2014)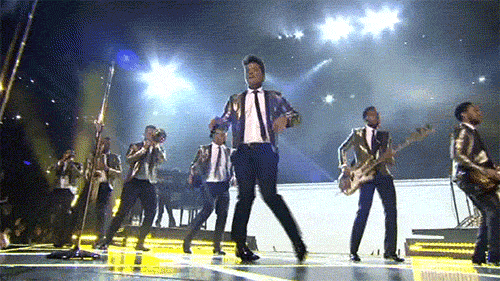 Now we're getting into the good stuff. Keep in mind, Bruno Mars only had two albums out when he was asked to perform the Super Bowl. Just two. But, he did a fantastic job with what he had.
The dramatic opening to the performance, which featured a children's' choir singing the chorus to 'Billionaire' lives in my brain rent-free. Also, the man followed that moment by playing a sick drum set. Like, how iconic?!
#3. Jennifer Lopez & Shakira, J Balvin, Bad Bunny (2020)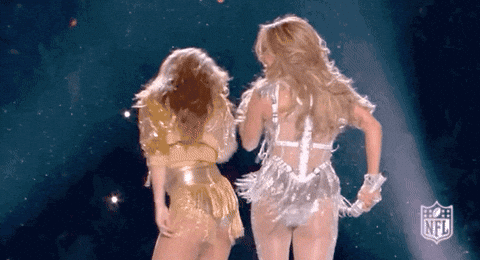 Can you believe it's been a whole year since Jennifer Lopez & Shakira's Super Bowl performance? Fucking, neither can I. Jennifer Lopez & Shakira's Super Bowl was the closing ceremony for all that is good in the world and boy was it an impactful moment. These Latina queens could have easily headlined the show on their own, but together, they broke the damn internet.
#2. Lady Gaga (2017)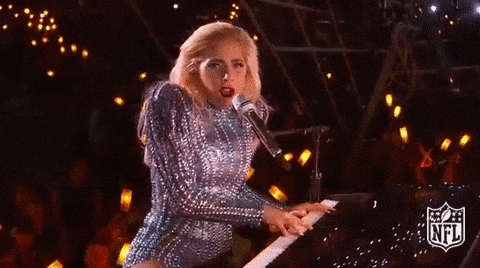 Lady Gaga didn't bring any guest stars into the main stage and let's be real, she didn't need to. With her back catalogue of hits, she easily filled this 13-minute set with bangers after bangers after bangers. The best part of the whole thing? The fact that she proved she was singing live by shouting out her parents randomly in 'Million Reasons'. Also, it marked the first time the word "transgender" was said during the Super Bowl broadcast. Icon shit.
#1. Beyoncé, Destiny's Child (2013)
I mean… y'all knew this was coming. Beyoncé's Super Bowl is just on another level. She single-handedly changed the game for what was to be expected in such a performance. The way that she just swung between all her iconic hits and didn't feel the need to do all of her chart-toppers was iconic. Oh, and let's not forget about the time she reunited the best girl band of all time.
While we're on the subject, let's talk about Super Bowl ads.