Taylor Swift Has Spoken Out About Her Feud With Kim Kardashian For The First Time
Almost three years on, Taylor Swift is still reeling from Kim Kardashian's 2016 "hate campaign", where the reality star leaked the pop singer's private conversation with Kanye West.
In a new interview in Elle, Swift spoke for the first time about how she felt about being trolled with snake emojis after Kardashian posted the conversation on Snapchat.
"A few years ago, someone started an online hate campaign by calling me a snake on the internet," she said. "The fact that so many people jumped on board with it led me to feeling lower than I've ever felt in my life."
Swift went on to label the Keeping Up with the Kardashians star a "bully".
"In my experience, I've come to see that bullies want to be feared and taken seriously," Swift wrote in Elle. "I learned that disarming someone's petty bullying can be as simple as learning to laugh."
The effects of the constant trolling led to Swift reclaiming the snake emoji as part of her brand and relaunching her career with python emblems everywhere during her latest 'Reputation' tour.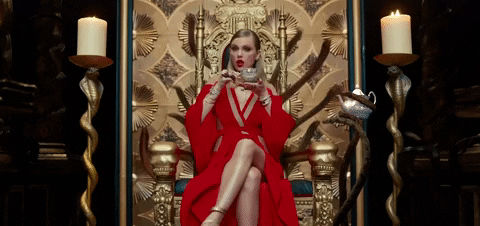 "I can't tell you how hard I had to keep from laughing every time my 63-foot inflatable cobra named Karyn appeared onstage in front of 60,000 screaming fans," Swift joked. "It's the Stadium Tour equivalent of responding to a troll's hateful Instagram comment with 'lol.'"
Over on the Kardashian camp, earlier this year fans assumed the feud was over when Kim posted on Snapchat with Swift's song 'Delicate' playing in the background.
📹 | Kim Kardashian listening to 'Delicate' via her Snapchat story pic.twitter.com/Jmb3d3oDAi

— Taylor Swift News (@TSwiftNZ) January 18, 2019
But Tay-Tay is still holding out for an apology. "It would be nice if we could get an apology from people who bully us, but maybe all I'll ever get is the satisfaction of knowing I could survive it, and thrive in spite of it."
There's nothing like revenge to inspire another album.