Bella Just Spilled Loads Of Tea On What Caused Her Feud W/ Irena & Being 'Gaslit' By Locky
The Bachelor might be over for another year, but the tea is still flowing like a damn river with runner-up Bella Varelis giving her most revealing interview yet.
On the latest episode of Life Uncut with The Bachelor's Laura Byrne and Brittany Hockley, the former finalists interviewed Bella and she spoke freely about her feud with winner Irena Srbinovska, being 'gaslit' by Locky Gilbert and put some rumours about her to rest.
Here's some of the highlights from the interview…
On what caused her friendship with Irena to end:
During lockdown, things seemed to implode between the former besties and when they reunited at the first cocktail party, there was no love lost between them. However, viewers never really knew what had prompted their feud and finally Bella has filled in the blanks from her side of the story, telling the hosts:
"I did notice Irena had been doing little things behind my back and I just turned a blind eye to it…I thought, it's fine, we're all going to say little things and little remarks.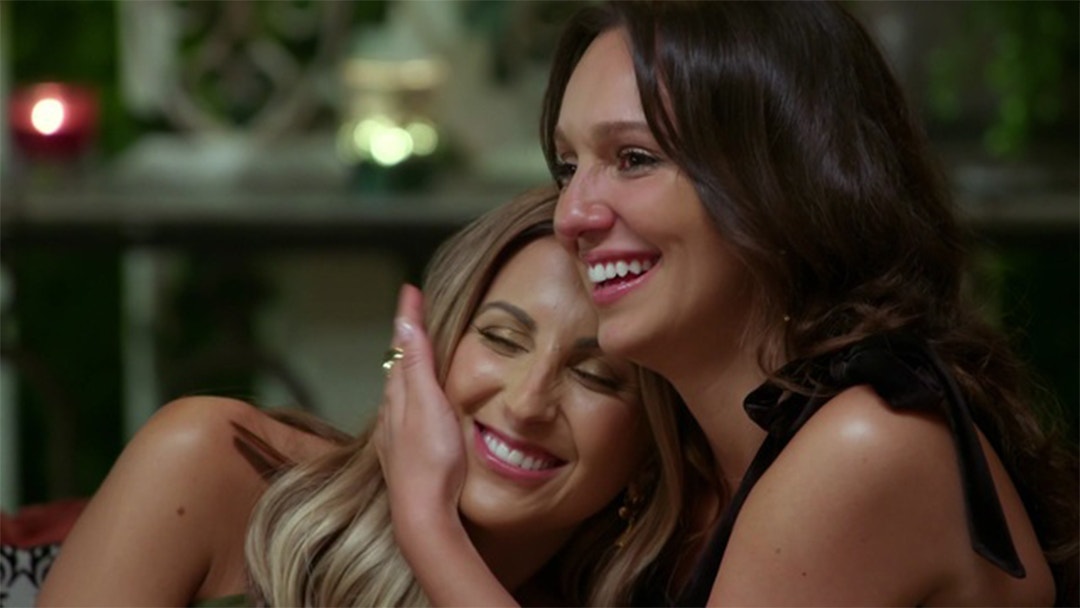 "But one night that really changed things for me was the whole 'Bella kissed Locky at the cocktail party' and when Irena had actually told Roxi that, when in actual fact Irena had kissed him that night too," Bella said. Ooft. Spicy.
She continued, "I hadn't seen any of Irena doing those things so during lockdown that's what happened, it all started coming to air, all the things she had said to Steph and Izzy," she said.
"She tried to tell a few of the girls that I had body-shamed her which literally never happened. She actually has a great body, she's a babe and I would constantly tell her that. So when Steph and Izzy told me she had been telling them I had body-shamed her and then she was saying the same to Roxi and Maddy, I obviously got really upset. Apparently I [also] said Locky would never find her attractive."
Bella went on to allege that a rumour spread by Irena about Bella eventually got to Locky, and he once said to her, "Locky admitted to me that 'I'm questioning your integrity because I know you had a fight with Areeba over who was the biggest socialite'. I'm like 'what!'"
Bella said all these things then led to their blow-up at the cocktail party — but most of the conversation wasn't shown. "These emotional reactions that I'm having are reactions, they aren't just me throwing my hands in the air, having a cry and saying 'friendship done!' That was like a half an hour to 45-minute chat," she said.
"At the end of day, I turned around and said to her, 'Irena, if I've been body-shaming you and I'm this horrid person that you're making me out to be, then why do you want to sit here and be friends with me?'"
Bella said that she didn't harbour hard feelings towards Irena, as their fight was likely a product of the tense environment they found themselves in. "Ultimately, we were two women that were in love with a man and didn't want that [their friendship] to get in the way of us having our happily ever after."
On what we didn't see between Bella and Locky:
Speaking of Locky, Bella shared with the hosts some of the ways she felt manipulated by the Bachelor leading up to the finale. "During lockdown, we were talking about engagement rings, he was like 'What would you do if I proposed to you at the end?'. The one thing that really got me was he said 'I can't wait to make you happy for the rest of your life.' That for me, you don't say that unless you want that to happen….it's literally gaslighting," she said.
"[During lockdown] he told me I was the only one he was talking to every day. It was actually funny because Bec ended up saying to me (once we moved in together) that Locky told me I [Bec] was the only one he was talking to everyday."
Ugh. Men.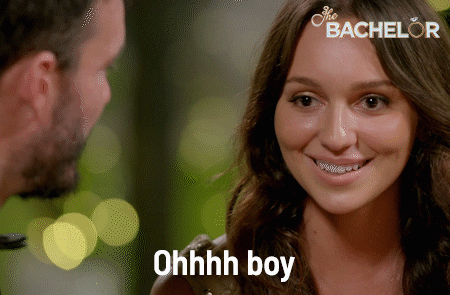 Bella went on to say that she caught Locky in a lie earlier in the season, saying "he added like a few of the girls on Snapchat…so then I go [to ask Locky], 'Oh, do you have Snapchat?' and he's like 'No, no, I don't have it.'" Lol.
She also revealed there was something she said to Locky after being dumped that was edited out of the finale and holy shit…it is iconic.
"I looked at him and he was saying 'I love you, no like I do and I meant everything I said' and I said: "You've got 'Honour' tattooed on your chest, mate,'" Bella revealed, in one hell of a mic drop moment.
"That's when I looked to the cameras and I was like 'Can I leave?'"
WE BOW DOWN.
–
Listen to the full interview with Bella on Life Uncut here.