7 Things That Went Down On The Bachelor: "Dog C**T, Part Two"
Fresh from last night's drama, The Bachelor came back to grace our screens and answer the biggest mystery of 2019: Did Monique call Matt Agnew a "dog c**t" and if so, did Abbie take it out of context?
Yep, Law & Order: Special Bachy Unit is back to investigate this heinous crime. These are their stories.
Let's unpack tonight's ongoing drama on The Bachelor so we can all go take a long nap afterwards.
---
#1. Matt contemplated being called a mean name while out on a run.
Matt, if I have any advice for you sweetie, it's to never enter online media, you get called a mean name every second day if you read the comments enough.
#2. On the group date, Matt helpfully explained the concept of what a wedding is, all in the lead up to the classic "compatibility" test date.
The first challenge was Matt slinging bouquets to the women who desperately tackled and scrambled over each other in order to grab the most bouquets to get into the next round.
"Mother," my two-year-old son called from the kitchen where he was making my birthday cake. "I know this show is light entertainment but it seems like making the women fight each other for bouquets truly doesn't fit into the woke, feminist society we're striving for."
With five women progressing onto the next round, Matt dressed up in a suit in order to meet his five wives.
Sidenote: Brianna's face when Matt says he's ready to be a groom is iconic and I am starting a petition to get this queen more screentime.
Now we all know by now in the compatibility challenge someone stretches the truth a little in order to try and win that solo time with Matt. This time, shock horror, it seemed Abbie hadn't quite taken her truth serum and the ladies who were watching on weren't thrilled.
However the truth always comes out in the end and every time someone got an answer right, they'd go viciously chop at Abbie's bouquets to sabotage her chances of being able to grind on Matt again.
#3. Vakoo won the challenge and she and Matt went off to get married and team up with three marriage experts to discuss next steps.
IF ONLY!
Nah, what they really did was go spend some one-on-time together where Vakoo couldn't stop giggling at everything Matt said. As in, to the point she spat out wine and let me tell y'all, he wasn't even saying anything FUNNY.
Us women really set the bar low for men, huh?
2019: The year of red wine laugh-snorting accidents.
#4. Matt personally came to collect Chelsie from the Bachy mansion and gave her a masterclass in cooking banana bread.
In shocking news, the cooking masterclass was not really about cooking – it was about how much the two could flirt and fondle each other while throwing batter and flour at each other.
"Floury? Flowery?!" – Monique somewhere from a distance.
While they rubbed batter on each other's faces, I practised my Photoshop skills. I didn't get very far, as you'll see below.
They soon moved to the pool to wash all the flour and batter off which is really gross when you think about it. Then again, people piss in pools so I guess pools are just gross in general.
It didn't take long for Matt to remember he was here to pash and smash and he finally put the haunting words "dog c**t" behind him. For now anyway.
But it wasn't over yet! It still isn't over!
Matt gifted Chelsie a rose and another pash, while they saved some room for Jesus.
#5. Finally, we arrived at the cocktail party. Idk about you guys, but it's always a cocktail party in my life!
Don't even talk to me until my morning espresso martini.
Matt decided to pull Monique aside to sort things out. They had a very confusing conversation with Monique apologising but then doubling down and saying she still didn't remember what she said, all that she remembered was ~whatever~ she said was a joke. "What was the nature of the conversation?" Matt asked, sounding like a stern schoolteacher. "Hmmm! What was it?" Monique asked back.
Here's a hint guys: It started with dog and ended with c**t.
Matt eventually got fed up and asked Monique to leave the mansion. He said he's "heartbroken" because he actually really, really liked her. Remember all that fun they had on their date where they talked about working in the mines then pashed? So heartbreaking.
Monique exits fairly gracefully considering the circumstances under which she was booted and didn't even try to drop the c-bomb. "I just hope she [Abbie] gets help and grows out of it," she said in her limo exit chat.
#6. Osher gatecrashed the party to let the girls know that Monique has vacated the premises. Abbie is shocked and remorseful!
Just kidding, we're in Australia, let's move the award to something more local. Can't believe Osher missed out…again!
Look whether you love her or hate her, if you listened closely to the flow of Abbie's speech about Monique leaving, it didn't exactly make sense. I spy with my little eye a cut and paste editing job for some extra drama llama.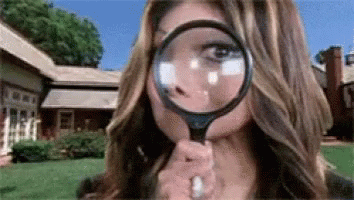 But who's complaining, we love a new villain edit!
#7. At the rose ceremony, we said goodbye to Queen Vakoo. We love you Vakoo. We didn't deserve you and your wine-spraying abilities.
Stay true Vakoo, and roll that red carpet out wherever you go.
Next week on Law & Order: Special Bachy Unit.
Sogand plots how to get rid of Abbie. For good.