Rumour Has It 'The Bachelor' Won't Be Back Next Year
After a season of lacklustre ratings, rumours are circulating that the Aussie series of The Bachelor will be rested next year.
Jimmy Nicholson's season finale may have landed the number one spot in several demos (16-39 and 18-49 demographics), but the ratings were still lower than what we've seen in previous seasons, with the episode only drawing in 578,000 viewers and 629,000 for the winner's announcement. To compare, even Locky Gilbert's season fared better last year with 694,000 viewers tuning in for the episode and 879,000 for the final decision (and FWIW, last year was also a record low).
And as reality site The Wash pointed out, this season of The Bachelor didn't end with a casting callout for next year like it has in previous years.
The Bachelor: What's Gone Wrong?
An "insider" has reportedly told the Daily Mail that the series would be "inevitably" cancelled if Brooke Blurton's upcoming season of The Bachelorette didn't draw in numbers.
"It wouldn't have mattered who they chose [as the Bachelor]; those numbers were always going to be low," the insider allegedly said after the ratings have been declining year on year, though a Network 10 representative denied the claims.
Brooke's season is being seen among fans of the show as an attempt to revitalise the formulaic and repetitive series, as Brooke takes on dating men and women in a franchise first.
Bachy Fans Are "Bored"
can we PLEASE get some dates that aren't related to water or flying? i am BORED #TheBachelorAU pic.twitter.com/CkwPTsRRl6

— alysha (@intosneedy) August 5, 2021
At the time of writing this story, a poll conducted over on Punkee's Instagram had 80% of people voting that The Bachelor needs a break, citing boredom and the seasons becoming too predictable and repetitive.
"Boring, white, and the same thing over and over again — diversify the cast!" one person commented.
Obvious attempts at creating drama led by producers of the show has also turned viewers off. "So fake and edited, very clear the producers make the storylines," one fan commented. "It's so overproduced now," another person agreed. "Dial back the injected drama and focus on the relationships."
Fans of the show also feel like they no longer get to know the Bachelor or the contestants in an authentic way, which leads to overall apathy when watching.
"They don't give us a chance anymore to get to know the contestants, so IDGAF who wins," one person said. "It's the same repeated tropes and story that seems so artificial," another fan said.
"I miss Richie," another person commented. "I'll even take watching the chocolate bath again!"
Yep, fam — things are that dire.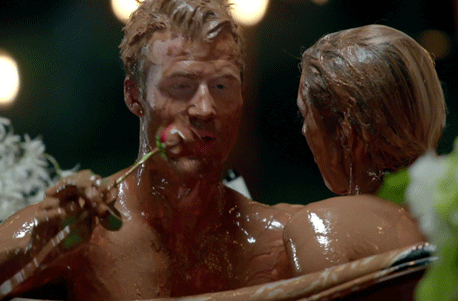 Can The Bachelorette Save The Franchise?
All eyes will turn to The Bachelorette next, where Brooke Blurton being able to date both men and women will give the series a much-needed shake-up.
Perhaps a fan favourite returning in a series-first will be enough to inject some new life into the show and we have no doubt Brooke will make a stellar Bachelorette. But after her season, it may make sense that The Bachelor franchise needs to take a break or at least shake up the formula more, because let's be real here: there's only so many times we can all watch a photo shoot date get steamy, people get upset watching the Bachy get close and personal with someone else, forced cocktail party drama, and the classic but tired dupe used in every season finale to try and trick viewers about who's going to win.
What are your thoughts on The Bachelor taking a year off? Let us know in the Facebook comments!