We Asked Bachelorettes Elly & Becky How The Hell The New Season Will Work
We are just over a week away from the first The Bachelorette season which will see two women searching for love and all I'm left wondering is: how the hell will this work?!
This is unprecedented for the series and having sisters Elly and Becky Miles both as Bachelorettes will no doubt affect the way the show is structured. Will the men be split into two groups coinciding with who they are there to date? What happens if they both like the same guy? Will the sisters be macking on with the same man? I have questions!
This season is already breaking new ground: fans will remember Elly as the loveable country gal from Matt Agnew's season, but this is the first year a virtual stranger will be at the helm, with Becky neither a public figure or already a part of the Bachy franchise.
This is all uncharted waters so we had to talk to the two sisters — the two Bachelorettes — to get the low-down on the season.
We spoke to Elly and Becky Miles about what to expect from the new The Bachelorette season.
---
On how they ended up doing The Bachelorette together:
Elly: "We were approached by casting, they were doing some scouting and they must have been on my Instagram and seen a few videos of Becky and I. Like, our travel videos and a surprise 30th skydiving thing. I think they must have just liked the dynamic of us together and then we were approached. As far as we know, we were told we were the only duo being considered."
On whether Elly would have done the reality show on her own:
Elly: "I was always going to be doing it with Beck. I don't know if they were considering me separately. I don't know what happens with the casting process and I know there were a lot of people being considered as well.
"I never thought it would have been a possibility to do it with my sister — it's never been done before. After being on the show last year, I was so lucky to have so much public support, there were people rallying around me being Bachelorette for 2020 and the thought had crossed my mind.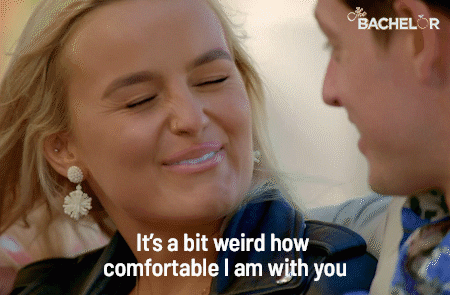 "Having done it now and to have Becky by my side, there's no way I would have done it any other way. To have someone you have unconditional love for, for them to be on the journey with you and for you to get to support their journey, it was the most incredible experience to have Becky with me," she said.
"Beck being there, it was more than just about finding love, it was that we've done something incredible together."
On whether they both found love:
Becky: "We both chose someone at the end and we're both happy."
On Elly already knowing one of the contestants:
Elly: "I did know one of the boys, which was a huge surprise for me to see him there on that first night. I did not expect to see him there. Did you see my face? I know him from Newcastle and Newcastle is a small town."
On how the show's format works with two women:
Becky: "We had 20 men and we were dating the same men."
Elly: "In theory, we met all the same guys but quite quickly it was clear who was interested in who — and same with the guys. There wasn't any crossover, we weren't dating the same guy, or kissing the same guy. None of that happened. No way," she said.
"I know a lot of people have been saying, 'Crikey, what if they fall for the same bloke?' but that didn't happen and it never would. It's just an automatic thing, if Becky is interested in someone, they're automatically in the brother basket. We were always honest with the guys, we said we weren't here to battle for the same guy."
Becky: "We're not possessive women and we didn't want competition between us," she told us, adding, "We've never been interested in the same guy previously because there's so much love and respect we have between each other."
On what type of guy they both go for:
Elly: "We want the same qualities out of a partner, we want someone down to earth, easygoing, respectful, kind and trustworthy. We want the same things but we've never gone for the same kind of guy."
Becky: "For Elly, she's always gone for the more sporty types; the more blue-collar worker. Whereas for me, I've gone for more of an office worker or an engineer, someone who is booksmart."
Elly: "Honestly, I'm probably just a bit more of bogan [laughs]. Plain and simple. I'm just sort of looking for a guy version of me and I'm just a bit more bogan."
–
The Bachelorette premieres 7 October at 7:30pm on Channel 10.