Shop Till Ya Drop Melbourne – 'Shop The City' Festival Will Take Over Four City Blocks In May
Hooray for consumerism! Get ready to spend your hard-earned money Melbourne – Emporium, GPO, Melbourne Central, QV, The Strand and the new St. Collins Lane are joining forces for the biggest 'Shop The City' event – ever.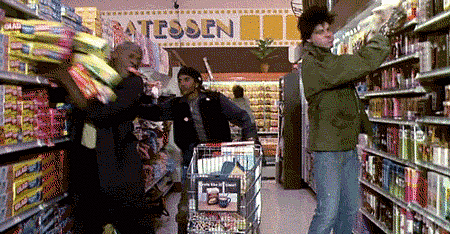 Going down on Wednesday 18 May from 10am to 10pm, their shopping event will take over four city blocks with over 1,000 retailers throwing everything they can at you to get you to buy their shit. Shoppers will get to experience one-off bespoke event, exclusive discounts and a whole heap of Melbourne-esk gimmicks like pop-up bars, coffee, Q&A's with designers and in-store drinks.
We've rounded up some of the main events to check out on May 18 if you happen to be in the market for some new gear.
Emporium Melbourne
Open Cocktail Bar – 2pm to 4pm & 6.30pm to 9.30pm
Sign up and become a VIP to receive a complimentary cocktail courtesy of Artisan Handcrafted during afternoon and evening sessions.
In Conversation with Jenny Kee and Linda Jackson – 5pm to 6pm
Join renowned Australian fashion designers, Jenny Kee and Linda Jackson, in conversation with Paola Di Trocchio, Curator of Fashion and Textiles, NGV. Purchase a ticket for $10.
Melbourne Central
Polaroid Street Style – LEVEL 1 & 2, 10AM–10PM
The Polaroid Australia teamwill be snapping all the best street style looks. Strike a pose keep your pic, and go into the draw to win some flashbulb freebies. Don't forget to share your shot on Instagram: #MelbourneCentral #ShopTheCity
Le Bar du Centrale –

LEVEL 2, LINK BRIDGE, 12PM – 10PM
Le Bar du Centrale is teaming up with the delightfully curious Hendricks Gin to create a quirky pop-up and hypnotic selection of gin cocktails at Shop The City – perfect to add a little juniper jump to your day. For more information, please visit: melbournecentral.com.au/shopthecity
Melbourne GPO
FREE Milkcow Pop-up –

the steps of Melbourne's GPO from 6 – 9pm
Korean brand Milkcow are known for their organic soft serve topped with sweet treats. GPO want you to see what all the fuss is about so they're popping up on the steps of Melbourne's GPO from 6 – 9pm on Wednesday 18 May for Shop the City. Have a taste of their limited edition flavour on GPO, and then have seconds at their store at The Strand Melbourne – a hop, skip and a jump away, just down Driver Lane.
QV Melbourne
FREE undercover parking

– from 5pm till midnight!
Start your shop at QV with FREE undercover parking from 5pm till midnight! Offer valid for the Shop the City event only (18 May 2016)
Melbourne Martini Laneway Launch –

Albert Coates Lane – 5pm to 10pm.
Join us for a laneway party with live music and giveaways, to toast the launch of ' Melbourne Martini' – Melbourne's hottest new espresso martini in a jar. The first 300 customers to register at qv.com.au will receive a complimentary expresso martini! Registrations open Monday, 9 May.
St Collins Lane
Experience Australia's latest luxury retail mall
With its upcoming grand opening on 12th May 2016, the "Shop The City" day will be the perfect time to see this Melbourne's newest luxury shopping destination in person. On the top floor of St. Collins Lane sits The Aviary, a collection of restaurants off?ering a unique Melbourne dining experience. During the later hours of the night access is granted via the lift on Dame Edna Lane or Novotel.
The Strand Melbourne
FREE Fashion & Beauty Q&A –

from 6.30pm
Join us for an evening with some of Melbourne's key beauty, fashion and business influencers as part of 'Shop The City' at The Strand Melbourne.