Just Hear Me Out: I Want Jacqueline From 'The Bold Type' To Be My Mum
The Bold Type is one of the greatest shows on earth but imho, one character that doesn't get enough credit is the goddamn queen of Scarlet Magazine herself: Jacqueline.
Jacqueline is the antithesis to the power-hungry editors we've grown familiar with in pop culture, like The Devil Wears Prada's Miranda Priestly. While Miranda stepped on woman to get to the top, Jacqueline would never.
Jacqueline always has Jane, Kat and Sutton's backs and she encourages their aspirations while challenging them to be their best selves.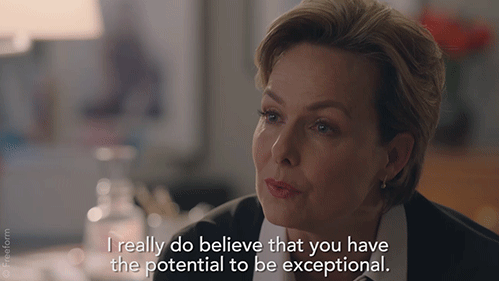 Jacqueline isn't just an incredibly wonderful and empowering character, but she has a deeply nurturing side. I just want her to wrap me in a fluffy blanket. I've decided that I was Jaqueline to be my mum.
Here are a few things I'd like to do with (my new mum) Jacqueline:
I want her to brush my hair and ask me about my day

I want her to lay my pajamas and dressing gown on my bed before I get home from work every day

I want her to make me a salad and sprinkle toasted pine nuts on top that she just fetched from the oven

I want her to pour me a glass of wine, then pour herself an even bigger glass, then we would laugh together, such fun

I want her to make me peppermint tea while reading me feminist memoirs from the 1960s

I want her to talk to me about my life aspirations and recommend Instagram cats to follow

I want her to do bubble masks with me while we watch repeats of RuPaul's Drag Race together

I want her to teach me how to manage my super fund

I want her to buy me a KeepCup and make me wash it before I go get coffee

I want her to paint my nails with a bold and empowering nail colour like ruby red
So, there you have it. Jacqueline is not only the perfect boss, but I reckon she'd be the perfect mum — more specifically my mum. Be my mum, Jacqueline.
I mean no shade to my own mum. (Liz, you're doing great.) But I sure do love Jacqueline and I hope she knows that I strive to be a better person because of her.
–
The Bold Type is available to stream on Stan.