Tiffany 'New York' Pollard: A Retrospective On Reality TV's Greatest Villain
What is it that makes a reality TV villain great? Is it their ability to beef with anyone in any room? Their willingness to out-scream anyone at any given moment? Their talent in spitting iconic catchphrases on the daily?
Whatever that magic algorithm is, Tiffany Pollard – better known as New York – has it mastered.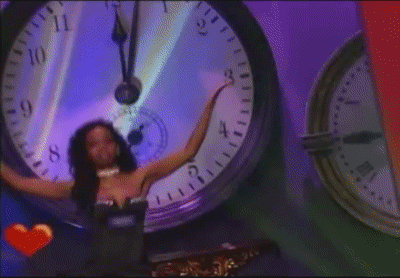 If you've been sleeping on New York and aren't familiar with her work, allow me to catch you up to speed.
---
Flavor Of Love
When New York set foot on the set on the first season of Flavor of Love, she made it very clear she was not there to make friends. In fact, within the first 10 minutes, she made her feelings towards her fellow castmates known, by saying, "they're like a loud pack of idiot bitches and I'm sick of them already."
Just like that, an icon was born.
Flavor of Love was a dating game show, kind of like The Bachelor, except the guy was Flavor Flav from the rap group Public Enemy. He was allegedly looking for The One — man, the '00s were a truly bizarre time. But considering the show ran for three entire seasons we aren't too sure how wholesome Fav's intentions were.
Wikipedia says the star of the program was Flavor Flav, which I mean might have been the case pre-production, but there's no denying once the light hit New York, that show was hers.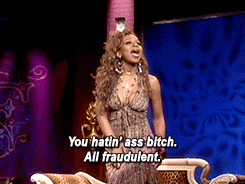 There wasn't one girl in that house New York didn't beef with while vying for the attention of Flavor Flav.
And look, a LOT of shit went down on this show. Like, metric tonnes of shit. But New York's biggest beef — and the most iconic — was with (of course) Pumpkin, who spat on New York during the heat of their biggest fight. Which was swiftly followed by this push.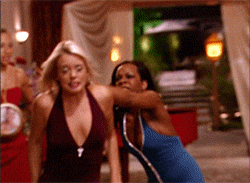 But it wasn't her willingness to fight or call shit as it was that made us fall in love with New York, although it did make us fall in love with her. No, it was her straight-up, no bullshit attitude. Nothing was ever calculating or conniving — the girl just had no filter and let her emotions (and insults) run absolutely wild. She would never apologise and would never back down.
Oh! And let's not forget this legendary meme that was birthed from this glorious, glorious, show.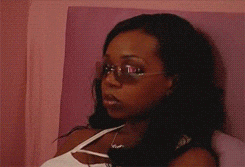 After her run on Flavor of Love, New York scored her very own spinoff, I Love New York — another dating show — and I mean, was anyone actually surprised?
It ran for two seasons, and inspired a bunch of other spinoffs, like I Love Money, New York Goes To Hollywood and New York Goes to Work, all staring the HBIC herself.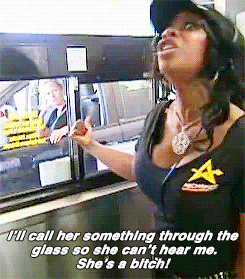 But it was in 2016 when New York got the call up for her biggest role to date. 10 years after her reality TV debut — and what we're calling 10 years of training — she entered the Celebrity Big Brother house for its 17th season.
Thank you, reality TV gods, for this amazing gift.
---
Celebrity Big Brother
CBB is like the Olympics of reality TV. Gather a bunch of washed up celebs, some ex-Olympians, internet celebrities and honestly, whoever else is available, chuck them all in a house and wait for the drama, conflama and buffoonery to begin.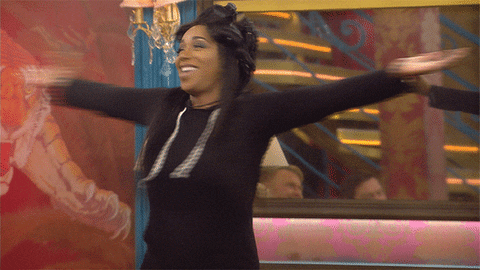 New York was in the house for a long time. So again, a LOT of shit went down. My personal favourote altercation however, was over a pair of shoes.
Here's how the story goes! It was New York's birthday and fellow housemate Gemma gave her a pair of Dolce & Gabbana shoes — what was thought to be a gift. New York was stoked! Anyway, the tides changed and the truth was later revealed that Gemma wanted her shoes back.
Then this happened.
RIGHT?! Holy SHIT. Then, New York had some VERY Choice words about fellow housemate, Gemma in the Diary Room.
"She said that those shoes needed to be worn on a beautiful woman. So if that's the case, she should have put them back on the rack, and she should have never even purchase them, because she was unqualified to own those shoes if that's the case. I think Gemma is just a disgrace.

She's a disgrace to humanity and she's a disgrace to women who are actually beautiful and classy. And she just doesn't have the vernacular that she thinks she possesses. Somebody lied to her several times and told her that she was fly, and hot, and sexy, and beautiful and she is nothing like that. She is nothing of the sort."
There was also an altercation where she was about to throw down with Angela Bowie, after she told New York that "David was dead". New York believed she was talking about fellow housemate David, not her ex-husband David Bowie. OOFT.
What a wild ride. Although she ended up in fourth place, she will always be first in my heart.
It's New York's world. We're just living in it. Thanks for the mems and pls, come back to TV.