I Tried The TikTok Whipped Coffee Trend & If Anything It's A Great Arm Workout
For a good couple of weeks there's been a growing trend on TikTok of users making "whipped coffee" otherwise known as Dalgona coffee.
If you're bored at home and coffee pods or instant sachets just simply aren't cutting it for you, then you can up your coffee game to barista-style levels if the videos on the app are anything to go by. Or, if you're me, you create a very weird, foamy, concoction that tastes like drinking pure sugar… but more on that later.
TikTok users have been upping the whipped coffee game for a while – some using hand-held blenders, others creating straight up latte art. The premise of making the coffee is pretty simple: it's two spoonfuls of instant coffee, two spoonfuls of sugar, and two spoonfuls of hot water and then you whisk or blend it into a frothy foam.
It's honestly all quite soothing to watch.
It's a fun quarantine trend to pass half an hour of your morning while you're pretending to listen in on a work call. While I watched TikToks previously and some did mention when whisking by hand it may take a while, I naively just ignored it. But let me warn you fam, set aside a good 20 minutes or so to whisk until your bloody arm falls off.
Here's a step-by-step guide to making the TikTok whipped coffee (please learn from my numerous mistakes):
Just in case you missed it earlier all you need is instant coffee, sugar, hot water, a bowl, and a whisk – plus a glass & milk for serving. I could only find caster sugar and brown sugar in my house, so caster it was.
1. Definitely mix your ingredients in a bowl not a glass/mug.
I had this vision I'd create the frothy coffee foam in a tall glass, before pouring milk INTO it instead of doing it the other way around. As I got whisking with a fork, I realised I could be there until lunchtime.
So eventually I transferred it all into a bigger bowl, got my trusty whisk, and got to work.
2. Mute your microphone while on a work call making your coffee.
While you may be insanely proud of your creative barista efforts, your colleagues probably won't give a shit. They also won't want to hear you vigorously whisking in the background of your Zoom chat.
3. Slow and steady does not win the race.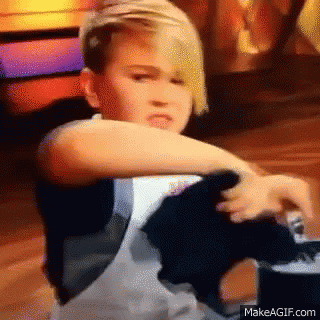 If you do have an electric hand mixer, I'd suggest using that just to speed up the damn process. If not, this counts as your arm workout for the day.
4. It's hard to film and whisk at the same time, so if you're making content, set up your phone first.
Imagine if I took my own advice?
5. Chances are your first attempt won't look as pretty as all the TikTok videos you've been watching.
That's fine. We're all learning here.
Like, why does mine have a face? We'll never know.
6. Serve and enjoy.
If you like your coffee sweet and a lil bit fancy, give this a whirl. Personally I like my coffee as a reflection of my personality: dark and bitter, so this wasn't exactly the trend for me, but we all had fun!**
–
**I live alone, there was no real "we" in this scenario, just me and the One Direction mug.