ATTN: Todd From 'The Bachelorette' Is Super Hot
BREAKING: Todd from The Bachelorette is incredibly attractive and we need to talk about it.
It was too easy to initially overlook Todd… after all he did arrive at the Bachy pad dressed as the Tin Man. But slowly and surely viewers are starting to take note of this ridiculously handsome dude and wonder why he scores so little screen time.
charlie's so annoying. todd, however, is the most attractive man i've seen in my life and possibly one of the least annoying #BacheloretteAU

— caity 🖤☎️ 13 11 14 (@ca1tys) October 24, 2018
why are the good majority of these guys dickheads? and why haven't we seen more of Todd #BacheloretteAU

— cat (@yagirlcat1) October 18, 2018
I'm only here to see more of Todd #BacheloretteAU

— dena (@strangernxrry) October 24, 2018
I don't know what moment it was that I fell for Todd.
Wait, yes I do…
In last night's episode, we all fell even harder when we saw him bonding with his faux son. RIP, my ovaries.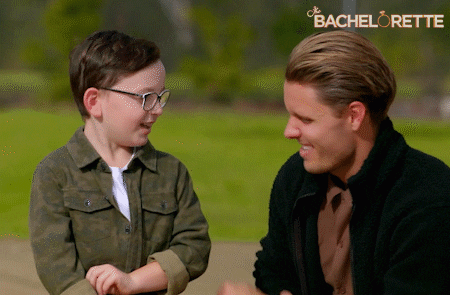 With my thirst unable to be quenched from these tiny bite-sized clips of Todd each episode, I've had to deep-dive into his Instagram and have unearthed some precious gifts.
Todd's 'gram presence is incredibly wholesome content.
Here lies a precious angel I'd like to take on walkies and feed biscuits, and beside him a dog.
Here Todd is pretending a hair dryer is a gun! You got me! Such fun. Much lols.
He enjoys archery too. Todd is basically Robin Hood because he has stolen the collective heart of a nation. (I'm sorry, it's been a long week.)
He respects classical music.
Todd also loves doing this ladder dance. Important note: He is topless.
His doggo is almost as pretty as him (almost! sorry stranger dog!).
Todd wears a wide-brim hat and smokes a cigar, so now I wear a wide-brim hat and smoke cigars.
I wish I was that arm, tbh.
I wish I was the water.
I wish I was this pupper longing to be hugged by Todd and told "everything is going to be okay, I won't put you in the oven."
Thank you Bachy producers for bringing Todd into all our lives. Now just maybe, you know, include him in a damn episode.
OKAY!!!!!