It Looks Like Khloe Kardashian's Baby Daddy Has Been Caught Cheating & FFS
Some damning footage of Khloe Kardashian's partner/father of her baby, Tristan Thompson looks like it catches him red-handed cheating and FFS TRISTAN can you NOT.
The footage published yesterday by the Daily Mail seems to show the 27-year-old Cleveland Cavaliers player hooking up with a mystery woman at a New York City club. Meanwhile, Khloe is nine months pregnant with their first child together so if this is the real deal then Tristan Thompson can get fuckkkkked.
Here's a clip from the published footage:
Tristan Thompson apparently cheating on Khloé smh pic.twitter.com/LbCXhbTVdt

— Kardashian Facts (@KardashTruths) April 10, 2018
Aaaaand a close up showing us his face:
???????????? #FineMenThatCheat pic.twitter.com/eTM5IijDD4

— Kardashian Facts (@KardashTruths) April 10, 2018
Of course, once the Kardashian fan base caught wind of the news that Thompson has apparently been caught cheating (again), they took to Twitter to very vocally slam the NBA pro.
Basically, boys are the worst
Khloe Kardashian has been cheated on whilst 9 months pregnant nearly, boys r cunts I hate use all

— Jamiemckirkle (@Jaamiexo) April 10, 2018
Boy bye has never felt more fitting
Khloe better give that baby last name Kardashian & keep it movin

— Cristel ???? (@CrissyChap) April 10, 2018
Was it a good idea to cross the Kardashians???
The moment Kris Jenner found out that Tristan Thompson cheated on Khloe Kardashian. pic.twitter.com/uvlVhkq5yR

— Jason Bolaños (@JBinAV) April 10, 2018
Wtf their baby is literally due any day now
Khloe Kardashian posted a pic of her and Tristan Thompson yesterday with the caption "We are ready whenever you are little mama" and the baby was like: Im'a wait until after tomorrow. There's something about daddy you ain't ready for yet. pic.twitter.com/sVgMk8vGg3

— ThisisDec (@D_E_C) April 10, 2018
People have also been quick to point out that Tristan Thompson left his ex, Jordan Craig back in 2016 while she was pregnant with his baby. It was around the same time that he and Khloe got together. While it's speculative whether there was any foul play going on there, the 'history repeating itself' joke is too easy for people to resist.
To sum up, men don't change
Tristan Thompson every time he hears "im 9 months pregnant" #KhloeKardashian
pic.twitter.com/KHxcXKMwQA

— Omar1H (@Omar__1H) April 10, 2018
Tbh some ppl aren't even that surprised
Tristan Thompson, who cheated on his then pregnant girlfriend for Khloe Kardashian, was now caught cheating on a pregnant Khloe in the club this past weekend?! The video is very suspect… pic.twitter.com/v2n3MesIeW

— ????????L E A???????? (@_MissLeandra) April 10, 2018
Ouch
khloe kardashian lost tristan thompson the same way she got him pic.twitter.com/CDnz05iF5O

— justin (@JUSTlNW) April 10, 2018
In Khloe's defence tho
People thinking that Khloé Kardashian being cheated on is "what she gets" are dumb as fuck! Tristan Thompson didn't cheat on his ex with Khloé!! They got together after they had already broke up, when they met on a blind date! Either way Thompson is a fuckin' dick for cheating!

— Ary (@WONDERWALL24_) April 10, 2018
While we so don't want this to be true, things aren't looking good.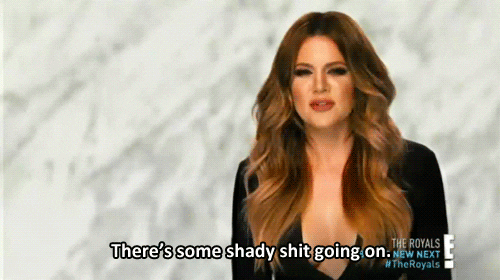 Get Punkee's Bachelor Recap Alerts!