I Rewatched 'Twilight' While Self-Isolating & I've Never Been More Horny Or Confused
There's not many movies that can get a more visceral reaction than the original Twilight.
Whether you're a diehard stan, or absolutely despise the film, the movie and its sequels caused a hell of a commotion. I grew up watching Buffy the Vampire Slayer, so I've always had an affinity with any TV or films vaguely bloodsucky. But not all vampires are created equal. I loved True Blood, I hated Vampire Diaries, but there's no denying that the movie that truly made vampires hot again was 2008's Twilight.
social distancing……. you know what that means pic.twitter.com/FgEvLH1diT

— high risk, high reward (@lilpochaco) March 15, 2020
This film was nothing short of a phenomenon. I vaguely remember watching it in cinemas, but I mostly recall its killer soundtrack filled with Muse tracks, which was my favourite band at the time, like every other 20-something person with emo tendencies in the late '00s.
I haven't thought about the movie in years, but while in lockdown and chained to my Netflix account, I couldn't resist giving it a spin. I never expected what this movie could do to me and how I would never recover.
I rewatched Twilight while self-isolating and ooft, I'm very horny and confused:
We open in a picturesque forest, birds are chirping, rivers flowing, a little deer is nibbling away on some moss… then this moment is ruined by Kristen Stewart's voice reminding us all of our impending mortality:
"I've never given much thought to how I would die but dying in the place of someone I love seems like a good way to go."
Does it, tho? Suddenly the deer's eyes fill with panic and it's legging it — we assume the animal was killed by some kind of predator but it's all unclear. Who cares because we finally see our protagonist, Bella Swan, who is also sad and lifeless. She is standing in the desert and tells us she is being forced to move away from her hometown of Phoenix.
She holds three baby cactuses like they're newborn triplets and solemnly gazes at them, which is something only sad people or crazy plant ladies do.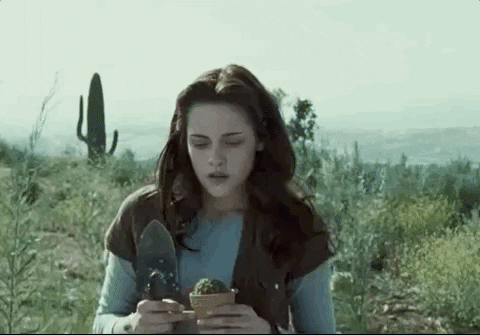 Bella is going to live with her dad in Forks because her mum and stepdad "want to spend some time on the road," which I guess means they're becoming some kind of vagabond highway cult.
Her dad, Charlie, is a police officer and that strange brand of man who doesn't really talk or show any enthusiasm for life, unless asked about hovercrafts or a particularly rare breed of dog. Charlie tells Bella he will decorate her room in purple, she replies "purple's cool", and that's the longest conversation they've ever had.
Bella puts about as much effort into their relationship as she does squeezing this bottle of tomato sauce.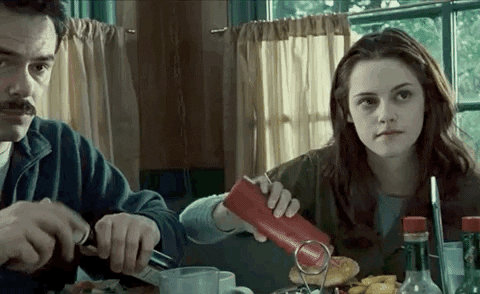 Are you OK, Bella? Blink twice if there's human life inside you????
Bella soon meets Jacob Black — the hunky wolf, who is always shirtless in my memory of him. He is not shirtless, so I take an immediate distaste for him. Bella learns that Jacob doesn't go to school with her but they become fast friends.
Bella arrives to school and this weird fella, Eric, decides to immediately befriend her and she is irritated by this. In PE class she meets Mike, and then Jessica, so by lunchtime she has three best friends — all on her first day.
I didn't realise teens in high school were so friendly and welcoming to new students.
Then a mysterious group of supermodels crash into the cafeteria. Bella is told they are the Cullens, a family who just arrived from Alaska and they all date each other, err…it's pretty unclear if that's legal or not. The devastatingly beautiful Edward saunters in last and his eyes immediately meet Bella's. They stare intensely at one another and it just got hot in here.
Bella enters the same classroom as him and he covers his mouth to prevent vomiting over himself, which I guess is some new flirting technique I missed.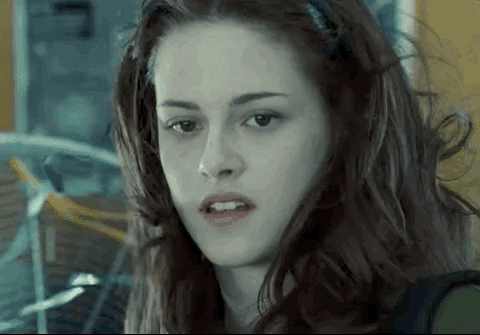 Honestly, I can relate to Edward:
Throughout the class, Bella and Edward take turns regurgitating, you know young love etc. As she sits beside him, he looks disgusted by her presence before storming out of class. She later catches him trying to change classes and when that's refused he snaps, "I'll just have to endure!" – which coincidentally is something I commonly hear a lot on first dates. Edward stops attending classes for a while to avoid her.
We are then shown a random scene of a man being chased by some fast-moving superhumans. These are the three Bad Vampires: the enemies of the Cullens.
Back at school, Edward finally returns to class and we learn he can speak words, rather than stare wide-eyed like he's just been pinched on the butt. He introduces himself to Bella and asks about the weather, which prompts one of the weirdest performances ever presented to film.
Is it just me or is Kristen always on the verge of vomiting at any given moment during this movie?
When someone mentions my ex: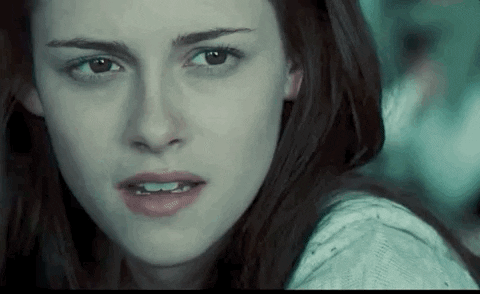 It's okay, K-Stew. I also don't like the rain. It makes me sick! It's disgusting! Rain??? Get outta here!! I get nauseous just thinking about the weather channel.
Edward quizzes Bella on her entire life like she's an exam. "I'm just trying to figure you out, you're very difficult to read," he says while recoiling, which is something every woman longs to hear, like getting to know us is the same as translating a foreign encyclopedia. Sexy!
After school, while in the carpark Bella almost gets hit by a car, but Edward zooms across the yard within milliseconds to save her. She is checked over by Edward's vamp daddy, Dr. Carlisle Cullen, before she gets very angry with Edward for not explaining how he did what he did — a weird flex from someone that could/should be dead right now. Some gratitude wouldn't go astray.
It's important to be grateful for the things that bring you joy in this cruel world.
Later, Mike asks Bella to go to prom and she ignores him completely because she's too busy watching Edward. It's savage. During a school excursion to a plant nursery, Edward tells Bella they shouldn't be friends and she tells him that she wished he let the car hit her. This girl is a ray of sunshine.
Bella invites Edward to go to La Push, which I guess is a beach although it sounds like a French masochistic sex club. Jacob is there with his friends and finds out that Edward stood her up. She picks up weird vibes between Jacob and Edward, and he pretty much tells her he's a werewolf and Edward is a vampire aka "pale face". She's too busy thinking about Edward's sad eyes to actually listen.
Jessica tells Bella that when the sun's out the Cullens just don't come to school, which seems super normal and practical.
Suddenly, we see the Bad Vampires again and watch them kill another guy on a boat. We meet James, aka Volchok from The O.C. — he killed Marissa and now I suspect he's back for more blood.
Bella's friends take her shopping and she is bored with their company. This reminds me that Bella is just not a good person unless she's with Edward. Anyways, she ditches them and when she's alone she's attacked by some creepy dudes.
Edward cruises on in and saves her (again) before doing some sick drifting. Vin Diesel is shaking.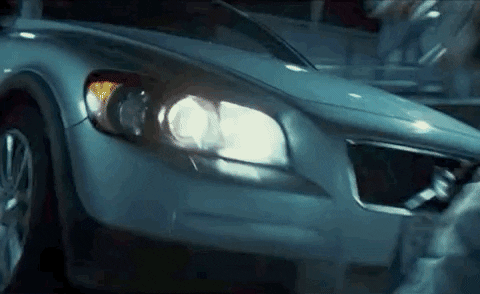 Edward takes Bella to dinner and tells her he can read everyone's minds, except for hers. This information doesn't faze her but the fact Edward doesn't eat dinner shakes her to her very core. Not even a plate of garlic bread to go splitsies in?? I can relate.
They touch hands and she exclaims, "Your hand is so cold!" which inspires Bella to Google what someone being cold means when she gets home. It finally sinks in after all this time: Edward is a vampire. Jacob is banging his head against a wall.
About once ever six months, I remember how in Twilight, the girl thinks her boyfriend might be a vampire and so then she does a google image search for "vampire"

— Dana Schwartz (@DanaSchwartzzz) June 22, 2019
Bella takes Edward to the forest on the outskirts of the school to tell him she knows his secret. He confirms her suspicions and tells her she needs to see what he looks like in the sunlight.
It truly just looks like he's got a bit heavy-handed with an Anastasia glow kit.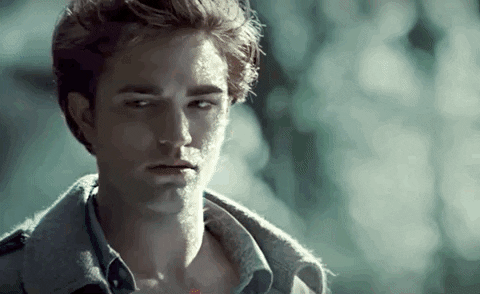 "It's like diamonds, you're beautiful!" Bella exclaims, noting down the product deets. Work it, sis! You look so good!!
Edward tries to scare Bella off by jumping back and forth from different rocks like a clumsy tree frog. It's terrifying. He says he's never wanted to taste human blood as much as hers but despite this, she tells him she still trusts him. He reveals that he and his family don't suck human blood, only animals.
Edward then says an absolutely breathtaking line that would change the movie industry forever.
No one:
Not a soul:
Edward, on Twilight: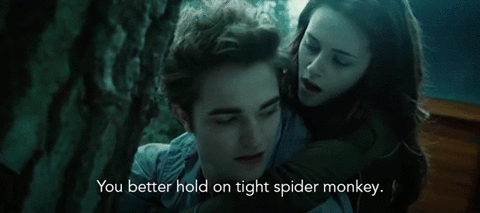 Like, I have TEARS. The EMOTION.
In the next scene, Edward and Bella make their big debut at school as a new couple and I'm hot for it. They soon decide to meet the Cullens for a family meal at their home, and it's a fucking mansion. Vampires are LIVING their best lives. We learn Rosalie is a bad bitch who takes no shit, Alice is delightful, and Jasper is a timid puppy in need of a hug.
They all joke about Bella being their dinner and it's great fun.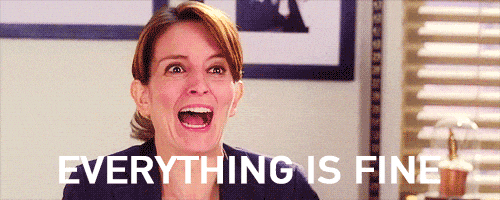 Back at home with Charlie, while Bella is sleeping she awakes to find Edward in her room watching her…which is very romantic! No need to call the police, as it's honestly so cute! And charming! How did he get in? Who gave him permission? These are silly, silly questions that true romantics shouldn't entertain.
Bella and Edward finally share their first kiss but before it gets too hot and heavy, Edward stops himself as he shoots to the other side of her bedroom. It's pretty hectic but it turns out I don't know hectic, because the time has finally come for the most bonkers action sequence in cinematic history: vampire baseball.
It's like Stephanie Meyer is pranking us all but she's the only one laughing.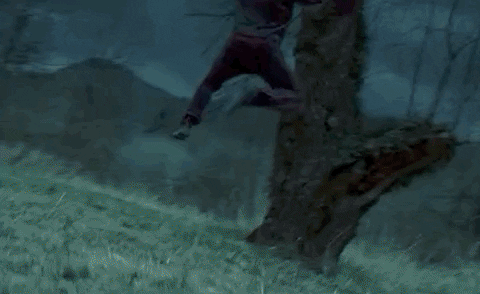 We find out that baseball is a beloved pastime for the Cullens, and the family regularly wait for a thunderstorm so they can play and don't alarm their neighbours with all their wooshing and zooming.
Hearing all the commotion, the Bad Vampires arrive to interrupt their family fun. James doesn't move the entire time. I think he's even more dead than undead. He's practically Prince Philip.
They engage in a tediously long staring competition: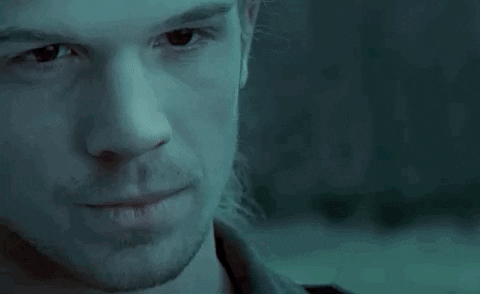 You blinked, Eddie! You idiot! You absolute shithead! The Bad Vampires notice that Bella is human and try to feast on her, before the Cullens step in and everyone separates. But shit just got serious because James is a "tracker" and since he's locked in on Bella, he will kill her — unless they kill him first.
Edward and Bella flee, deciding to leave their lives behind. She yells at her dad, telling him she's moving back to live with her mum, leaving him heartbroken. There's a lesson we can learn from all this: never play baseball, or any team sport just to be safe.
The whole Cullen clan plans out how to protect Bella and kill James — involving leaving their loved ones forever, changing cities, and travelling across land and sea. It all seems rather extra considering there's like seven Cullen vampires and…one James.
Like sorry, but surely the seven of them could just sit in a death circle around Bella and wait for James to come and find her, then kill him.
I'M SO CONFUSED. THE DRAMA IN THIS MOVIE IS DEEPLY UNNECESSARY.
Having watched seven seasons of Buffy, I know what a bad situation looks like and it usually involves a snake demon, an army of ancient vampires, or some kind of impending apocalypse. Just one grumpy vampire? Really? Buffy would never.
Anyways, we press on. James phones Bella and says he's captured her mum, telling her to meet at her old ballet studio to save her — but to come alone. She does as she's told which is stupid because of course, her mum ain't there and she's about to be dead real quick.
Bella really is that bitch.
James breaks Bella's leg before Edward smashes through the window. They have a vampire fight, which involves a lot of slo-mo air-soaring and vigorous growling in each other's faces. They kill James. No shade, but it seemed extremely easy.
Bella loses a lot of blood — so much so that they contemplate making her a vampire — but she wakes up safe and sound in the hospital and still human. Edward is waiting beside her bed and tries to dump her but she doesn't let him. Big mood.
The movie ends with Bella and Edward attending the prom together. Jacob gatecrashes and tells her she needs to break up with her boyfriend. Edward steals her back and jokes, "I leave you alone for two minutes and the wolves descend." GET IT?!
I'm surprised he didn't break the fourth wall and wink at the camera.
As they slow dance in a garden adorned by fairylights, Bella asks Edward to turn her into a vampire. He lunges over her and gets ready to bite into her flesh, but kisses her neck instead. It's a classic gag.
They agree to reassess in the next movie. God help us all. I need a cold shower after that movie and some kind of exorcism.