We Need To Talk About The Greatest Reality TV Show Of The Modern Era: 'Vanderpump Rules'
Hi. Welcome. Sit down. We're gonna have a chat.
Do you like living vicariously through other people? Is the drama in your life centred around the latest plot-twist in a reality TV show? Is a good Sunday arvo for you curling up, eating popcorn, and watching someone throw a drink in someone else's face? Good. Same. We're going to get along so well. And while I have you here, I am going to preach to you. We're now reading from the Holy Bible of Lisa Vanderpump and the gospels of her staff at SUR.
Confused? Don't be. Here's the background info you need to know:
A wealthy British woman who is also a real housewife of Beverly Hills owns a bunch of restaurants, one of them being SUR. Her name is Lisa Vanderpump. You're a smart cookie, so I bet you know what's going on by now: Vanderpump Rules is a show focusing on the staff at SUR and their wildly dramatic lives. And let me tell you, this shit is addictive.
Here are five reasons why you should be watching Vanderpump Rules:
1. The cast is unapologetically awful
They're vapid, vain, and are as hypocritical as the day is long. But that's what makes them so damn engaging to watch.
---
2. The storylines are actually next-level ridiculous
Best friend sleeping with friend's boyfriend? Check. A drunken fight about pasta? Check. A whole season dedicated to a wedding, only for the marriage to end abruptly and painfully on camera? Check. Jax managing to fuck up his relationships every season? Check.
---
3. The quotes… oh the quotes
For example, the above GIFs show a scene where DJ James Kennedy screams at his BFF (Lala) about his girlfriend's "pasta". Was it actually about the pasta? No one will ever know.
---
4. But they do actually cover serious shit from time to time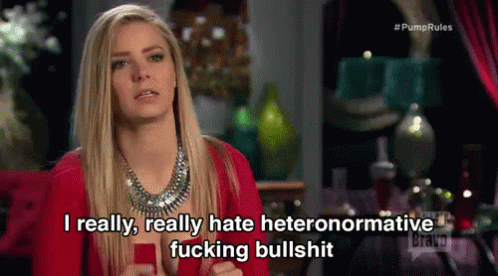 I'm not saying it's the most educational program on earth, but the show does incorporate more sensitive issues (including body image talks) and we see the cast partaking in things like pride rallies and charity days for Lisa's dog foundation.
---
5. You honestly can't help but get 100% sucked into their lives/their messy life choices
Sure you hate Jax, but you want Brittany to be happy. And yeah, Scheana is fucking painful to watch, but what would the show be without her Stage 5 clinger presence? And we can always, always count on Kristen to stir the pot a little.
And here's a trailer for the show in case you need a little taste of what it's all about.
Get Punkee's Bachelorette Recap Alerts!