People Share Their Weirdest Crushes Growing Up & Are We All OK?
There's no better way of getting to know someone than finding out who their first crush was.
It's a question we often ask in a work Slack channel when a new starter comes in: who was your first celebrity crush? The answers are often varied and hilarious.
Sure, for any millennial there's a chance your first crush was someone from the late '90s era of super-stardom: a Backstreet Boy or Britney Spears. But there are the odd ones that make their way through also: a random kids' show TV host, Simba from The Lion King, the boy who used to deliver the newspaper each morning in your neighbourhood.
I break up childhood crushes in two ways: the reality crush and the fantasy.
My first proper reality childhood crush was on a boy that sat in front of me at Saturday evening church. Sometimes we'd go to church on a Sunday morning instead and I'd feel that deep melancholy at missing out on seeing him, but sometimes, fate would have his family attend the same Sunday morning church and all would be OK in the world again. I'd stare at the back of his bleached blonde head through rousing choruses of 'Shine, Jesus, Shine' and wonder if he ever thought of me. Spoiler: I doubt it.
My first fantasy crush was on Parramatta Eels player Luke Burt, circa 2002. I kept diary entries about Parramatta games and the running theme throughout them was my unhinged obsession on this random man. I used to listen to the radio if the games weren't televised, my pre-pubescent heart skipping a little beat when I'd hear the commentators say his name, and I nicknamed my Year 6 signature bear 'Burty'.
I'm not sure what it was that made my 11-year-old self pledge undying love to a rugby league player at least 10 years my senior, but it became part of my personality. I'm pretty sure I stopped talking to a friend once because they said Timana Tahu was hotter than Luke Burt.
After finding my old diary entries, it got me curious: who else has had some incredibly odd pre-teen or teen crushes in the day that just made absolutely NO sense? So of course, I had to ask.
Enjoy.
People share their weirdest childhood crushes:
1. Joe Hildebrand
"Joe Hildebrand. I even made a MySpace page for him and he wrote an article about it. 😂 " – Kylie
2. The Green M&M
"I wanted to fuck the green M&M. I still do." – Bradley
3. Alex Mack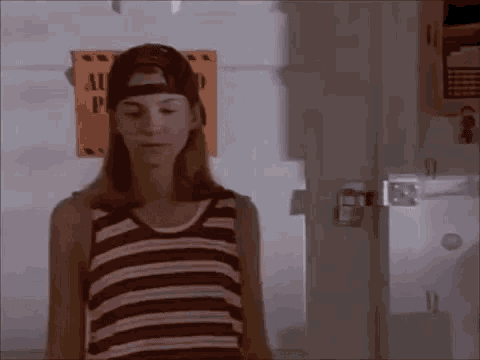 "Running back from my paper run aged 13 because I was deeply in love with Alex Mack. Nothing weird about that at all." – Mark
4. Bernard Fanning
"Bernard Fanning. I cried when I found out in Year 6 that he'd got married (he was 37 at the time)." – Lucy
5. Conan O'Brien
"Conan O'Brien, and I stand by it tbh." – Kate
6. Steve Bracks
"Mine was Steve Bracks, the Premier of Victoria when I was in my teens. It even involved a mock wedding. And a poster my friend made me to hang on my wall." – Ellen
7. Daniel Clark of Degrassi fame
"Mine was Daniel Clark of Degrassi: The Next Generation fame. Was he consequential to the plot? No. Was he the best-looking guy on the show? Also no. But did I lose my teenaged MIND when Rosie Beaton was rattling off her adult themes warning before every episode? Absolutely. I feel quite validated to learn he grew up to be hot (to my mind, anyway) and love to see him thriving." – Krissi
8. Brent Tate
"Brent Tate. Was it the long chiselled jawline or the back support which meant he couldn't fully look up at the ball when catching from a kick? We'll never know." – Georgia
9. Prince Jackson
"After Michael Jackson died tween me discovered his first-born son Prince. I'd check out a fan forum every day after school to see if any more snaps or rare sightings had been posted of him. I was really cut when he got his first girlfriend because I really thought we'd get married one day." – Millie
10. Mick Hucknall
"As a 9-year-old I had a crush on Mick Hucknall – the lead singer of Simply Red – because I was obsessed with long hair?! Thought it looked amazing… Especially on men. Once pulled the tape out of a cassette tape and pinned it into my ponytail to look like his long red hair… Their band was my first CD!" – Sarah
11. Greg, the Yellow Wiggle
"I was absolutely convinced that Greg the Yellow Wiggle was THE most attractive person on the planet when I was a kid, I was going to be his Dorothy the dinosaur and we were gonna live happily ever after. When I met him at age 23 or 24, I got so starstruck that I bowed at him a little — something that has never happened to me meeting any celebrity before. He still has a firm place in my heart." – Katy
12. Rob Mills
"I was OBSESSED with Rob Mills/Millsy. Like stupidly obsessed. I used to pretend he was serenading me every time he sang, I had posters, magazine clippings, everything all over my wall. I got to meet him once, and I wore my favourite clothes (that I now look back on and want to FUCKING DIE that I even went in public wearing them) and he wrote, "Hey Liss, U R A QT!" then his signature.
I was infatuated and I didn't even understand the message until a couple of years later and then when I realised, I was CONVINCED we would get married and have babies and 'all the other mums would be soooooooo jealous because they had his genes so they would be the cutest babies ever.' Direct quote from an old diary that I've since chucked out." – Elissa
13. Steve Urkel

"Steve Urkel from Family Matters: the super annoying, high pitched, nasally kid who wore suspenders and a hat with a propeller on it. My older sister had a crush on someone else on the show (who actually was dreamy in comparison) and of course I needed a crush too, so I became obsessed with Steve Urkel. I still get shit from my family about it to this day." – Hayley
14. Michael Flatley

"As a seven-year-old, I had a massive and ludicrous crush on the Lord of the Dance, Michael Flatley. He would have been in his 40s at the time, but I was weirdly obsessed with Irish dancing (much to the utter confusion of my family, who are not Irish), had convinced myself that I could do it (despite never taking lessons), and thought he was a god. I'll never forget my grandfather's face as he attempted to stop himself from laughing when I 'performed' for him. My family still tease me about it to this day."
15. Dean Geyer

"As a fresh 14-year-old with a thick fringe and new blue braces, I loved Dean Geyer (Australian Idol contestant 2006). His steel-eyed posters decorated my room, I lined up for three hours at Parramatta Westfield's to get his autograph and blush as he glanced at me, and I made a Stardoll online account as 'mrsdeangeyer'. I even hit it off online there with a 'mr dean geyer' who I half hoped was the real deal. We chatted and flirted online for a few months before I found out he was just my little sister playing a joke on me."
16. The Channel 2 newsreader
"I had a crush on the Channel 2 newsreader when I was six or seven. I'd go to bed and play out all these weird scenarios of him and I meeting." – Stephanie
17. Gordon Tallis

"I was obsessed with Gordon Tallis from Brisbane Broncos/Queensland NRL team in high school (back in 2002), had a big 'Go Gordi' sticker on my first car and invited him to my 21st. He RSVPed that he couldn't make it and sent me a birthday card (which I framed) but on my birthday he called me to say happy birthday, I was so stoked! I don't remember what started the obsession but he was so very nice to me! I even met him a couple of years later at a ticketed event and he autographed a framed picture for me (which I still have)! Total legend!" – Tara
18. Tim Curry/Frank-N-Furter

"My first crushes, when I was maybe eight or nine, were Tim Curry and Annie Lennox. My friends were all obsessed with Leo DiCaprio, but I kissed a picture of Frank-N-Furter every night. Now, if that isn't a Big Sexuality Sign, I don't know what is!" – Kate
–
Any weird crushes of your own you want to share? Let us know in the Facebook comments!