We've Rounded Up All Of Your Favourite Graduation Scenes From TV And Movies For All The Mems
Watching fictional characters graduate is a very special moment. Things can get very sentimental and emotions run high – especially when that Vitamin C 'friends forever' track is involved. Graduations are a big deal.
Who doesn't love a big on-screen graduation ceremony? They are the best. We have a lot of love for any scenes involving the cap and gown and empowering speeches and untimely disasters and the monumental right of passage ritual.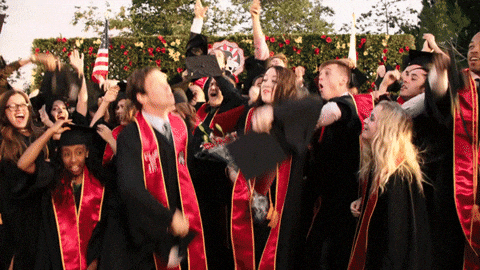 We especially have a lot of love for high school teen TV shows and watching our fave characters grow up while we patiently wait for the inevitable day when we will watch them graduate. So proud.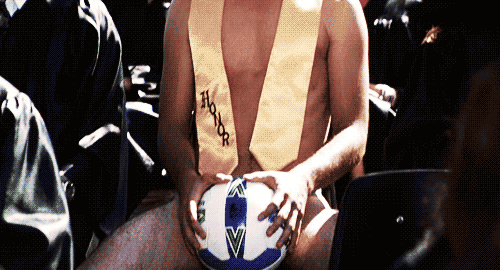 We've rounded up all the best grad scenes from our fave TV shows and movies that we will remember forever, because, mems. Enjoy this roller coaster of emotions xxx
Gossip Girl
Sentimental vibes were thrown out the window when the GG crew's graduation was spoiled by a brutally timed, scathing Gossip Girl blast. Also, Serena once again proves that she is the absolute worst with that tassle situation in her hair.
Srsly though S why can't you just wear the fucking hat.
50 Shades of Grey
Here we see that Graduation is not necessarily an inappropriate time to discuss your submission to a sexual engagement of the SnM variety. Never a bad time.
The Lizzie McGuire Movie
Bless you Lizzie McGuire. Sure, you're no Margaret Chan and you outfit repeated at your middle school grad but we still love you gal.
Glee
The Glee club really steals the spotlight at their school graduation, like, are there other students graduating at this school?? Or is this a Glee club fake grad performance?? It's so hard to tell??
She's All That
Hot damn yes 10/10 ON BOARD with Freddie Prince Jr. holding up his end of the bet in this iconic grad scene. File this under 'How to Make Your Parents Proud: Graduation Edition'.
The Suite Life On Deck (AKA The Suite Life of Zack & Cody)
Including this mainly just to reminisce on baby Cole Sprouse. What a lil cutie.
Crazy Stupid Love
When you're nailing your perfectly sculpted grim af graduation speech and your Dad interrupts but it's ok because he's Steve Carell and he's actually here to save the day and damn this is a great movie.
One Tree Hill
These kids had been through shit. A lot of shit. Watching them make it to graduation was a big deal and of course, it was spliced with some INTENSELY DRAMATIC FOOTAGE. Oh and Haley going into labour. Classic 1TH.
Legally Blonde
Elle's graduation speech at the end of Legally Blonde was the perfect cherry on top of this monumentally fantastic story of good trumping bad. Elle Woods for President.
High School Musical 3
Ooooft that sentimental rendition of 'We're All In This Together' is just beautiful.
Riverdale
***Season two episode one spoiler scene ahead!!!***
This is just dark.
The Amazing Spiderman 2
When you're secretly a superhero so you can only catch your graduation on livestream.
But also that's a hella emotional scene.
Twilight: Eclipse
Jessica's graduation speech was beautiful and it wasn't her fault that everything she said was essentially a criticism of Bella's decision to become a Vampire and fuck up her entire life. Bleak graduation vibes from the Cullens.
The Vampire Diaries
Far out how are we meant to enjoy the kids' graduation when (*Spoiler Alert!*) you know that Bonnie is actually dead and has to go be in the afterlife after graduation? This is too much, bring out the tissues.
Gilmore Girls
Rory saying how Lorelai is her hero in her Valedictory speech is a very emotional time for Gilmore Girls fans. I'm not crying your crying.
The O.C.
Honestly I can hardly handle The O.C. gang's graduation scene knowing that tragedy is just around the corner. Also Ryan's mum watching him graduate is just a lot of feels in one scene.