WTAF: We've All Been Using 'IMHO' Wrong & The Internet Is Fighting About It
Get ready for your brain to start expanding. It turns out that while most of us sane/well-balanced/good people have assumed 'imho' translates to 'in my honest opinion,' in fact the original abbreviation was 'in my humble opinion'.
*BRAIN EXPLODES*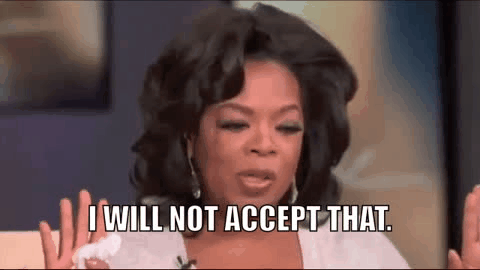 Buzzfeed kickstarted the debate, with a poll that found that more people believe the acronym stands for 'honest'. In our own office, we also voted on which side our team aligned with and 'honest' was the overwhelming favourite.
However, after spending far too long reading up on the history of 'imho', I'm ready to accept defeat. If you look up 'imho' in Oxford English Dictionary you will find it agrees the acronym translates to 'humble'.
Here's a good breakdown of how the meaning may have evolved from 'humble' to 'honest' over time.
heres what i think

the phrase, generally, has always been 'in my humble opinion'

internet happens. tbh is an early abbreve used in internet speak. the h there stands for honest

abbreves keep happening, we get to imho

kids assume the h is for honest bc the h in tbh is

— Tracy Boomeisha-Ann Clayton (@brokeymcpoverty) May 2, 2018
Are the people who think IMHO stands for "in my honest opinion" younger than I am? Because it used to be unanimously agreed it means "in my humble opinion." Am I the old guy clinging to antiquated internet jargon which has changed its meaning since I was on AIM in 1999?

— Marxist-Macronist (@notwokieleaks) May 2, 2018
We hate to say this but sit down, it's 'humble'.
On Twitter, there are clearly people who will say 'honest' til they die.
IMHO clearly stands for "In My Honest Opinion" and anyone who thinks it's "In My Humble Opinion" is a cop https://t.co/ExCLNXeBQZ

— Ryan Broderick (@broderick) May 2, 2018
I always thought it was "in my honest opinion" – no one on this platform is humble.

— Emmett Macfarlane (@EmmMacfarlane) May 2, 2018
But sadly, most are arguing that it's original meaning was always 'humble', and their arguments are v convincing.
In my HONEST opinion is NOT a phrase! NO ONE SAYS THAT.

— Kate Aurthur (@KateAurthur) May 2, 2018
Attention everyone under 30:
In the year of our lord 1994, "My So-Called Life" debuted, which is the best teen drama EVER MADE, and it sucks for you that missed it.

It is the origin of "In my Humble Opinion" and there is no discussion. #inmyhumbleopinion pic.twitter.com/QNb7ZJ6Pbk

— Brianna Wu (@Spacekatgal) May 2, 2018
imho is "in my humble opinion." trust me. i've been on the internet for long enough to have my first name as my domain name. ????

— maura ???? johnston (@maura) May 2, 2018
COUNTERPOINT: "in my honest opinion" is functionally identical to "to be honest," therefore redundant.

— Dara Lind (@DLind) May 2, 2018
Unfollow me if you think the H in IMHO stands for "honest." Seriously, I'm so angry right nowhttps://t.co/sW5TRunyTJ pic.twitter.com/GK3TGuZQ9E

— Craig Silverman (@CraigSilverman) May 2, 2018
when somebody tells me they think "imho" means "in my honest opinion" pic.twitter.com/HY2u1gqrHw

— Dylan Scott (@dylanlscott) May 2, 2018
Why are people debating what "imho" means? It's obviously humble. Why would someone say "in my HONEST opinion"? That's stupid. You're all being stupid.

— Sonny Bunch (@SonnyBunch) May 2, 2018
I know it's painful for people to learn they've been wrong about IMHO — it stands for humble, not honest — but on matters of consequence and fact, it's best to be humble and admit it. Honestly.

— Dominic Holden (@dominicholden) May 2, 2018
I DON'T KNOW WHAT TO BELIEVE ANYMORE??!?!!!!!
Tbh, imho and fwiw I think we should just change it to something we can all universally agree with, like:
In My Hateful Opinion.