'Zombieland' Is FINALLY Getting A Sequel In 2019 W/ All Ya Faves Returning
Time to nut up or shut up. At long last almost ten years after it hit cinemas, Zombieland is getting a much-anticipated sequel.
The film's screenwriters Rhett Reese and Paul Wernick have confirmed not only a second installment to the cult classic, but have also revealed that all the original cast will reprise their roles.
Hellz yeah! The screenwriters, who are also responsible for the mega box office hit Deadpool, told Vulture that Zombieland 2 is expected to hit theatres in 2019.
"We're going on the tenth anniversary of Zombieland. Zombieland came out October of 2009. We don't know what you get someone for their tenth anniversary, but it may be a Zombieland 2.

"The hope is that we're shooting that thing early 2019 for an October of '19 release," they said, before dropping this important detail: "With the original cast, by the way."
Yaaas! This means we can expect to see Woody Harrelson, Jesse Eisenberg, Emma Stone, and Abigail Breslin all come back for the sequel. The creators remained fairly tight-lipped over any further deets.
"We are sitting on information that we can't entirely share at this moment, but we can just say we think fans of Zombieland who have been hoping for a Zombieland 2, that we will grant their wish very, very soon."
BREAK OUT THE TWINKIES, FAM.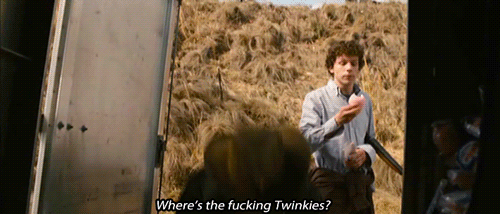 Get Punkee's Bachelor Recap Alerts!