We Ranked Iconic Aussie TV School Uniforms From 'Fugly' To 'Actually Fine'
There are few things that reflect what it was like growing up down under like seeing the school uniforms in Australian TV shows.
I personally grew up watching Home and Away and prayed that my school would introduce the cute AF wide collar dresses I'd seen worn by characters like Kirsty and Jade Sutherland.
But what Australian TV shows' school uniform was the best? From Blue Water High to Summer Heights High, we're ranking iconic school uniforms on Aussie TV and let's just say that it might be a good thing some of these shows are no longer on air.
The uniforms are actually offensive to me, well, offensive to my eyes.
We ranked the school uniforms in Australian TV shows:
#7. Blue Water High
Colour theme: Blue, Green, Burgundy and White
These uniforms were a mess. Why is one girl wearing a green shirt and another a blue shirt? What is going on?? Pick a colour and stick to it! Stop the madness.
Then the girls are pairing the shirts with these burgundy and white checkered skirts that actually look like school dresses. It's all very confusing and inconsistent and hurts my eyes.
---
#6. Round The Twist
Colour theme: Burgundy, Red and White
While I must say I'm a sucker for burgundy and white, as they were my school colours, the random introduction of red in the mix makes zero sense. Red and burgundy clash. That is simple colour maths.
The jumpers themselves have seen better days… they are so big and baggy and give a general vibe of 'IDGAF' which is really lacking much-needed school spirit.
---
#5. Summer Heights High
Colour theme: Green, Purple, Grey and White
This look rocked by Ja'mie, her popular crew and the rest of the students at Summer Heights High is the classic Aussie summer uniform. A checkered dress, often worn with a wool jumper tied around the waist with white knee-high socks.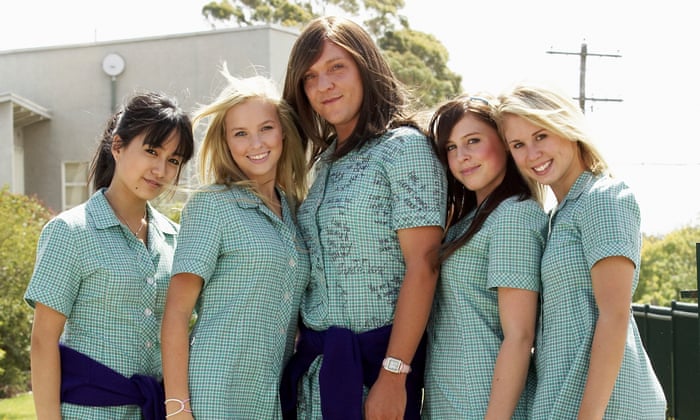 The boys' uniforms were a bit average but the purple ties give a hint of sophistication. Overall the uniforms just look a bit basic but I do enjoy the colour combo.
---
#4. Home and Away
Colour theme: Blue, Burgundy and White
Now we're talking! These school uniforms should be hanging in the National Gallery of Australia. The blue, white and burgundy checkered dresses are still extremely adorable.
The boys' uniforms, on the other hand, are a bit sloppy. The white shirt paired with a maroon striped tie just screams 'out of work accountant' to me. If eternal hottie Chris Egan can't make this look good, God help the rest of us.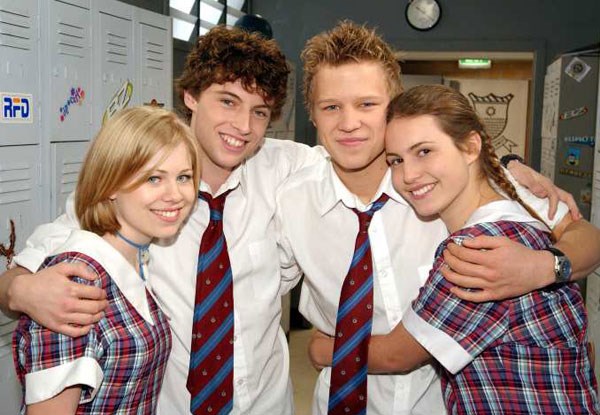 ---
#3. Ja'mie: Private School Girl
Colour theme: Burgundy, Navy and White
I couldn't leave Ja'mie off this list and obviously the uniforms at Hillford Girls Grammar are incredibly quiche. The uniform consists of short white socks with identical school shoes, neat dresses and sharp blazers. I'm very into it.
Even the dresses on their own look good. They're obviously made of that fancy fabric that only private school kids will ever touch. As a public school girl, I still feel like I'll never be worthy.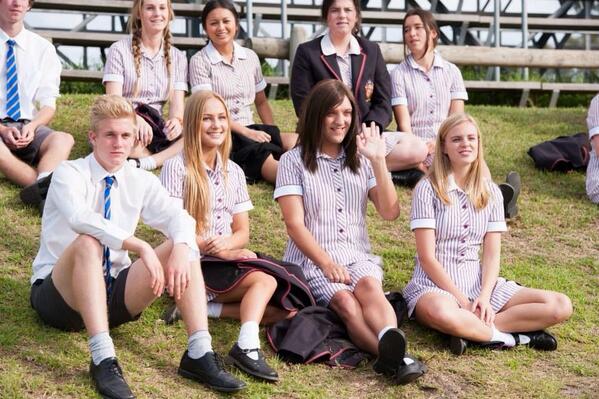 ---
#2. Puberty Blues
Colour theme: Green
I never thought Puberty Blues, a series set in the '70s, would have gifted us one of the greatest Aussie TV school uniforms ever but holy shit, these are vintage and so cute.
Check out the neat button-up pastel green shirts paired with a slim-fitting emerald mini skirt. Ummm, they look like they've just come off the runway.
Having the colour theme being green means that no matter what hue is chosen by each individual student, it all blends overall. I dig this a lot.
---
#1. Neighbours
Colour theme: Blue, Burgundy and White
You don't mess with perfection and the Neighbours uniforms will be forever iconic. The blue dresses just pop and the fact that the boys wear a blue shirt really brings the entire colour theme together.
Then there's the touch of burgundy: we have a vest, a blazer AND a jumper. They have IT ALL. What's that below? A blue checkered skirt too? Hell yeah it is and she looks great. The matching burgundy backpacks finish off the whole look flawlessly.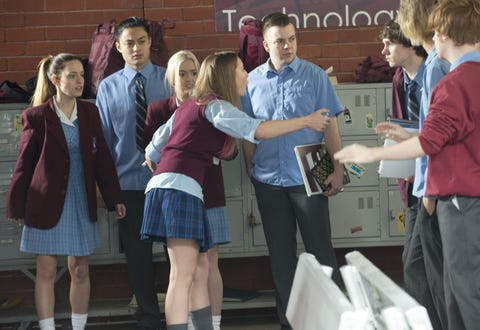 Work it, bitches.