A Reminder That US Bachy Is Bonkers: Here's A Contestant Shoving A Dummy Into Another Girl's Mouth
The American series of The Bachelor continues to make Australia's version look exceptionally boring, with the latest episode including a contestant shoving an actual pacifier into another girl's mouth.
It all went down on the reunion episode The Bachelor: Women Tell All. As two contestants, Demi and Courtney, had a clash of words Courtney told Demi "You act like a child," and that all she did was "constantly open your mouth about other people."
This somehow prompted Courtney to get up, walk over and forcefully push a dummy into Demi's very confused face.
1. My hands are stupid orange
2. I had NO idea Courtney was going to assault me with a pacifier. Of course I wanted to punch her, but this isn't Jerry Springer or MTV. I chose to take the high road. #WomenTellAll #TheBachelor

— Demi Burnett (@demi_burnett) March 6, 2019
That's right. So… she had a dummy handy enough to have ready for that very moment? I have too many questions. Demi called for security. It was bizarre.
Here's the very weird moment:
Demi and time outs don't mix 🙅‍♀️🤭 #TheBachelor pic.twitter.com/Ql3ydNpTfW

— The Bachelor (@BachelorABC) March 6, 2019
While Australia's Bachy can get a bit strange at times, I really can't imagine something as extreme as this ever going down. This is the same US season that had the girl that rocked up dressed up as a sloth but then… somehow didn't get a rose.
How backwards is that? That moment made me truly want to spit the dummy! (Lol, sorry, had to!)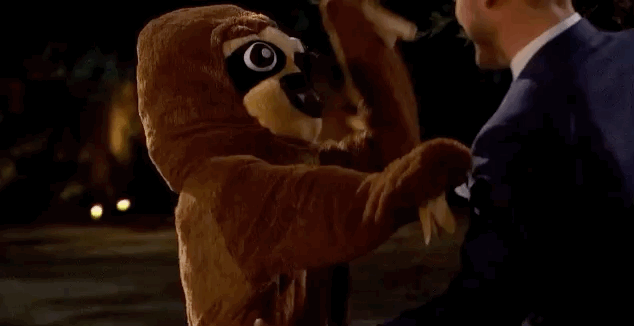 That's wife material, right there.