Dear Channel 10, Please Put On 'Bachelor In Paradise' Immediately
The days are long. The hours spent inside are numerous. The dreams of a beachy holiday have all but vanished. This is the life we're all leading while we continue to fight the global Coronavirus pandemic.
Things are rough right now and while isolation has been a time to get creative – whether you've taken up painting, trying your hand at cooking, or practicing yoga like your life depends on it – there's no denying we all need a form of escapism from this quarantined life. And there's only one answer right now.
Channel 10 and Warner Bros. we are begging you: please bring Bachelor In Paradise to our screens ASAP. PLEASE.
Here are all the reasons we need the new season of Bachelor In Paradise on our screens immediately:
1. It's getting colder in Australia, so please warm our living rooms up with hot, sexy singles looking for love.
What better form of escaping the dread of everyday life right now than by watching a bunch of former Bachy stars slam margaritas, go on dates, fight, kiss, breakup, make up, and so forth.
2. Speaking of our living rooms, we are barely leaving them right now, so it's the perfect time to get attached to a new show.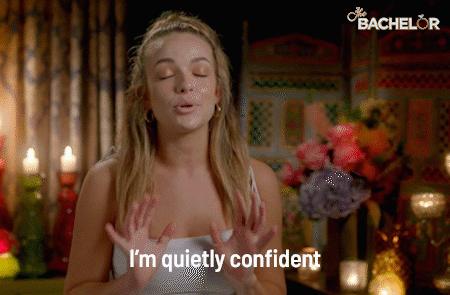 Please don't force me to keep watching Tiger King, Channel 10, I am begging you. I can't get past episode 4.
3. I know, I know MasterChef is starting soon and I'm grateful. Truly. But I need drama. ROMANCE drama.
Cooking is fun! Dramatic cooking is fun! I'd know, because the other day I tried to make dumplings from scratch and then burned half of them and I finally felt something again.
But we need romantic drama too. We need to see if Ciarran and Abbie, two alphas, flirt or hate each other straight away. We need to see why one of the dinner parties looks so intense. I need to see someone else other than my own reflection cry.
I realise the delay is probably because of production halting The Bachelor and BIP is being saved for that gap. But July is too far away to wait this long!!!
4. It'd be a service for every single person currently isolating.
None of us singles can date right now, so please let us live vicariously through these people. I am begging you. I cannot have another conversation with Brian from Tinder who tells me he's sad he hasn't seen boobs in weeks and then asks what I'm up to. I'm social distancing, Brian, you dumb bitch, wake up.
If BIP starts soon, I can finally delete Tinder again.
5. We miss Osher.
If anything can make us smile through this pandemic it's our favourite TV dad. Please. Think of the people at home.
We look forward to you taking this claim very seriously Warner Bros & Channel 10. Don't let the people down.