Let's Imagine What Life Would Be Like If People Introduced Themselves Like Their Tinder Bios
It goes without saying that I've spent a lot of time inside lately and during this time I've also spent a lot of time on dating apps.
While keeping things socially distanced, I caved and downloaded dating apps (again) sometime in March and used them on and off throughout this global pandemic, just hoping to find a nice pen pal. (Which, I must admit was my bio.)
Throughout all my scrolling and swiping and hiding the app for two weeks at a time before caving and browsing again in the ad breaks of MasterChef, it's easy to start noticing repetitive bios (that's if, the person even has a bio at all).
So it got me thinking…
Bios are kind of a greeting right? They're the first point of contact to see if you can find that initial interest in someone.
After all, if you're looking to click with someone on a deeper level than just right-swiping because they're good looking, a good bio can be the tipping point between a right and left swipe.
So then… what if people used these greetings – their bios – in real life and not online?
How would that work out for them? Would any of them even make sense anymore?
Let's just rule out the strictly "no bio" people from here on.
What if I was at a pub, and a guy humbly approached me and as our eyes met across the bar he leaned over and said those words I had been longing to hear… "6'1 because apparently it matters."
And that's it! Conversation done!
What if I was at a cafe, and someone came up to me and pointed to a kid, sitting in a little high chair, and whispered to me… "not mine, it's my nephew."
Did I ask?!
What if I was waiting for a mate, and a stranger approached me and promptly acted out five emojis: a plane, a surfboard, a palm tree, beers, and a footy, before staring silently.
"If you want to know, just ask" he'd eventually say.
And what would happen if one went to the gym and a handsome man approached. "Not here for a pen pal," he'd say as he watched you mid-plank.
"Not here for any time-wasters," he'd continue as you tried to crab crawl away.
Oh, and public transport? Imagine catching the train or bus home from work one day and someone gestures to you to remove your headphones. "Here for a good time, not a long time," they'd say with a wink.
"Work hard! Play harder!" they'd continue. "You only live once!" they'd yell as you hastily exited the bus. "NOT INTO DRAMA," they'd scream as you sprinted down the road.
"I WON'T FOLLOW YOU ON INSTA," they say after somehow finding your Instagram profile.
Anyway. The answer was clear to me. Everyone's Tinder bios would NOT work as a pick up line IRL.
Really makes you think, huh.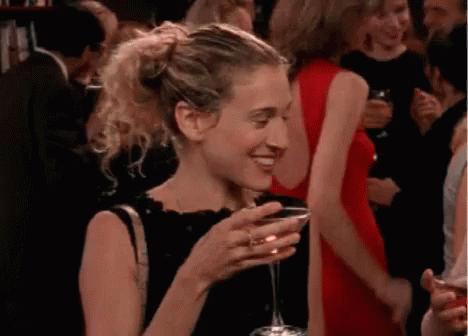 But for what it's worth, imagining everyone stating their bio to you as an IRL greeting is a very fun game to pass time if you're also on Tinder and Bumble right now. I highly recommend it.