18 Wholesome Dating App Stories That Will Make You Believe In Love Again
We've all heard our fair share of dating app horror stories.
From bad bios to bad dates, if you've spent some of your life swiping through the apps you know you have to sift through a whole lot of rubbish before you find any gold.
As it turns out, there are some dating app stories out there that won't have you vowing to delete the apps for the rest of your life. In fact, they may just encourage you to redownload again. In fact, there are a lot of people who have met their partners by using the apps – or at the very least, formed some friendships from the whole experience.
We decided it was time to look into the wholesome side of dating apps – because yes, there is a wholesome side that does actually exist.
18 people share their wholesome dating app stories, from falling in love to making some good friends along the way.
1. "I met my partner on Bumble during lockdown last year. Knew very quickly he was 'The One' (we're mid-30's, so know what we want) and are now awaiting the arrival of a little girl any day now." – Anon
2. "I met my partner through Bumble last year and we met up a day after matching. I told him during our first date that the last three men I slept with didn't make me finish, and if he didn't as well, I might murder him. He did and more than a year later, we live together and are applying for a partner visa together!" – Bea
3. "I met my boyfriend on there – he was a FIFO worker in WA and we met up on his last night here in NSW. I thought I'd never see him again but then he came back six weeks later and we hung out for a bit. Then in June, he came back to see me 'for two weeks' and we've been in lockdown together ever since." – Jemima
4. "If ever I want weed in a foreign country, I hop on Tinder. When we were in Slovenia, I matched this guy who was happy to assist. We drove to his farmhouse and were welcomed by him and his brother. We ended up spending two nights with the family. His dad was a hot air ballooner (during the Soviet reign) which surprisingly took him all over the world. He had so many stories to share and was so excited to welcome fellow travellers. They cooked for us and we spent the evenings drinking and smoking with them." – Caitlin
5. "I've been chatting with a girl. I made a joke about us going to the aquarium and riding on the turtles. We then spoke about adopting a turtle kid together. So now for $10 a month I sponsor a green sea turtle through the world Wildlife fund." – Alex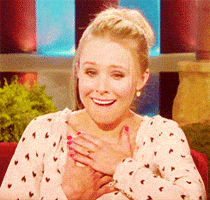 6. "My partner and I met on Tinder. He had recently moved to Canberra from Adelaide, we matched, I offered to be his local tour guide and snuggle buddy during the freezing months in the National Capital, he agreed, and we've been together five years now. As an aside, our first date was him bringing takeout Chinese food and a bottle of wine to my house – I was in my pyjamas because I'd given up on wholesome men. It worked a treat!" – Christianna
7. "So I met one of my closest girlfriends now through Plenty of Fish while I was with my ex and we were looking for a fun threesome hookup. I ended up breaking up with my ex but have remained strong friends with the girl since! Was only meant to be a one night thing and now I don't know what I'd do without her!" – Maddy
8. "I've been with my partner for nearly five years now. Before me, he spent four years working overseas and dating girls across the globe. He came home to our hometown and we matched on Tinder, I swiped on him knowing who he was. He went to my primary school and his mum was my Year 2 teacher.
In the early dates we found more connections, like my mum taught his sister in Year 3, his mum works with my aunt. My aunt ended up employing him (before finding out we were dating, it was above board!). And after a few bevvies, I found the courage to ask him about his preschool with an idea in my head. Turns out he was my boy best friend that I would play imaginary power rangers with in the sandpit in preschool. Of all the girls in the world, turns out he was meant to be with the girl from preschool in his hometown." – Bek
9. "I connected with a woman on Bumble right after my divorce. We hooked up a few times and had a lot of fun. We knew we weren't a good long-term match and are still in touch every day. She's divorced not long before me, I've supported her to date, and now we are super close friends. Possibly closer than people I've known for decades. She taught me a lot and vice versa. She's the only real ex that I've stayed friends with. So lucky to have met her." – Anon
10. "Matched with my partner James on Tinder five years ago. I still remember his main picture of it being of him in a striped shirt. We exchanged numbers right away but didn't meet up for about seven months! Four years later, a ring, and a beautiful six-month-old girl. From my end he was meant to be a fling, look where we are! Love him." – Naomi
11. "My partner and I met on Tinder five years ago, I thought he had a 10/10 smile so swiped right. Before our first date, he said he just wanted something 'casual' so I didn't think it would eventuate. No sparks but we did talk about EVERYTHING though. Kind of thought we'd go on another date just to be polite and that would be it.
We went on a second date and still didn't have any sparks but I did think he was smart, funny and attractive. I think I was just not interested because he'd said he wanted something 'casual' and I knew I wanted serious. About three years later it clicked, he just liked casual restaurants – not fancy ones. I found this out when I booked a nice restaurant for New Year's and he suggested we go to a fish & chip shop instead. Anyway, he's the BEST human ever and I love everything about him." – Sala
12. "I met my boyfriend on Bumble and on our third date we discovered that we were born a couple of streets from each other in the same year on the other side of the world. COVID has put marriage plans on hold but as soon as those borders open, we'll be planning!" – Sneha
13. "I met my partner of 3.5 years on Tinder. Before I even met him, I knew this was going to be different. Due to our custody arrangements for our kids and our work schedules, we couldn't meet as quickly as we would have liked but we talked for about a month via text and daily phone calls. We had a little thing where we would text each other while watching Bachelor in Paradise.
On our first date, as I walked towards him he had this big smile on his face. The closer I got he presented me with a rose and said 'Will you accept this rose?' Of course, I accepted and we shared our first kiss and in that moment I thought 'I think that was my last first kiss.' Before the night was over, we knew exactly what we wanted and have been together ever since. He is the most remarkable, amazing, kind, loving, hilarious and wonderful man I have ever known. If it wasn't for Tinder, we wouldn't have found each other." – Emily
14. "Met my fiancé more than four years ago on Tinder… I was just about to delete the app when he showed up. I told him I was deleting the app, gave him my number, and we went on our first date after a few weeks of texting. It turned out that we lived on neighbouring streets, that he'd gone to school with my cousin, and uni with that same cousin, as well as my best friend from high school (now my maid of honour), that his cousin had gone to school with another of my cousins, and that I'd gone to uni with one of his best mates from high school (now one of his groomsmen).
Also, strangely, he and I had both hooked up with the same girl in our early 20s. A week before our first date, my friend was in a minor car accident and I accompanied her to the emergency room… where he was working (he's a doctor). I saw him from a distance as he was about to go into a surgical theatre and sussed him out but he didn't see me (and I didn't tell him I'd spotted him until we had been dating for a few months!).
About a year into dating, we discovered that we had both attended a mutual friend's 21st back in 2013 and found that we had been in some of the same pictures from that night, although we hadn't met! It was like we were always meant to be, but the universe waited until we had grown into people who were worthy of each other before connecting us via Tinder at just the right time. We had our engagement party at the restaurant where we went on our first date and cut the cake on the table we sat at." – Felicity
15. "I met my partner on Bumble three years ago. We were both pretty recently out of bad marriages. I was one of the first people she matched with. Now we live together in a blended family with three kids 8, 7, and 6." – Adam
16. "I met my husband on Tinder in 2016, and we are expecting our first baby in February. I had been on like 25 first dates and never had a second date until I met him. He was so sweet and lovely and such a gentleman and I was like, I genuinely didn't think this was possible. By our third date, I was fully smitten and told everyone. I will always be grateful to Tinder because I would never have met him otherwise." – Jacqui
17. "I met my boyfriend on Tinder in March of last year. After having a six-month backpacking trip cut short by five months because of COVID, I jumped on Tinder whilst in my mandatory 14-day quarantine and matched with him during that time. We had virtual dates, Netflix parties, drinking, online games, for around two months before we met in between lockdowns in Melbourne, where we both got tested to make sure it was safe to meet up. We celebrated our one year in June, and are still together so I got to say it was pretty successful!" – Thom
18. "Met my partner on Bumble 2.5 years ago. She lived overseas for 10 years and we actually went to primary school together over 20 years ago. We're now married and bought a house last week." – Nathan