We Ranked Emily's Outfits In 'Emily In Paris' From "Sacré Bleu!" To "Magnifique!"
By now, if you haven't watched Emily In Paris on Netflix, you've probably heard of it.
While there's a lot to love (and hate) about the series, one thing that stands apart is the bonkers fashion. I haven't seen so many different coloured bucket hats since Splendour in the Grass in 2017.
It's no coincidence that the eclectic fashion feels very Sex and the City, as the iconic series' costume designer Patricia Field was recruited for the Netflix series. That said, not all of the fashion works. More specifically, series protagonist Emily Cooper is no Carrie Bradshaw and her choices often come across as trying too hard.
Like seriously, does she have to wear a matching hat with every outfit, and can she ever dress like an actual 22-year-old?! Despite quite a few missteps, some of Emily's outfits aren't terrible. There are some looks that left my jaw on the floor, so it's time to rank the best/worst of the season.
We ranked Emily's most memorable outfits in Emily in Paris:
---
15. Emily in Baffling Exercise Attire
While this is far from the craziest thing Emily wore, there's nothing worse than impractical exercise clothes and this is just ridiculous. The leggings are fine — basic, but fine — but what the hell is Emily doing wearing a loose-fitting, crochet crop top?! Sacré bleu! A mess.
14. Emily in a Printed Shirt & Snakeskin Skirt
This look is just SO MUCH. I don't hate each individual item, but putting them all on together hurts my eyes. The shirt paired with the skirt could work if the accessories were simple. But instead Emily chucked on fluro ankle boots and a cream and black bag that simply boggles the mind.
13. Emily in Puffy Shakespeare Shirt & Jeans
I want to like this but I can't. It's the shirt paired with the jacket for me, it just looks too formal — especially for a road trip?! It's the kind of thing I'd wear with a pencil skirt for a work experience job interview when I'm trying to look like an adult.
12. Emily in a Big Shoe Coat
I just hate this. From the furry bag, to the outdated collar necklace, to the coat, I hate everything about it. It's horrendous.
11. Emily in a Floral Puffy Coat & Pink Beret
This is a classic Emily ensemble. She is just doing the most, at all times. The floral jacket is one thing, but the pink beret is overkill.
10. Emily in This Hat
I'm so torn with this outfit. The shift dress paired with the delicate lace blouse is GORGEOUS. I adore the combo and it just works. But then Emily has to go and put on this hat. A hat that appears to be a red and white floral-printed fedora. This hat is the reason the French despise her. This hat is why Gabriel won't dump Camille. This hat must be stopped.
9. Emily in Pink on Pink on Pink
I'm in love with this outfit as I meet Emily's eyeline, then as my gaze lowers down towards Emily's feet, it turns into a horror movie. I love the pink and it's impressive that Emily has matched the hue across so many items. However, the pink socks with pumps are just naff. Not into it. Chuck the socks in the Seine and this outfit is flawless.
8. Emily in a Crop Top
This outfit might not look like much, but I believe it's the closest Emily ever came to dressing like a 22-year-old. When I was that age, I wasn't repping Chanel jackets or Christian Louboutin pumps, I was wearing jeans and a nice top. Jeans and a nice top is as good as it ever got for me and this outfit is simple but cute.
7. Emily in a Baby Pink Matching Set
This look on Emily is super sweet. She, of course, eventually adds a fugly matching hat outside of the office but this outfit on its own is adorable.
6. Emily in a Checkered Suit
Emily is all about a matching set and this is my favourite. It's simple, the Chanel bag is the perfect accessory and somehow the red beret doesn't make me want to claw my eyes out. Magnifique!
5. Emily in Houndstooth, Pink & White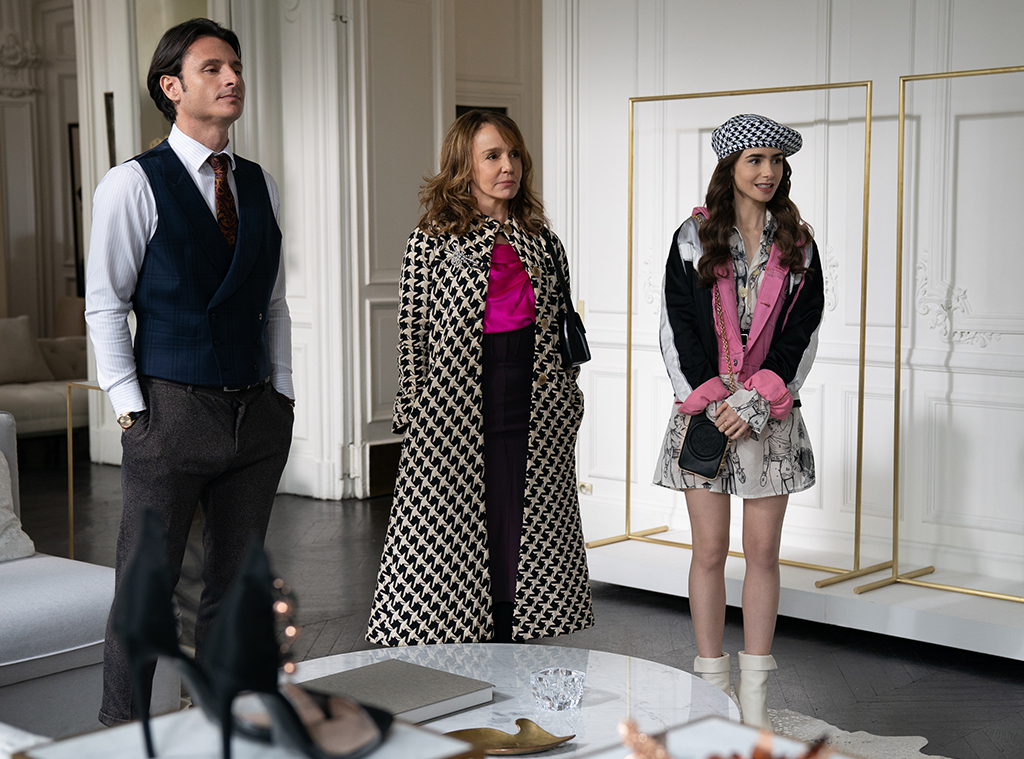 Now THIS is how you mix colours and patterns. The pops of pink contrasted with the black and white is perfection.
4. Emily in a Beanie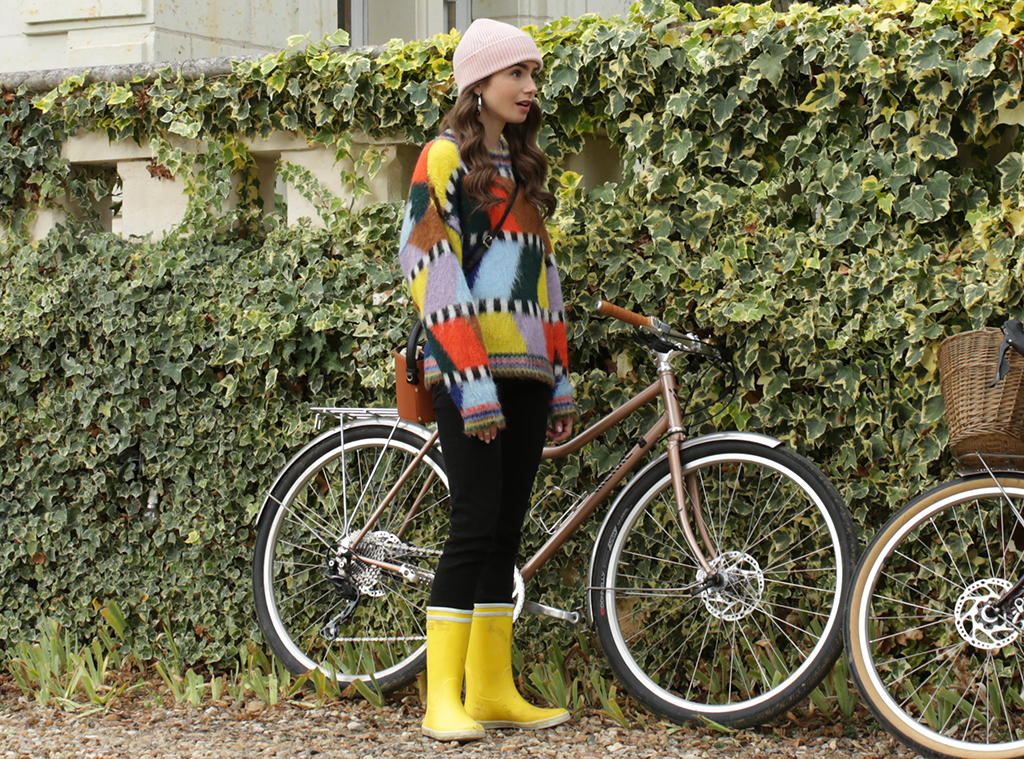 Aside from the jeans and nice top ensemble, this is the only Emily outfit that I would wear and not look completely out of place. It's cute, cuddly and farmer's market-ready.
3. Emily in a This Better Hat
Emily wears a lot of hats and for the most part, they seem to take away from her outfits. But in the case of the bucket hat she wore to the influencer event, this hat makes the outfit. The matching tartan dress and different shades of green are an arc de triomphe.
2. Emily in Black, White & Nude
I die for this outfit. The tan paired with the contrasting monochromatic patterns is stunning — and I need that tassel bag in my life asap even if it costs me three-months rent.
1. Emily in All Black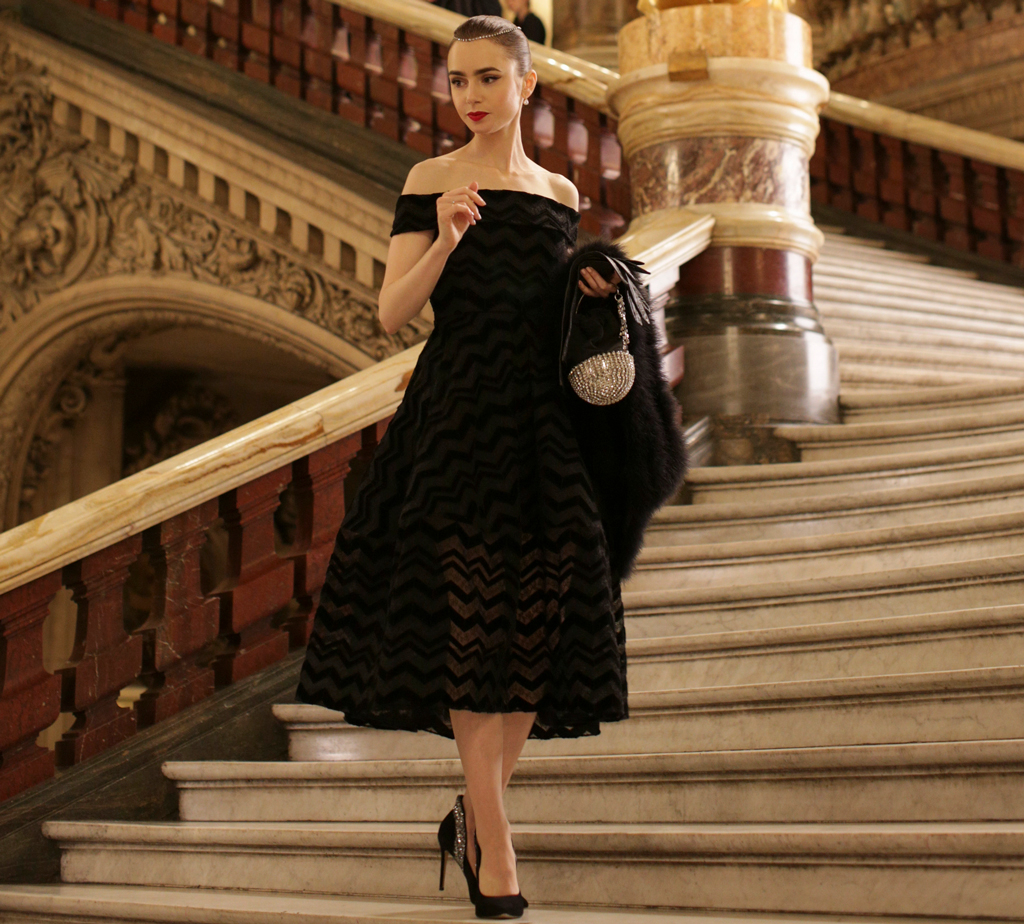 Now THIS is très chic and probably the only look that would see Emily pass for a local. She may have steered clear of black the entire season, but the all-black outfit Emily wore to the ballet was her Carrie Bradshaw moment. Flawless from top to bottom.
–
Emily in Paris is now streaming on Netflix.