CRINGE: An Extensive Investigation Into The Gilmore Girl's Terrible Fashion Choices
The Gilmore girls have never been renowned for their fashion expertise. Because… they have none #Ouch #Harsh #ButTrue.
The seven seasons, plus revival episodes have a lot of addictive qualities. With all the episodes on Aussie Netflix, it's like a binge-watching black hole that can suck you into its orbit for weeks at a time. Those well acquainted with this beast will know that some there are some indisputable GG facts we can all agree on.
1. Rory's boyfriend's suck.
2. Lorelai's boyfriend's suck.
3. Emily is the queen.
4. Lane deserved better, and…
5. The gals have the cringiest style perhaps of all time.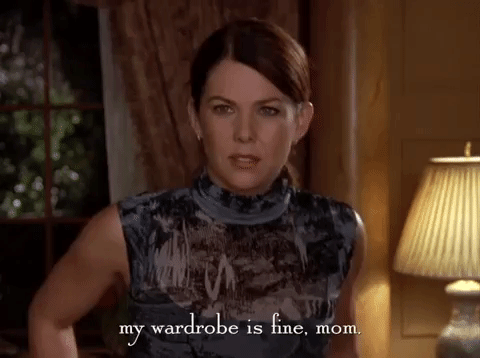 Nah m8, it's not.
With most old shows, the fashion is so outdated that it's retro-chic now. But the Gilmore Girls wore some outfits that will just never be ok.
We've taken a look back so that together we can remember all of the most cringey fashion worn by Rory and Lorelai Gilmore over the years.
Here we go.
Slogan shirts
I'm looking at you Lorelai.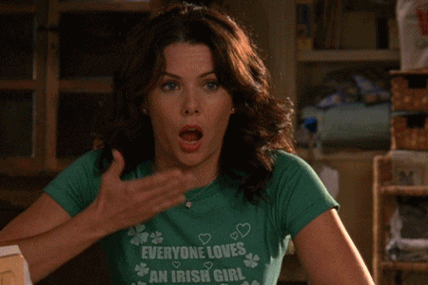 "I'm not like a regular mom I'm a cool mom."
Just cuz it's French doesn't mean it's fashion.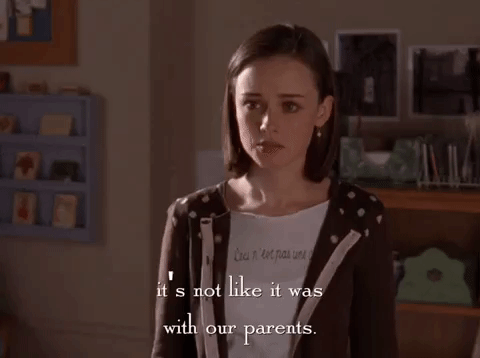 This was only excusable as a suitable Knit-a-thon outfit.
God no Lorelai.
Ultimate 'chill girl' right here:
This reminds me of TayTay's 'Reputation' album cover ammirite?
When Lorelai 'Cool Mom'd' too hard
I know accidents happen but this was a tragedy.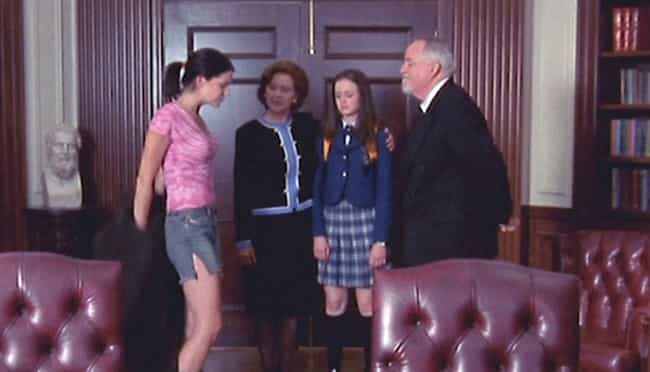 Rory's preppy phase
Rory circa season four was perhaps her worst style phase.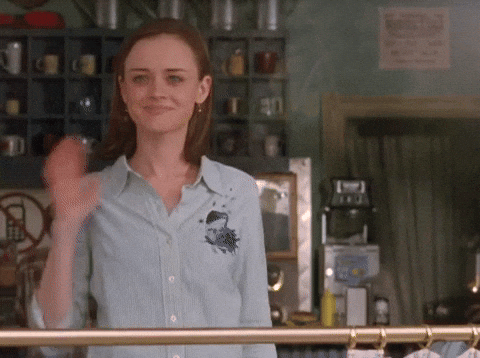 Why so preppy Roz?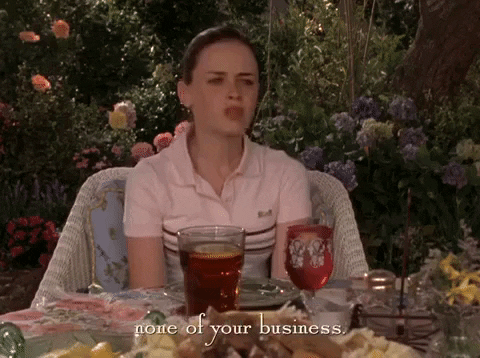 The most boring sweater ever made in the history of everything: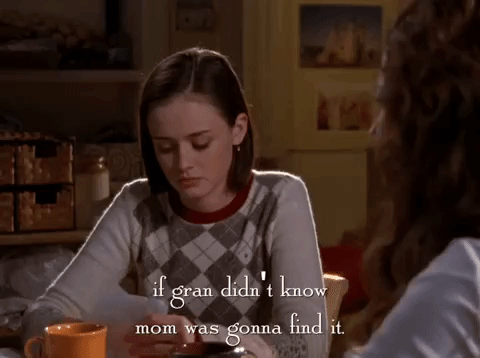 Eugh gross Rory no.
Stop with the polo shirts plz.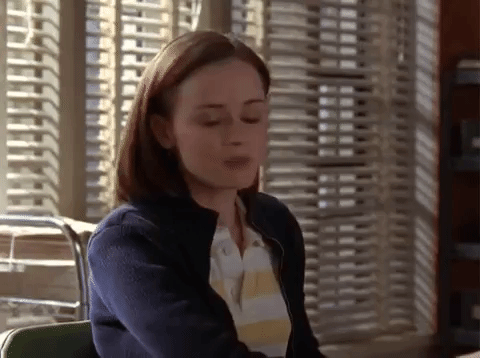 Also though some of Lorelai's 'preppy' looks are pretty damn disastrous.
Exhibit A:
So. Many. Bandanas.
Daywear or baseball costume? Can not decide.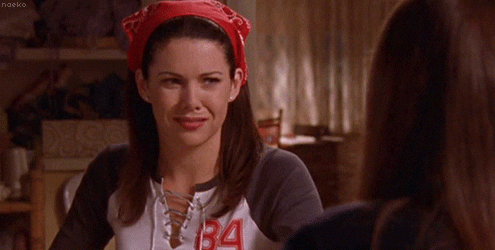 Rhinestones bandana still not enough to distract us from that patchwork patriotic mess.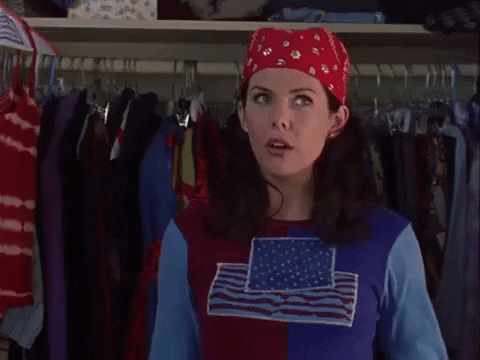 GREEN rhinestone bandana because, if you love something, get it in every colour I guess.
Legit how many does she own.
This crochet meets tie dye outfit is such a disaster it's almost a masterpiece.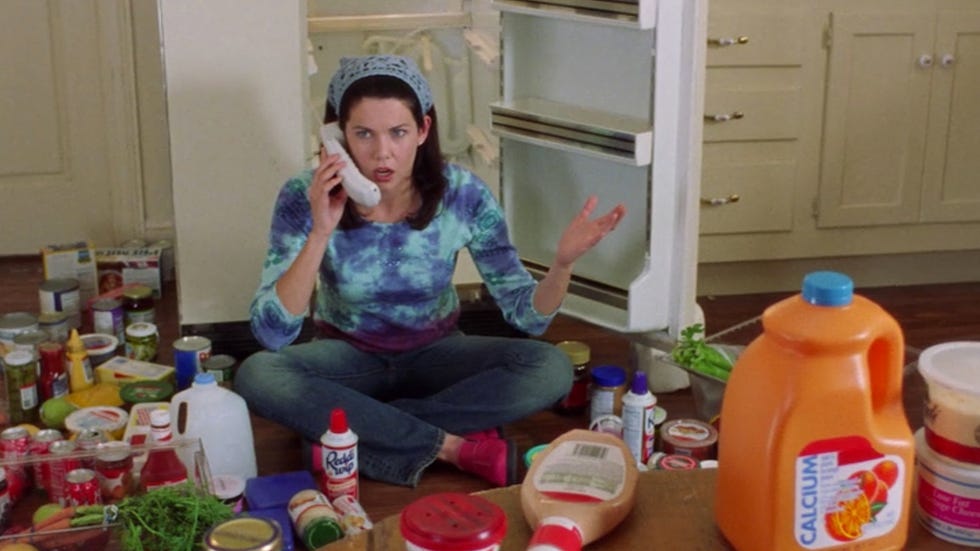 Hats
Like…what is this…
If you recall, Rory got this hat to complete her 'golfing look' and it seemed like a joke at first until she proceeded to wear it in public.
Blame the early naughties for this one.

Really Lorelai, this bucket hat is how you're going to play it?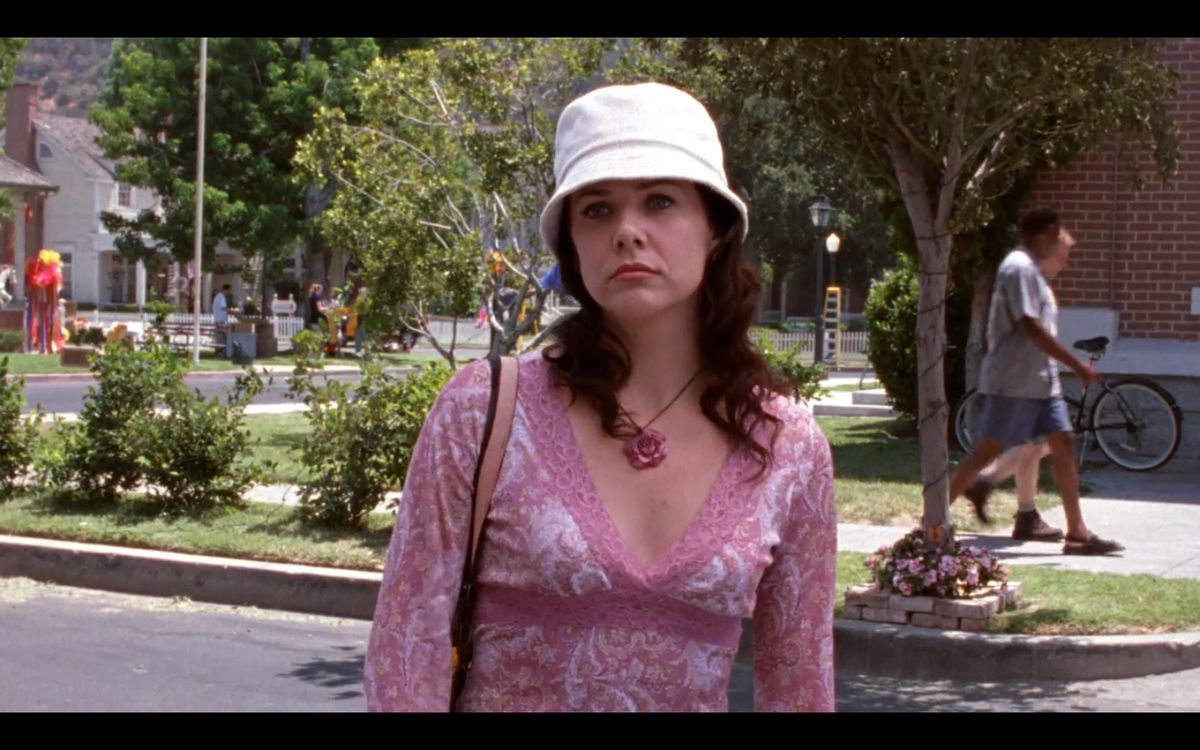 When a funeral seems like as good a place as any to try out your tortured artist look.
Enough with the bucket hats Loz.
Smh at this beanie and scarf combo.
This one might be so cringe it's cool. Maybe… Ish.
HA.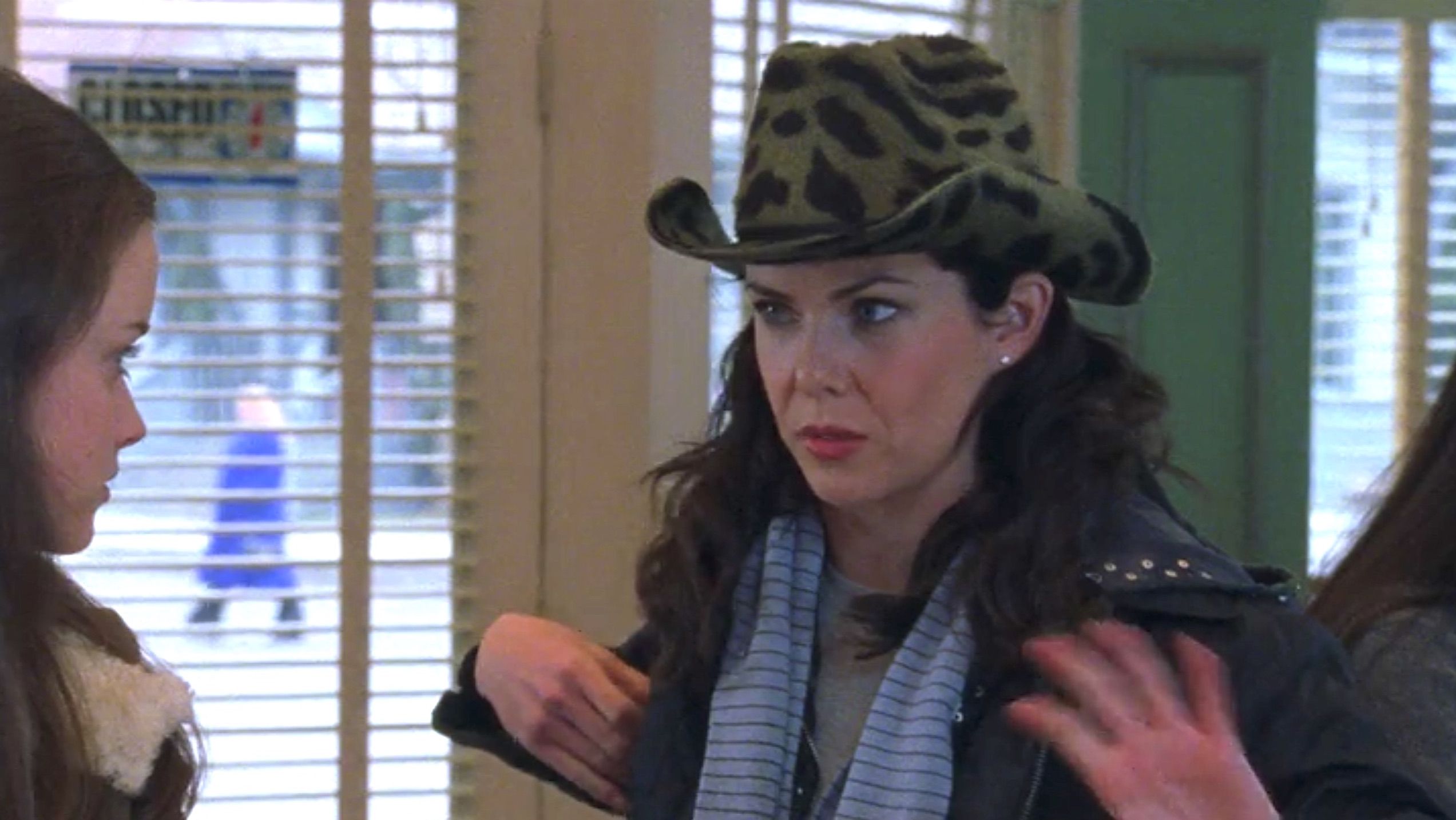 Oh the skinny scarves
If this is clearly not for warmth then we must assume that this accesorising was purely for 'fashion' sake.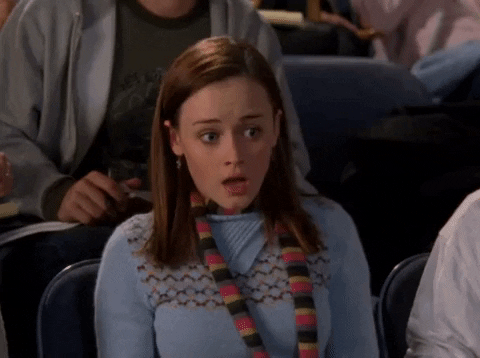 Scarf or choker? Points for that v cute pink coat tho!
I am cold just looking at this pathetic excuse for a scarf.
Spring Breakers
Bless.
The real question is: how many wrap dresses does Lorelai own?
Too many.
Oh look, a wrap dress.
Oh and hey there's another. (Respect this print though tbh).
This jacket
Let this leather jacket represent the many questionable leather jackets worn by the Gilmore Girls over the years.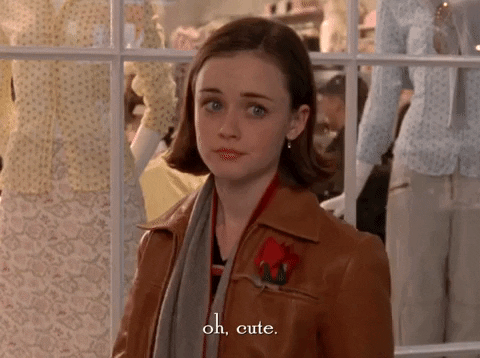 Cringe galore ft. sweaters and cardigans
There are just so many.
The GG's love their kitschy shit.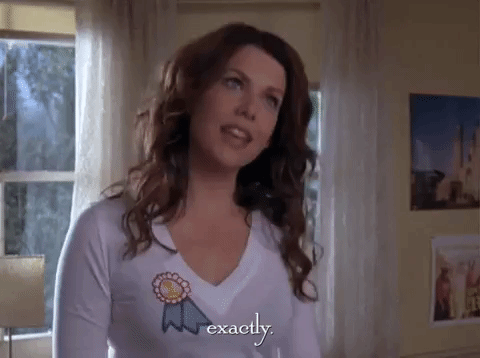 It's a 'unique' style 4 sure.
Rory and Lorelai get around far too many mini cardigans for their own good.
Little Rory, so sweet, so unfashionable.
Wow, just wow.
We love cute animals but this doesn't fly.
THAT rhinestone sweater that belonged to Rachel (Luke's mystery past lover) and was just so very ugly it was unclear why anyone would want to wear it let alone two people.
Last but not least: sweater vests
Why. Oh God Why?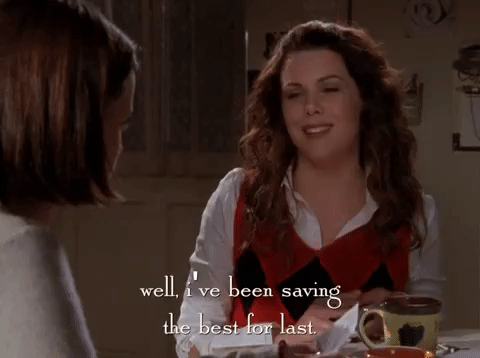 There is no excuse.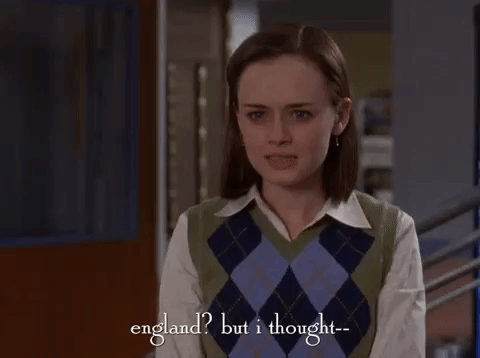 Why would this seem like a good idea?
"I wear your grandpa's clothes"
I feel like this vest is trying to tell me something but I'm not sure what.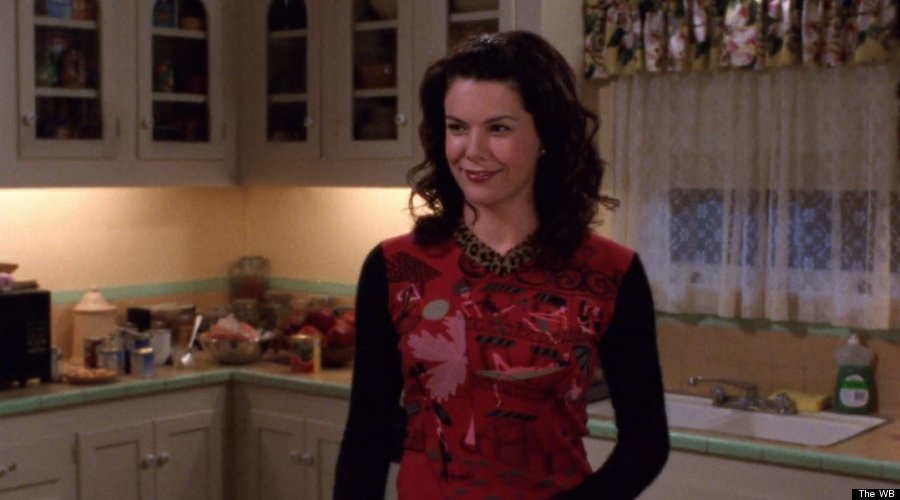 Look away!
Gilmore Girls revival – Lookin' better…some of the time.
It wouldn't truly be Gilmore Girls without some cringe style moments hey.