Jamie Doran Gave His First Interview Since 'Bachelor In Paradise' & He Didn't Hold Back
Whether you know him as Angie Kent's 'stage five clinger' or the guy who made Brittney Weldon cry, Jamie Doran left a lasting impression after his appearances on last year's The Bachelorette and this year's Bachelor In Paradise.
Now, after his alleged media ban has finally come to an end, Jamie has decided to tell his side of the story in a five-part miniseries with the podcast So Dramatic! Part one is out now and it's extremely juicy. In Jamie's own words: "This is the first time ever, I can go rogue."
Here's all the tea that Jamie Doran spilled about his time on The Bachelorette and Bachelor In Paradise:
---
On his media ban & suing Warner Bros.:
"So why I've stated that it's 18-months (the media ban) is because, in that time, I've always had someone from Channel 10, a representative, sitting next to me. I'm not allowed to say what I want to say and since July, I've also been on a full media ban. So I'm not allowed to take phone calls from (the) media, I'm not allowed to answer any questions, I'm not really even meant to talk to people on the street about what's going on at the moment. So, that got lifted on Monday, the 9th of November."
View this post on Instagram

"It was Channel 10 who placed that media sanction on me and I believe, it is just me. But the day that I commenced legal action, a lot of people got gagged just for the exit [interviews with the] media from Bachelor In Paradise… I was scheduled to go on The Project, Kyle & Jackie O, Fitzy & Wippa, the whole roundabout and that obviously all got pulled."
On reaching out to past Bachelor Nick Cummins:
"I have reached out to Nick Cummins for some advice and he is currently helping me deal with some of these social issues I'm having… It's just a new thing now, but he is going to ring me in a couple of days and we're just going to have a chat about it, because he's somebody who can guide me through this process… I wanted someone who probably had it more than me, is a single guy (and) goes out socially. I just thought he's someone who could help me."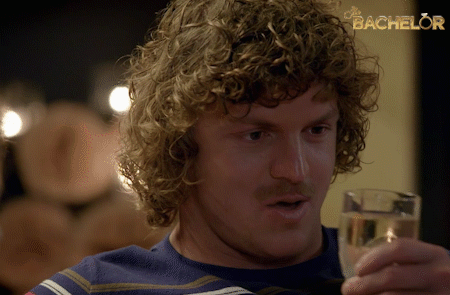 On his 'Stage-Five Clinger' edit:
"What has put me in this position now and I'm not throwing shade at anyone, [but] I got such a bad edit in The Bachelorette. I feel that I'm playing catch-up now with the public. I'm trying to prove to people, and maybe a little bit too hard, that I'm actually a nice guy; I'm not a bad guy. I'm not a stage-five clinger or whatever they portrayed me as/the villain…. But, I'm not the way they portrayed me."
On the MAFS star who helped him apply for The Bachelorette:
"I was working as a firefighter in the mines, I was a little bit lost. Dean Wells is a very good friend of mine… and he has been on Married At First Sight and he said, 'You are this amazing character, I think you'd be great for reality television' and I said, 'I'm a bit lost' — you know, how you get after a bit of travelling. I applied for Married At First Sight and The Bachelorette. We were joking about it saying, 'What if I got on both? How funny would that be if I had to choose… Anyway, I got on both and I chose The Bachelorette."
On the casting process on The Bachelorette:
"Ivan (from Married At First Sight) was in my audition for The Bachelorette and he didn't get through. Jackson Garlick was also in my audition. We had a group audition with about 200 people and they chose six people to have these hardcore one-on-one interviews with a panel of Warner Bros. people."
On preparing notes for his Bachy interviews:
"So, apparently, I'm the first guy or girl on seven seasons, at that time, of The Bachelor and five seasons of The Bachelorette that ever [took notes into interviews]. I would take in IV notes. I would write them the night before, because there were things that I wanted to talk about. And, a lot of it again, was [left] on the cutting room floor… I gave [the editors] too much."
On why he went back for round two on Bachelor In Paradise:
"They made me sign the Bachelor In Paradise contract before The Bachelorette even aired. I thought I was going to come out looking like Carlin Sterritt, believe it or not. I know it's funny when you see the edit, but there were a lot of good times, especially with Angie," Jamie said.
"I flew to Fiji, three days after I was sent home from The Bachelorette on air. So, I went out on The Bachelorette on a Thursday night and I think I flew to Fiji on the Tuesday."
–
There you have it! I guess we'll have to tune in next time for some more Bachy tea from Jamie, until then you can listen to the full episode of So Dramatic! here.