Jesse McCartney's 'Beautiful Soul' Is 15 Years Old, Which Makes Me Feel 100 Years Old
Today, '00s teen heartthrob Jesse McCartney reminded us all of the existence of his debut album, Beautiful Soul. This is now an appreciation post.
On September 28, 2004, I released an album called "Beautiful Soul" that changed my life forever. Here's to you for listening, and to many more years of making music. All my love – J pic.twitter.com/eoHVaw8q7b

— Jesse McCartney (@JesseMcCartney) September 30, 2019
It's 15 years old this year, as is the first single from the album, also titled 'Beautiful Soul'. These songs are one year off hosting a Sweet 16. These songs are buying all their outfits at Supré. These songs are ready to think seriously about tongue-kissing.
Speaking of tongue-kissing, Jesse McCartney was an international teen crush in the mid-'00s, thanks to his role on the short-lived Summerland. Was Summerland the American answer to Blue Water High? Not really. But they both used the same kind of beachy aesthetic. Instead of being about surfing, Summerland was about orphans moving to California to live with their aunt. Zac Efron and Ryan Kwanten were also in it. The '00s were truly the most magical time for dreamboats.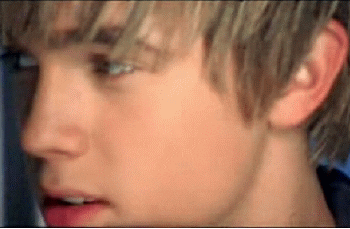 In his post, McCartney says the record "changed [his] life forever" and mentions that he still makes music. Fun fact: Jesse McCartney released his fourth album, In Technicolour, in 2014.
But our focus here is on Beautiful Soul, particularly the iconic title track.
Jesse McCartney was just 17 and sporting a strong blonde fringe when he dropped this song. In the clip, he and his friends went on a road trip and held hands. It's extremely wholesome, just like the lyrics:
"I don't want another pretty face
I don't want just anyone to hold
I don't want my love to go to waste
I want you and your beautiful soul."
The song was on That's So Raven and Hilary Duff vehicle, A Cinderella Story. Is there anything this song couldn't do in the '00s? Aside from make tween girls feel worthy of devoted love?
Let's put this into context: Jesse McCartney's there in 2004, offering up these strong boy band vibes, like Aaron Carter.
Except now, Aaron Carter reps a face-tattoo and takes selfies where a terrifying wizard doll stands in the background, with captions like "BaBY MaKiNG MaCHiNe 🤪". Cursed.
McCartney meanwhile, at 32, just got engaged, and posts about how proud he is of his brother for graduating.
And looks like this in a suit.
It's not just us celebrating Jesse McCartney and his Beautiful Soul.
Are we sure it's not still 2004? I swear it's still 2004. I swear my science teacher just told my class about your concert and I swear I just bought that album

— Heather hugged Jesse McCartney👱🏻‍♂️ (@jmacfan1) September 30, 2019
i had a jesse mccartney themed birthday party when i was 8 and my uncle called me but he said he was jesse and i cried for hours. thanks for the mems Jess https://t.co/KeRZ1uAhtN

— elle🔜EDCO✨ (@ellemichellee) September 30, 2019
Can you believe that 15 years ago Jesse McCartney invented music? https://t.co/bq4FN68WQq

— Macy Watts (@WattsMacy) September 30, 2019
Jesse McCartney is a sweet young man you'd be proud to take home to your mother. But you can't! Soz 'bout it.
Happy birthday to Beautiful Soul.
What kind of snacks you got planned? https://t.co/alBdazhbcX

— Jesse McCartney (@JesseMcCartney) September 10, 2019