Jessica From 'Bachelor In Paradise' Is Stoked She No Longer Has To Protect Ciarran
Jessica Brody didn't get much time on Matt Agnew's season of The Bachelor, but we got to know her more during her time on Bachelor In Paradise as she was pursued then harshly dumped by Ciarran Stott.
As soon as Jessica entered paradise, she had an immediate spark with Ciarran, and the two were attached to the hip, with Jessica telling Ciarran that her "eggs were in his basket." However, when Jessica wasn't around he was quick to flirt with other girls, even saying that new arrivals from either Kiki or Tenille would be a gamechanger for him in paradise.
With Kiki Morris entering and taking Ciarran on an overnight date, things were done and dusted for Jessica and Ciarran and she was left with little time to form a new connection before the next rose ceremony dawned.
We spoke to Jessica Brody about her time on Bachelor In Paradise, whether she's on good terms with Ciarran, and how she and Ciarran's ex Renee patched things up.
On finally being able to talk about the show:
"It's been a rollercoaster. Obviously I was there and experienced it but there were some things I didn't get to experience and things that weren't said to my face. It's nice to see how it's all panned out and see karma run its course. It's the biggest weight off my shoulders, I'm so glad I can be free from having to protect him for another minute."
On where she and Ciarran stand with each other now:
"Ciarran and I have spoken a lot [since the show wrapped]. We both live in Melbourne, we have a lot of mutual friends. We're not on speaking terms right now, and I never really got the answers I needed, but at the end of the day I don't think I can expect them from him. I need to move on and accept things for how they are. So there are no hard feelings, I have nothing bad to say about him these days. Obviously his behaviour is unacceptable and we can't accept men behaving like that."
On watching the show back and being shocked by some of Ciarran's actions:
"Ciarran has a personality where he is naturally flirty, and I am too. That's who we are as people. The winking and funny comments to Brittney weren't bad, but him saying if someone better came along he'd drop me, those comments were really hurtful so it was quite shocking to see how flippant he was about disrespecting me."
"[What you saw] was pretty much how it played out. I was disappointed he didn't grab me after his date with Kiki straight away, especially after telling Kiki he would. But when we had that conversation, there were more expressed. He said to me that he wanted me to know that the moment on the paddleboard was 'the most romantic moment he's ever had' and I was like, you're saying that to me… while you're breaking up with me? What are you doing?!"
"He was so cold and so robotic and I was like, this is not the Ciarran I know. It was very confusing. It left me in a headspace of not knowing if he was just playing the game and if he did have feelings for me, or whether he didn't. I just couldn't work it out, and I still don't have the answers."
On whether she got to chat to Kiki about Ciarran:
"I didn't get to have a proper conversation with Kiki. There were genuinely no hard feelings though. At the rose ceremony, we were standing next to each other, and her heels were falling into the sand so I was like 'you can lean on me if you need to'. She's an intelligent woman, she's gorgeous, I have nothing bad to say about her. We just never had a discussion about what happened."
On the background of her friendship with Ciarran's ex, Renee, and where they stand now:
"Renee and I both went into The Bachelor as intruders together, and we left on the same night. We were friends, but there was a lot of girls in there and we were only in there for a week. After leaving the mansion, we did remain friends, but sometimes I'd message her and she didn't reply. I knew she was with Ciarran, I knew Ciarran was going on The Bachelorette. Once Ciarran came out of the mansion, she just ghosted and I didn't hear from her again. I reached out a few times, I didn't hear from her, so I considered that friendship ended. To me, friendship is a two-way street and I wasn't getting anything from her, so that was done."
"Going into paradise, I didn't feel like I owed her any loyalty if I did connect with Ciarran, but he wasn't my main priority going in, I just happened to have that spark with him. Renee and I didn't get a chance to have a conversation at the Bula Banquet so that's when she found out, unfortunately. We weren't on the best terms, but throughout paradise, we took the time to listen to each other. I knew everything was coming from a place of hurt, it wasn't malicious. We've all been manipulated by the same guy, and it didn't play out that well. We've patched everything up now, she's been an amazing support to me, and I can't thank her enough for everything she's done for me. It was all worth it to reconnect with Renee."
On Alex actually being the person she most wanted to meet:
"Alex was the top of my list! Alex was the one I wanted to meet the most, and I said that from the get-go. But he wasn't there when I came in, so that connection formed with Ciarran. Then Alex was all bro code, he didn't want a bar of me once I had been with Ciarran. He did actually ask to kiss me on our date, and I said no. But it was because I had garlic breath!"
"I was 50-50 on whether I'd get Alex's rose. I did think I was maybe going to get it because he had shown so much interest on that date and we did have the last chat at the cocktail party. But maybe he just had a better connection with Keira, or maybe he's just playing the game like the other boys."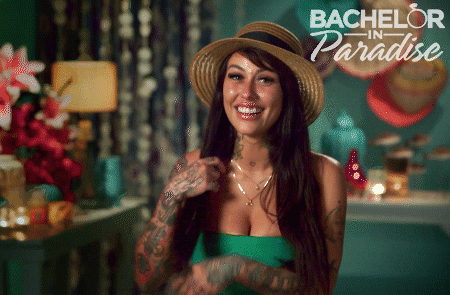 On who's in paradise for the right reasons:
"Alisha is there for the most genuine reasons, Glenn as well. Mary is definitely there for the right reasons, and she is someone who has been very genuine with her intentions to find love."
And on what she wants Bachelor In Paradise fans to know:
"I just want people to know that while you might see 200 beautiful comments, it's human nature to focus on the negative ones. It's damaging to make off the cuff comments and it's just not necessary. We are all human beings at the end of the day so just try to be kind. You don't have to love everyone, but you don't have to hate everyone either."