Two Former 'Bachy' Faves Have Started A Podcast & Here's All The Tea So Far
Two former Bachy faves – new mumma Laura Byrne and Brittany Hockley, famous for being jilted in the finale – have set up a podcast, Life Uncut, as an insider's view on the perils of dating and reality TV.
Here are all the deets from the first couple of eps, which dropped earlier this week.
Firstly, do you remember who these people are?
Laura Byrne was the winner of Matty J's season of The Bachelor. They got engaged this year – and popped out the first of their brood, Marlie-Mae, in June (something the second ep of the pod goes into).
Brittany Hockley had less of a fairytale ending – she got savagely dumped by the Honey Badger in the finale of last year's season, after he chose no one and deeply rattled our faith in the power of this franchise to remind us of the possibility of love/intimacy/abs.
So while Britt doesn't know if she's over or underqualified to start a dating podcast (Britt, anyone can start a dating podcast, that's the joy of the podcast medium, there's literally zero gatekeepers!) she does know that her experience on last year's The Bachelor gives her plenty of strong opinions.
How did Britt & Laura end up on The Bachelor?
Britt decided, at the behest of her mates, that if she didn't find the love of her life on a big international trip that she'd give Bach a crack.
"I was 30, I was still single, and I was like sign me up, baby, I'm going on."
She explains that she was single for seven years, but wound up on the show after a fuck it moment:
"I have zero to lose and it's my next big adventure so I'm gonna sign up for The Bachelor."
Laura meanwhile described her past dating life as "mottled", bringing up a slew of toxic af exes we're keen to learn more about in future podcasts. Going on Bachy and actually taking the time to figure out what she wanted broke a pattern where she "monkey-branched" between relationships.
"I didn't do it thinking I would meet someone… I did it more as a bit of a joke."
Basically her mates got drunk and signed her up – because dating shows are, at the bottom of it all, about the power of friendship.
BTS goss on the Bachy mansion: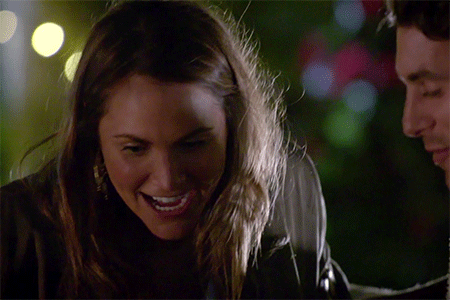 Laura chatted about how the girls' grocery order had to cost less than their shared weekly allowance, so they mostly used the $$ for big cook-ups. However, she referred to the house as being on holidays, saying "it was bloody great sometimes. It was like being on a school camp, which was one of the funnest parts but also the most difficult parts of the whole thing as well."
Brittany agreed with the sentiment, saying it was "like being in a resort with your closest girlfriends". Though both Britt and Laura stayed in bunk beds in dorm rooms of 12 and 14 people. Imagine a resort like that!
Both girls divulged they also had shit gyms – in fact, the alpaca shed was the 2018 gym, while the 2017 one was a garage and both hosted the bare minimum of equipment. Laura even spilt that Matty J tried to nick some of the heavier weights (over 16kg), so Laura had a tantrum to get them back!
The girls also said that producers listened in on their phone calls to make sure they didn't give any secrets away to their friends and family.
On their mansion entrances: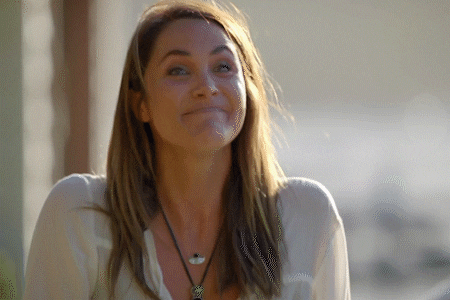 Brittany, the radiographer frontrunner from the same hometown as Honey Badger, turned up with gifts which we never saw on the show. Apparently, those boxes were full of fortune cookies. She also stated she didn't go in assuming she'd meet 'the one' but they connected so much on the carpet (same age, same hometown, what a viiiibe) that it did occur to her "this could be it!".
Laura, who drew comparisons to ex-Bachelorette Georgia Love, was encouraged to bring jewellery on the first night which she pushed back on. So instead she planned on bringing a flower she plucked from the garden – but a producer told her at the last minute that that's sooooooo been done.
"So here I am, three seconds before getting out of the car, I had my lines all planned… 'Hey, I didn't want to show up empty-handed, maybe I should've brought a cob loaf.'"
Britt on dating post-Bachelor: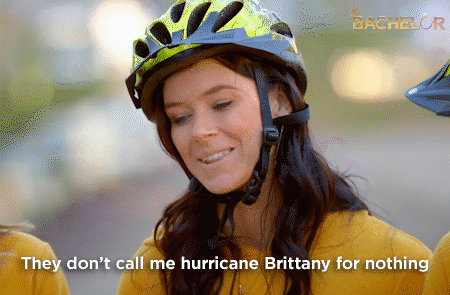 "I'm definitely dating, you have to be in it to win it. But having said that, I think life after The Bachelor, it's probably made dating worse for me to be honest, and it's made it harder to meet somebody. I've been on online dating a little bit, but I have a lot of fake profiles actually that people have sent to me so that has made it a little bit hard."
After a year of online dating, Britt went back to it, but almost immediately got dropped from Bumble, because too many people reported her profile as fake. She literally puts a profile up, wakes up, and she's been booted off the app. Brutal.
"I wake up in the morning and I tell you what, I feel like it's Christmas, I'm like, 'Ooh, can't wait to log on and see who matched me.' I was so pumped. I don't know why. I open up the app and it's like, 'Good morning Brittany, you have been kicked off Bumble.'"
Bumble let her back on when her mate reached out to correct the dating app's mistake. Keep your eyes out.
Britt on her rejection on national television: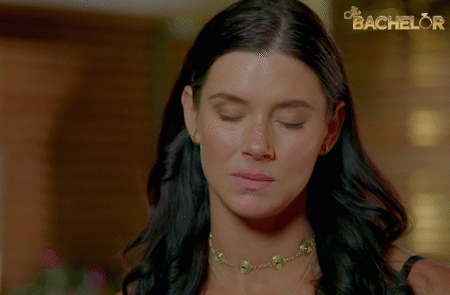 "I didn't cry. I didn't ask any questions. I just said, 'Is that all?' and then said 'Good luck,' and walked away. I think the producers told me I was the first person ever on The Bachelor to not cry once.
"My internal monologue was, 'This guy has just said on national television that you are not enough, that he doesn't want you.' So, to me, the reason why, was irrelevant.
"I cared so much, and deep down later on, I thought, 'Maybe you should've asked him why' only because I didn't understand it – we got along so well and we had so much in common, we had the greatest time. I couldn't understand how that connection wasn't there for him to want to explore.
"We did speak later on and I hold nothing against Nick at all, he's a great guy. Just wrong time, wrong situation."
Since Britt's brutal rejection, a lot of people have reached out for advice, which is part of why the two decided to make the podcast.
Laura & Matty J would not have gotten together if they met in the outside world:
"To be perfectly honest, had I met him [Matty] in the real world and not in the Bachelor mansion, we probably wouldn't be together. I think in the real world I just would've thought he was too nice, and there wouldn't be a challenge for me. And what I've come to realise is, through these two very happy years, is that in relationships, you don't want them to be a challenge."
On life lessons from The Bachelor: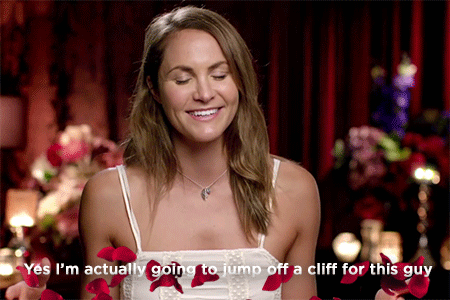 Laura said she learned there really is power in being vulnerable and honest. "There really is power in allowing people to know when you're not OK, because people want to support you through difficult times. But if you seem like you don't need support or you seem like you're totally fine on your own, then people don't come to your aid and you do get left on your own quite a bit."
And, of course, this show secretly illustrates the importance of strong female friendships, and being vulnerable with each other – the reason Britt and Laura are even mates is because Laura slid into Britt's DMs when she was getting a lot of heat about the way she confronted Cass Wood last season.
Laura messaged her to reassure her that everything she was going through was totally normal, and gave Britt her phone number. The goss is Alex Nation – responsible for Nikki Gogan's broken heart – did the same for Laura also.
And ofc Britt's pissed she got Honey Badger instead of Dr. Matt: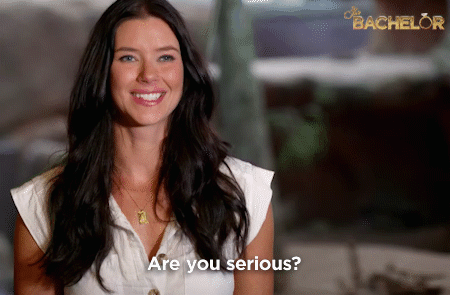 By the second ep, the girls had watched the promo – and had some feels about the hot astrophysicist.
"I am irrationally jealous – actually it's probably not even irrationally, it's rationally jealous – because they look they're doing the most epic things: I saw some fighter jets and I saw some of the most romantic dates.
"I do believe everything happens for a reason and I'm happy with how my story panned out. Obviously, Nick and I were not meant to be, and Sophie and I had this great story that was women supporting women and I love that. But how could you not be jealous looking at Dr. Matt Agnew? I'm jealous of the fact that he genuinely looks like he's out for love… he's not a celebrity, he is intelligent, he seems lovely."
You can listen to the first two Life Uncut podcasts in full HERE.
Watch The Bachelor on Wednesday and Thursday nights on Channel 10 at 7.3opm.