LISTEN: Kesha Has Finally Explained What Went Down With That Awks As Jerry Seinfeld Hug
After her awkward hug attempt with Jerry Seinfeld sent viewers into a full body cringe, Kesha has finally explained her side of the story.
During an interview with Sirius XM's Hits 1, Kesha was asked about the cringe-worthy exchange with Jerry and had this to say:
"I felt like I was 5 years old," she said. "I instantly was like, 'Oh, fuck me.'

"I somehow ended up in my own mini-episode of 'Seinfeld' for, like, five seconds."
Kesha told the radio program that she's a massive fan of Seinfeld – the series that is – and admitted to watching the reruns thousands of times.
But then shouldn't she know the series' 'no hugging, no learning' policy?!
"I used to carry the whole season package with me in my carry-on, DVDs. That's why I was trying to attack him."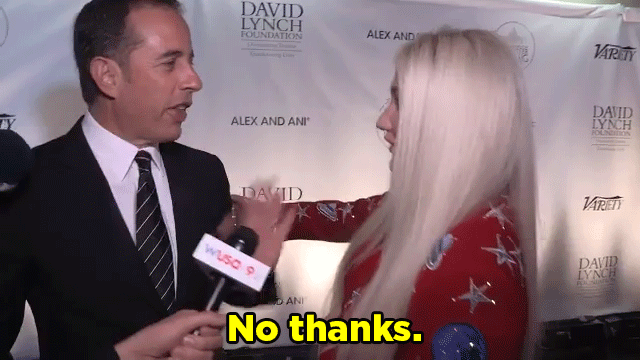 She said, "that's why I wanted a hug so hard," adding, "But he's not a huggy guy – that's fine. I just was like, as soon as he didn't hug me, I [knew] that [the video] was going to be everywhere."
"I should've known better."
Yes you should Kesha. Yes you should.
Listen to Kesha explaining what went down below:
Get Punkee's Bachelor Recap Alerts!