A Summary Of Where Our Final 'MAFS' Couples Are At After Tonight's Dinner Party
Tonight was the FINAL dinner party of Married at First Sight 2020 and if you're like me, you were confused because you thought the final dinner party was actually last week but anyway. Here we are. I'm not complaining, it's not like I have anything else to do.
As the couples prepared to say goodbye to each other, they were given two last presents: one was watching each other's audition tapes which was about as exciting as it sounds. The other was a fresh round of "honesty boxes" at the dinner party that John helpfully dropped off for the couples.
I can only assume he, Trish, and Mel were getting bored shitless watching them all get along so they had to try to shake things up one last time.
Before the honesty box was introduced, our boy Steve toasted the group and the beautiful connections they've made along the way but most importantly he toasted to "this beautiful girl right here" Mishel. Her face said it all:
With the end of Married at First Sight in… sight… here's where our final couples are at after tonight's dinner party:
1. Seb & Lizzie
Seb's question for Lizzie, allegedly set by the experts, was to see if she was falling in love with him. She was straight up like "lol no" which is also me two years into a relationship.
While it sounded harsh and Seb looked somewhat hurt (though I'm still firmly on team "Seb is an actor and this whole relationship is a set up") he also agreed they're both not in a position yet to be able to drop the L-bomb. In fact, neither of them have ever dropped the L-bomb to a significant other! Another fact: I don't care!!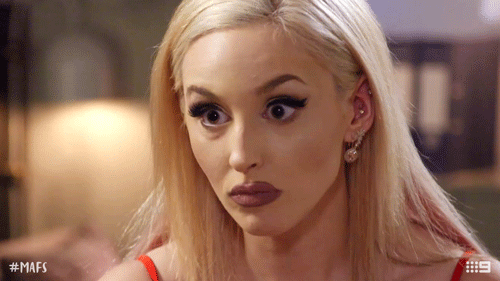 2. KC & Drew
In a big moment, KC said she would be willing to fly to Cairns "every weekend" to see Drew and he responded as though she had just taken a knife, stabbed Cornelius in the stomach, and ripped out all his filling.
KC had to ask Drew if he really DID think she's materialistic. It's so hard to know, because it's not like he hasn't mentioned that about 157 times since they both entered this experiment. Enough! Enough!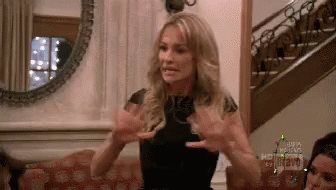 3. Stacey & Michael
I mean, is it even worth talking about their fake-ass relationship when we all know they've been dropping hints they've been over for yonks?
The only good thing coming out of this global lockdown is the fact that these people won't be making any money off trying to be famous anytime soon with nowhere to go.
4. Connie & Jonethen
Connie asked Jonethen in what ways does he see them as compatible and he listed her quality skills of being "adventurous" and "loving to travel" so therefore he pretty much wrote her a new Tinder bio.
The weirdest part of these two and their honesty box interaction (if you can even begin to narrow it down) was when Connie deemed Johnny hadn't always been in the experiment for the right reasons, based off the vibe he gave in his video audition. Johnny then screamed about thinking he WAS an affectionate guy but this experiment proved to him he WASN'T an affectionate guy! Which… seems to be the opposite of self-growth but whatever.
We're all starved of affection right now as it is, so we can only assume Johnny is in his element.
5. Steve & Mishel
If I wanted to hear a couple who desperately need to break up argue about their lack of intimacy, I would've just stayed with my ex-boyfriend.
Steve said without strong attraction levels he figured it'd be hard to kiss Mishel passionately. IDK, Steve: have you tried drinking alcohol? Turns out, you can definitely kiss someone you don't find that attractive under the influence of a few glasses of wine.
When Steve gets pressured to answer WHY he doesn't find Mishel attractive, he blunders over some sort of answer of normally dating "taller" women.
Well good luck out there on Tinder, Steve. Make sure you list the height requirements you need to make a relationship work.