Just A Bunch Of Funny Tweets About Poh's Chaotic Energy On 'MasterChef'
This season of MasterChef All Stars has been the wholesome viewing we've all needed during these uNpReCeDeNtEd times.
From the joy that is Melissa Leong, to the heartwarming friendship between Brendan and Reece, and the sheer presence of Khanh, the show has brought entertainment, drama, and so many jokes about Laura's pasta that we can't keep up.
But there has been one consistent throughout this season of MasterChef and we're talking even more consistent than the Hibachi grill – and that's Poh Ling Yeow's absolutely frantic energy.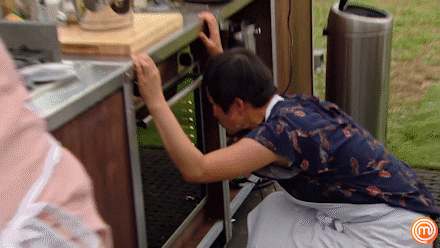 Poh loves pushing challenges to the very last minute but she still manages to deliver and has an enthusiastic energy that we can't help but love even if she is giving me huge anxiety most episodes.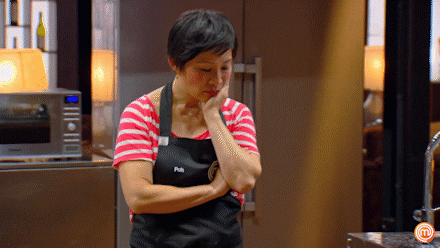 Poh has brought absolute chaos to this season of MasterChef which has left fans of the show somewhere between amused and absolutely stressed.
Here are some of the best tweets!
Put the pie in the oven, put the pie in the oven! 🥧 #MasterChefAU pic.twitter.com/9PTxB0Zfxd

— masterchefau (@masterchefau) April 28, 2020
Me watching Poh try to cook a four-hour cake in 90 minutes #MasterChefAU pic.twitter.com/MAnbb6Ab8W

— Michelle Rennex (@michellerennex) April 19, 2020
#MasterChefAU I love Poh but she always be lookin like she's trying to solve year 12 calculus in her head and then stabs herself with a pen out of frustration

— ALEXANDRA (@alexandrasings4) May 25, 2020
Poh, with 20 minutes to go: "The pressure cooker isn't even on!"
Me, already running high on emotions: #MasterChefAU pic.twitter.com/ErIMcyk3sU

— Olivia Silk (@livsilk) May 27, 2020
Poh; "I'm cutting it close on the timings"
Australia;
#MasterChefAU pic.twitter.com/EzJsh9rvNw

— Kate V (@Kater27) May 28, 2020
Poh "I've bitten off more than I can chew"
Everyone: #MasterChefAU pic.twitter.com/OxASAPWprq

— haley 🐼 (@haley_stringer) May 27, 2020
If anyone can hard-boil an egg in five minutes, Poh can. No wait, that is physically impossible. #MasterChefAU

— Adam Liaw (@adamliaw) May 21, 2020
I live for the chaos of Poh saying she's going to take her pie out with 10 seconds to go – she DID that!!! Giving the judges heart attacks while she gleefully cackles about her planned lack of time!!! Julie Goodwin could never!!!#MasterChefAU #MasterChef pic.twitter.com/XP1DbBGrQ7

— Chloe (@thatchloechick) April 28, 2020
#MasterChefAU Poh takes 40 minutes to shop and 10 minutes to cook and cooks a masterpiece

— yeah yeah its anne (@annabell_JG) May 21, 2020
The chaos that Aunty Poh embodies is bad for my health. But I'm addicted. @masterchefau #MasterChefAU

— ShrikanR (@shrikan_r) June 4, 2020
How does Poh manage to create absolute culinary chaos and end with sheer culinary mastery? #MasterChefAU pic.twitter.com/iv5Fxi0Vjw

— Cillian (@Cillian_____) May 12, 2020
In fact, it's nearly now concerning when we see Poh calm in episodes.
Poh feeling all calm and in control… #MasterChefAU pic.twitter.com/zSMT5FJ8om

— anonymissjane (@anonymissjane) May 31, 2020
But she's also come out with some pearlers like when she rightfully called out Jock and Andy for not wanting anything to do with the durian during a mystery box challenge.
Poh's comment about the boys not getting it with the durian #masterchefau pic.twitter.com/ujueShzrxI

— KC (@kelv_cheuk) June 3, 2020
Lmfao Poh said it: "I don't know if Jock and Andy will get it." #MasterChefAu

— Tim Hutton (@TimHuttonAu) June 3, 2020
Tbh, this absolutely needs to be the finale.
If it's not a Poh v Reynold (chaos v control) final then this season would've been a waste. #MasterChefAU

— Paul Cartwright🐯🏆🐯🏆 (@paul3182) May 28, 2020
Poh, we adore you and your frantic energy. Never change.
In the Poh position in front of the telly for some #MasterChefAU pic.twitter.com/XpQP5kLRYJ

— Dion (@dj_sherbert) June 3, 2020