We've Ranked The 10 Most Iconic Reality TV Moments Of 2018
There is no denying that 2018 has been an absolute killer year for reality television. Can you even believe that Married at First Sight's Dean/Davina trashfire cheating scandal was this year?! What a time.
Between the first seasons of Bachelor In Paradise and Love Island, the return of series staples The Bachelor, The Bachelorette, I'm A Celeb, Survivor and of course MAFS, we weren't low on absolutely iconic moments, so we decided to rank them all.
Tbh, MAFS has taken up a fair slice of the most memorable moments. That season was truly bonkers and it'll be tough to beat when the 2019 series rolls around.
But I digress, here are the 10 most iconic reality TV moments of 2018!
#10. Jarrod & Keira Relationship On BIP Was A Rollercoaster
No one would have matched these two crazy kids together, but damnit they were actually cute. RIP.
---
#9. Troy On MAFS Was Unlike Any Human We've Met Before
We will never forget Troy's tooth brushing rampage and that excruciating kiss on the beach.
---
#8. Grant On Love Island Proved He's The Nation's Biggest Fuckboi
Between dating Cassidy and trying to simultaneously hook up with Tayla, to then finding out he already had a damn GF on the outside, Grant was just a general garbage person.
---
#7. Shane Gould Became The Oldest Person To Ever Win Survivor
Shane will go down in history as a total boss, in and out of the swimming pool.
---
#6. Ivan's Dancing & Whole Avocado Blending On The Bachelorette Made TV Gold
Ivan did a lot of weird shit and we loved him for it.
---
#5. Dean Rapping To Tracey On MAFS Was Low-key Horrifying
This was even worse than the time he tried to skateboard.
---
#4. Shannon Noll Placed Second (Again) On I'm A Celebrity
History repeated itself, as the hilarious Fiona O'Loughlin took home the jungle crown.
---
#3. Sam Proposed To Tara On BIP & Our Hearts Couldn't Take It
This was (obviously) rather short-lived but Sam's proposal made me believe in love again, at the time anyway.
---
#2. The Honey Badger Made History Choosing No One on The Bachelor
We may never recover.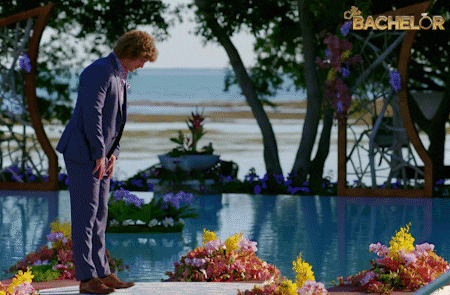 ---
#1. Davina & Dean Cheating On MAFS Rocked Australia
There's no denying that no other reality TV moment even came close to the MAFS cheating scandal at the beginning of 2018. I'm still not over it.