'Sex And The City' Low-Key Dragged Kim Cattrall In The Reboot & Fans Are Furious
Life truly imitated art in last night's And Just Like That premiere, which is the highly anticipated reboot of Sex and the City.
First of all: this post contains several spoilers about the first two episodes of And Just Like That, so if you haven't watched and plan to, you best be exiting this window ASAP.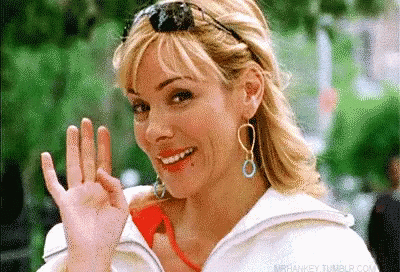 The Sex and the City reboot has arrived, with three out of the fab four returning, with Sarah Jessica Parker, Kristin Davis and Cynthia Nixon all reprising their roles, along with practically every other main character — except Kim Cattrall's Samantha. Cattrall has had a fraught history with the series and her costars — especially Parker — as she pulled out of a third SATC movie, and later confirmed she would not be back for the TV reboot.
So how did the series address the elephant in the room? Lucky for fans, they put us out of our misery early into the premiere. When Bitsy asked about Samantha in one of the first scenes, Charlotte replies, "She's no longer with us," before thankfully clarifying that she's not dead, she has moved to London. Oh… good!
London, apparently. #AndJustLikeThat pic.twitter.com/c4bwfFthBy

— audrey hope apologist 🔮🌙 (@moodygroovybaby) December 9, 2021
When Carrie and Miranda were alone, they elaborated on what went wrong in their friendship. "It is kind of like she's dead, Samantha, we never even talk about her," Miranda began.
"What is there to say? I told her that because of, you know, what the book business is now, it just didn't make sense for me to keep her on as a publicist," Carrie told Miranda. "She said fine, and then fired me as a friend."
Miranda interjected, "She didn't fire you… You know Samantha — her pride got damaged," adding that Samantha might have been "embarrassed" which explains the lack of communication.
shedding tears #AndJustLikeThat pic.twitter.com/v9H16CazaI

— emma (@milfdredratched) December 9, 2021
Carrie said that she had left Samantha voicemails to talk through their issues, then went on to make a rather pointed comment about her former friend, saying that "I thought I was more to her than an ATM." Yikes!
Carrie, Miranda, and Charlotte have all reached out to Samantha but she has been unresponsive. "I always thought the four of us would be friends forever," Carrie mused. In short: Samantha got fired by Carrie as her publicist so she then ghosted her three best friends and moved to London.
Fans are beyond offended that Samantha's exit from the series was portrayed as some petty grudge about her losing Carrie as one her publicity clients. Viewers took to Twitter to say that the way Samantha's absence has been explained on the reboot is inconsistent with the character we've known across six seasons and two movies.
Put more respect on Samantha Jones. She was the most understanding friend in that group and would never go ghost like that. Lazy-ass writers. #AndJustLikeThat

— Eve (@evethornhart) December 9, 2021
Samantha Jones was a loyal, judgment-free class act. The audacity to try to portray her otherwise. We know better. And we know Kim Cattrall always deserved better. #AndJustLikeThat

— h bear (@happyhazel22) December 9, 2021
samantha would never ghost carrie over work, money or anything else like that. this is the same woman that fed carrie voghurt like a baby when she was broken hearted. it's sloppy writing and of course written to give carrie/sjp the ✨victim✨ edit. tacky. #andjustlikethat

— joe (@jxeker) December 9, 2021
I'm sorry but there is no way Samantha Jones would ghost her friends #AndJustLikeThat pic.twitter.com/hh1DsYNPpM

— miranda jaye (@mirandajaye) December 9, 2021
Samantha Jones who once told Carrie she won't judge her for sleeping with a married man because it's not her style suddenly up and dropped her three best friends because she lost out on a client? Pathetic #AndJustLikeThat #satc

— miranda mckingsby (@laffmytitsoff) December 9, 2021
Samantha would do anything for her friends idk how much time passes she would never ever ghost her friends. Lazy unrealistic plot ever. Anyways Samantha Jones Supremacy#AndJustLikeThat pic.twitter.com/tWfHOzlHtZ

— ᴊᴀᴅᴇ (@MarvelousOncer) December 9, 2021
Carrie's comment about trying to mend her friendship with Samantha, but not getting the same energy back, feels like an obvious drag of Cattrall. After the death of her brother in 2018, Cattrall famously addressed Parker on Instagram, writing, "Your continuous reaching out is a painful reminder of how cruel you really were then and now."
Along with this, Carrie claiming that money caused their friendship to end was another potential dig at Kim. According to the show's executive producer, Michael Patrick King, Cattrall had issues in the past with salary disparity between herself and Parker, asking to be paid the same as the show's lead.
In episode two, following Big's death (yep! it's all happening!) as the women attend his funeral, Samantha sends a bouquet of flowers — but she doesn't call or text. Carrie thanks her via text, where we see a stream of messages from Carrie, yet she received no replies.
Anybody else pause to see what the messages to Samantha said? Lol #AndJustLikeThat pic.twitter.com/p7gY5ZN5Qu

— L A K E (@LAKEXVIII) December 9, 2021
Fans are especially baffled that Samantha wouldn't show up to Big's funeral, given how much she valued her friendships in past seasons.
I don't care how much time has passed,or what grudges she has. Samantha Jones would move heaven and earth to be there when her friends need her most. #AndJustLikeThat pic.twitter.com/z63lOaeEEx

— Red (G's Version)🧣 (@Gemz45) December 9, 2021
They should have explained Sam being gone better. She would NEVER not come to the funeral no matter how mad she was. It wasn't her style. She was an icon, not a dick. 😤 #AndJustLikeThat pic.twitter.com/Aah2WpOoEH

— Sarah Santucci (@SarahWurrey) December 9, 2021
What we ain't gonna do is blame Kim for the writers screwing up Samantha's character in #andjustlikethat. It's obvious the writers wanted to ruin her. Sam is in London for work should've been it. The backstory was OOC. And flowers/two worded note?? A phone call would've worked. pic.twitter.com/splxkJq0Xl

— ash (@isanhonestmess) December 9, 2021
So far, Kim has not expressed any interest in rejoining the show for a potential second season and after how they wrote her character out of the reboot, I'm not sure if we will ever see her reprise her role in And Just Like That.
Kim Cattrall seeing what they did to Samantha #AndJustLikeThat pic.twitter.com/JzcZgTgofP

— mizge (@mihailo____) December 9, 2021
At this stage, the best we can hope for is a Samantha Jones spin-off as Sammy J takes on Europe. And you know what? I'd watch the hell out of that.
Give us the Samantha Jones in Europe spin off we want and we deserve#AndJustLikeThat pic.twitter.com/VJaUsL2ikq

— ohchrissavidge (@ohchrissavidge) December 9, 2021
I just want a spin off of Samantha Jones being a bad bitch in London now. #AndJustLikeThat pic.twitter.com/NH3dd7hgYz

— Jill Balentino🦇 (@Sporadic2BME) December 9, 2021
–
New episodes of And Just Like That drop every Thursday night on Foxtel and Binge.