We Did The Maths & It Turns Out Australia's Bachy Has A Higher Success Rate Than The US
This season's The Bachelor finally gave us a perfect love story and it truly renewed our faith in true love.
We deserved a fairytale ending, especially after last year's disappointing season, with Nick Cummins not even choosing a winner in the end, which left us losing hope over whether The Bachelor franchise can actually form a long-lasting relationship.
But how does Australian Bachy compares abroad? We thought we should look to the people that started it all and see what success the United States has had with their many seasons of the OG series and spin-off.
It turns out, Australia is actually killin' it.
We compared the Aussie and US Bachy series based on how many couples the series actually made!
The Bachelor & The Bachelorette, US
Let's just say that the success rate of The Bachelor is pretty damn bleak.
The only seasons that created long-lasting relationships were Season 17 with Sean Lowe and Catherine Giudici, Season 23 with Colton Underwood and Cassie Randolph, and then there was the big mess with Arie Luyendyk Jr on Season 22, who eventually chose Lauren Burnham, but not before initially proposing to Becca Kufrin.
Arie and Lauren are still together and recently welcomed a daughter. Becca went on become The Bachelorette, and she is still with her series winner Garrett Yrigoyenare. It's all a lot to digest.
Along with Becca, the track record with the US Bachelorette has been much better. The first-ever Bachelorette, Trista Rehn, married firefighter Ryan Sutter and fifteen years later, they're still together and have two children.
Ashley Hebert from Season 7 is still with winner J.P. Rosenbaum, following their errr… televised wedding, and they have since had two kids together. Likewise for The Bachelorette's ninth season couple Desiree Hartsock and Chris Siegfried, who are still married with a couple of Bachy babies.
Another fave, JoJo Fletcher from Season 12, seems to still be going strong with her winner Jordan Rodgers.
Season 13 Bachy, Rachel Lindsay (the first person of colour to lead the series), chose Bryan Abasolo in the finale and they appear to still be together and living in Dallas, Texas.
Results?
All up that means the show created nine successful relationships. That doesn't sound too bad until you realise there have been 23 seasons of The Bachelor, and 15 seasons of The Bachelorette. All up that's nine relationships created from 38 seasons of reality dating TV.
That's around a 23.7% rate of success. Yikes.
---
The Bachelor & The Bachelorette, Australia
On the flip-side, we've done comparatively well. Season 1 saw Tim Robards meet and later marry Anna Heinrich. The Bachelor Season 3 saw Sam Wood and Snezana Markoski meet, marry and they have just welcomed their second child together.
Matty J's season of The Bachelor saw the handsome man meet his match in Laura Byrne. The two are now engaged and have a child together. Cuties.
This year's The Bachelor saw astrophysicist Matt Agnew meet his nerdy counterpart in Chelsie McLeod. Since the season aired the couple have confirmed they're still together.
Over on The Bachelorette, we have Season 2 leading lady Georgia Love and her winner Lee Elliott still going strong, living together in Melbourne and recently getting engaged. And while both Sam Frost and Sophie Monk's chosen winners didn't work out, according to Instagram our most recent Bachy, Ali Oetjen, is still dating Taite Radley. Hell yeah.
Results?
So all up, the Bachy Australia franchise has created six long-lasting relationships out of 11 seasons. That equals a success rate of 54.5% which tbh, is BLOODY GOOD.
I'll also note that, weirdly, only every second season of both The Bachelor and The Bachelorette has ended in a successful relationship, with the love stories on Season 2, 4 and 6 all a massive letdown, thanks to Blake, Richie and Nick. This put the odds in Matt's favour.
Over on The Bachelorette, on Season 1 and Season 3 Sam and Sophie both didn't find long-lasting love, so unfortunately for incoming Bachy Angie Kent kicking off Season 5, things may be against her unless she can break the pattern.
I never thought I'd have this much fun with maths.
–
So there you go folks, if you feel like you're still feeling burnt by the Honey Badger's season, remember…it could be a lot worse.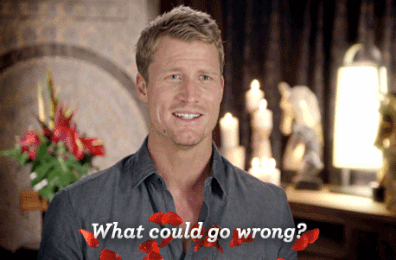 This story has been updated since it was originally published.