8 Things That Happened On Tonight's Hot & Heavy Episode Of 'The Bachelor'
Welcome to The Bachelor finale week! There's never a more exciting time to be an Aussie reality TV fan.
Finale week for reality shows is like Christmas: there's flowing drinks, a lot of food, general cheer and goodwill, and someone always ends up crying. And that's just us here in the Punkee office.
We're finally nearing the end of Matt Agnew's journey to find love, but first, he must dump another blonde wife so we can finally get to the final two.
Here's everything that happened on the second-last episode of The Bachelor:
---
1. Matt read how the Honey Badger once ran into the woods to escape producers, so he tried to do the same thing.
As he climbed to the top of the rock like a little monkey, Matt took his shirt off to contemplate the tough choice that was ahead of him: which girlfriend SHOULD he pick to fulfil his contractual obligations with? "Why am I shirtless?" Matt whispered to a magpie who looked at him disparagingly, rolled its eyes, and flew away.
2. Chelsie was first to reunite with Matt and they exchanged many happy "so good to see you" tongue massages.

They frolicked around on the beach for a while before going on a seaplane. For once, it wasn't all serious or straight nerd talk with these two – you could actually SEE that they had a fun, flirty connection. Now this shouldn't be a shock as Chelsie has made it to the final episodes but honestly, it's like we still barely know her.
"They need to bring back the proper love story again," I said to my blow-up Idris Elba doll. He didn't reply.
3. Matt then made Chelsie solve an equation because nothing screams "I'm falling in love" more than being forced to do maths.
After giving her hints on the above date as well as clues from their first two dates, Matt forced Chelsie to add it all up to uncover a pin code for a safe that he had pulled out of nowhere. And we thought Osher was sneaky with those date cards!
I like to think they were really just doing the proper love equation: the one we all did at primary school to figure out if our crush on the bus really did like us.
Chelsie cracked the code and discovered the producers Matt had gifted her with a necklace with something to do with oxytocin on it. You know, the love chemical Chelsie tattooed on Matt all those years ago in the premiere? Yeah, cute, meaningful, love is real until it's not, etc.
Matt and Chelsie then started to whisper their feelings. Speak up, sweeties! You can't sign your life away for this show and then decided to whisper "I love you" like the cameras won't pick it up.
Chelsie let Matt know that she's fallen for him and it's scary and Matt whispered back all gushy and starry-eyed, "It makes me really happy that you can tell me". Honestly this is the worst ASMR ever. Let's move on.
4. Matt treated Abbie to his best Jack Dawson from Titanic impression.
Matt's excited to see Abbie because he "really does enjoy the way Abbie makes me feel" which, in case you missed it, is horny. Abbie makes Matt feel horny.
Now there's been some strong debate this season about Abbie maybe telling a few sneaky white lies. Normally this has been around her timeline of becoming a baby-making machine. However, today Abbie got caught out in a whopper. She greeted Matt by telling him he looked nice.
Except Matt was wearing this dreadful combo:
Abbie! Enough with the lies.
5. If you thought last week's pool makeout session was a lot, tonight's ocean dip took it to the next level.
"It's a loooooot," – Abbie, somewhere in the distance.

Abbie has the world's biggest blue balls right now, but we can't help to stan a queen who can just straight-up admit that.
And there we have it. The show ended just like this:
Haha just kidding!
It actually ended like this:
"Mother, do you think this is really appropriate for this timeslot?" my two-year-old son asked, looking up from trying to solve Matt and Chelsie's equation by himself. "It's a lot," I replied. "I love it!" my elderly next door neighbour yelled through the door. Doris is also horny AF.
Matt then took Abbie on his superyacht, which isn't actually a euphemism.
Abbie told Matt she loved him. It came out very fast, not the slow deliberate "I'm falling for you" most people give during this part. It was a full "Ilvoeyoiu?" which is maybe the most relatable Abbie has been so far on the show. Matt said he was "delighted" to hear it.
I don't care what situation anyone is in, if a grown-ass man told me he was "delighted" to hear about my feelings, I'd transport him straight back to 1942 where he belongs.
6. Meanwhile, Helena and Matt still looked like they were on their way to sign divorce papers on their date.
This has truly been one of the most long-winded breakups of this modern era, and I say that as someone who once tried to break up with someone for a solid six months.
This however may be one of the more relatable Bachelor couples we've seen in the history of the show. They've had a falling out, they've tried to repair it, and once it's brought up again, everything falls apart again. It truly is a metaphor for most relationships where you just have the same fight about the same issue constantly until you grow old and die.
While Chelsie got a seaplane and make out sesh, Abbie got a superyacht and mack on, Helena got Matt trying to teach her Spanish as they sat with a jug of sangria that was still alarmingly full and then talked about whether her family liked him or not.
Helena said that when Matt came back to smooth things over with her in hometowns, it was a good way of finally being able to tell he cared. Matt wasn't thrilled Helena had tested him and said he had no idea where her feelings were at. She then said in her voiceover she thinks she's made her feelings PRETTY damn clear thank you very much.
And that's an important lesson as to how imperative it is to properly communicate with people. Not that I do that, I just ghost people.
But I'm sure communication is great.
7. It was truly so hard to figure out who would be going home.
A mystery for us all!
8. And just like that, there were two.
Tomorrow night, the final two reunite with Matt's BFF Kate and Matt Jr will finally pick a lady by seeing which direction he points in.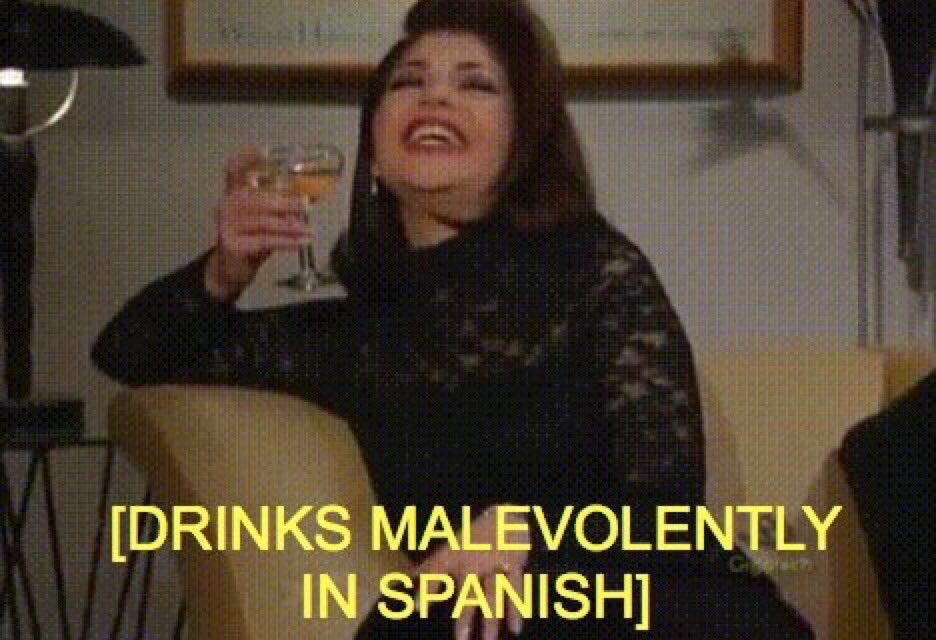 I'd say see you then, but I am sadly missing the episode so we'll catch up in a few weeks for a whole new love story – The Bachelorette that is, not anything from my own life.