'The Bachelorette's' Becky On Her Split With Pete & Reconnecting With Adrian
Becky Miles had to make a tough decision between going with her heart or her head on last night's finale of The Bachelorette, and it looked like she found her fairytale ending with Pete Mann.
Pete was a frontrunner from the start, and he and Becky seemed to have forged a deep connection on the show, while runner-up Adrian Baena was a bit of a dark horse.
Earlier this morning, Becky and Pete announced they had split not long after the finale was filmed. "I wish Pete happiness and all the best in his search for love," Becky said on Instagram.
Becky had said in her early interviews before the show's premiere that she struggled up until the very end making her final decision, before her head won out over her heart in last night's finale, telling Pete he was "husband material".
We spoke to Becky about being blindsided by Pete, her friendship with Adrian, and what's next for her post-Bachelorette.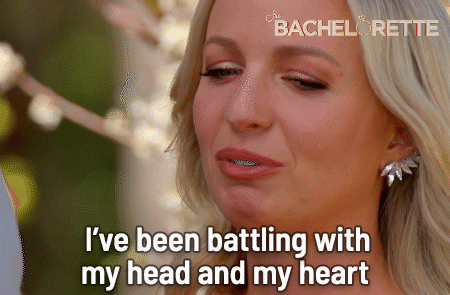 On what really went down with Pete after the finale was filmed:
"[The] finale happened, and that was a really tough decision for me but I thought Pete was willing to take the risk on. We ended up having some time together after the show, we had about three days together, and it was a really lovely time for us. He was saying all the things like 'I'm glad you chose me, I'm glad I'm here' and we were saying we'd miss each other afterward.
"I think when he broke it off, you know, that short time after, I was quite blindsided and hurt by it. After we had time together, Pete went back to Adelaide and I went home and about four days later we had a FaceTime call and he said he realised that maybe there was no spark there between us, and that he's not my person."
"It was really confusing, because we were talking about wanting to meet each other's families and friends, and for me, I was really hopeful and really wanting to give it a real crack on the outside and then figure out who was going to move where. I was open to moving to Adelaide, I knew he had some pretty serious commitments with his family and work, so if we wanted to be together, moving would've been a possibility for me."
On whether she regrets choosing Pete over Adrian: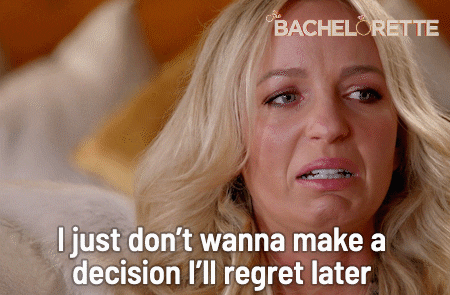 "I think I've gone through that scenario in my head but I think I made a decision based on the information I knew at the time. I'm not one to regret things. If I hadn't have chosen Pete maybe I would've regretted not giving us a go. I'm a little bit sad, because I think Adrian and I would've given it a good crack and there was a lot opportunity there. But everything happens for a reason, and for me I didn't find my person on the show."
On whether she's spoken to Pete while The Bachelorette was airing:
"I spoke to Pete earlier this week, we caught up and I tried to get some closure as well, and I'm not sure I quite have that. But we had a nice, light-hearted discussion about our experiences on the show and we wished each other all the best. There's no bad will there with Pete, I just really want him to be happy."
And on reconnecting with Adrian after she split with Pete:
"So when Pete ended things, Adrian and I reconnected. We have a beautiful friendship, he's always checking in on me, he's a really caring fella. There's a lot of respect there, he was messaging me last night asking me how I was doing, and we had a phone chat and we were both a bit upset, I suppose. At the end of the day I chose Pete and I put all my eggs in Pete's basket and I put all my feelings into Pete. With Adrian, he was really hurt, and I think he has an emotional wall up there too, and we've decided it'll be a friendship with us from here on in."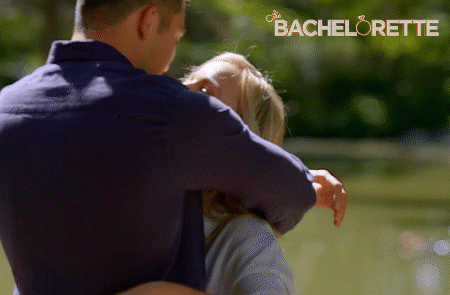 On the backstory behind Adrian's hat on the premiere episode:
"That hat, Adrian got it when he was overseas. It's his lucky hat, he just loves that hat. He's such a free spirit, he's so completely himself, he's such a happy, positive dude and he just loves that hat. That's it!"
On whether she's heard from any of the other Bachy men:
"I did receive messages from Aggi, Damien, Sam, Shannon, Andrew, James… all of them wishing me well, and the best of luck. Sam was on my Instagram last night, someone had said something cruel about me and he was sticking up for me, I thought that was super sweet."
On what she's learned from doing The Bachelorette:

"My biggest learning, I think I just realised how much of a strong woman I am. I'm very proud of myself for just putting myself out there and being vulnerable, honest, and open, and I've learned a lot about communicating and dealing with relationships."
"I'm just looking forward to doing me for a bit, working on myself. I'm still open for love, I don't think I'll be looking for it, but I'm just excited to see what next year bring. I had a blast, it was an incredible experience, I was following my heart… well, my head! But I have no regrets."