We've Pieced Together Every 'Masked Singer' Clue & Reckon We Know Exactly Who The Final 3 Are
The Masked Singer has truly captured the attention of the Australian public like no other reality show this year and with every clue the anticipation of the final reveal has grown.
But one thing we've learnt from the first season is that Aussie viewers are a little too clever for our own good. From the very first episode, people online were instantly matching clues to celebs and by the second week it was all but confirmed who was who.
For me personally, my two greatest loves are reality TV and true crime so investigating who is under the mask each week has perfectly paired my passions. When the clues all line up, it fills me with a false sense of superiority like no other feeling. I am hooked on being so shamelessly smug.
So from studying this shit for weeks, here is the all proof you need.
Here's who we think are the three celebs duking it out in The Masked Singer finale, clue by clue:
Wolf is…
Rob Mills
Clue: The Wolf said he's got a "bad reputation," and is constantly being misjudged but admits that he "did run wild when I was a pup."
Evidence: After Australian Idol, Millsy was known as a party boy and had a notorious one night stand with heiress Paris Hilton.
Clue: He was keen on sports as a pup and dreamed of huge crowds cheering him on.
Evidence: Millsy played AFL until he was 18 years old, before he decided to pursue singing instead. He has also previously appeared on The Footy Show.
Clue: Wolf said: "I've been an apprentice a couple of times."
Evidence: Not only did Millsy complete an electrical apprenticeship, in 2013 he competed on Celebrity Apprentice.
Wolf: "I did run wild when I was a pup" (Paris Hilton)
"Wasn't the runt of the litter," but didn't come out on top (or whatever he said) (Australian Idol)
"Walking on water" (Jesus Christ Superstar)

I know we all knew it was Millsy but there ya go #MaskedSingerAU

— Tahlia Pritchard (@Tahls) September 30, 2019
Clue: While singing is his first trade, he says he's a triple threat.
Evidence: Millsy can indeed act, dance and sing. He has starred in some of Australia's most successful musicals including Jesus Christ Superstar, Wicked, Grease, Legally Blonde and Ghost the Musical.
Clue: Wolf tells us: "Getting to where I am now is a miracle, like walking on water."
Evidence: Jesus Christ Superstar, ding, ding, ding.
Clue: Wolf's bedroom features framed pictures of Kylie Minogue and Holly Valance so there's an obvious Neighbours connection there.
Evidence: Well.. Millsy is on Neighbours.
Clue: He said "I know how to draw attention in a competition," adding, "Although I wasn't the runt of the litter, I wasn't number one either."
Evidence: While Millsy became famous from his stint on Australian Idol in 2003, he only made it to the top five.
Clue: Wolf's personal clue was a lawnmower.
Evidence: In Millsy's intro package for Australian Idol, he was filmed doing his current job: mowing lawns.
Any Australian who doesn't know that Millsy is Wolf should have their citizenship revoked #MaskedSingerAU

— 🏹 ret 💗 (@Retta_Potterfan) September 30, 2019
Clue: He said cryptically "fighting my way to the top is like climbing a greasy pole."
Evidence: This could allude to Millsy's first musical theatre gig in 2005 when he was cast in a small role in Grease – The Arena Spectacular, which was eight years before he was cast as Danny in the stage musical.
Clue: He says he once walked 100km in 24 hours.
Evidence: Just going to leave this here…
Wolf = Millsy#maskedsingerau pic.twitter.com/uO7KKZIm9i

— Trevor Price (@T_Pricey) October 14, 2019
Clue: The Wolf's singing voice sounds exactly like Millsy's vocals.
Evidence: It's Millsy. I've rewatched Season 1 of Australian Idol several times, this ain't my first rodeo.
BONUS INFO:
When we interviewed host Osher Günsberg before The Masked Singer premiered, he told us this little tidbit about immediately recognising one of the celebs:
"I was standing backstage the first day of shooting and I hadn't seen any of the masks at this point. So I'm facing outwards and I hear them coming in behind me. Then I feel someone behind me reach out and grab my ass. Like a proper handful of my ass. Then straight away I was like, 'Oh my god, I know them.'"
WE RECKON HE WAS TALKING ABOUT MILLSY. They are clearly still good mates since meeting on Australian Idol.
---
Monster is…
Gorgi Coghlan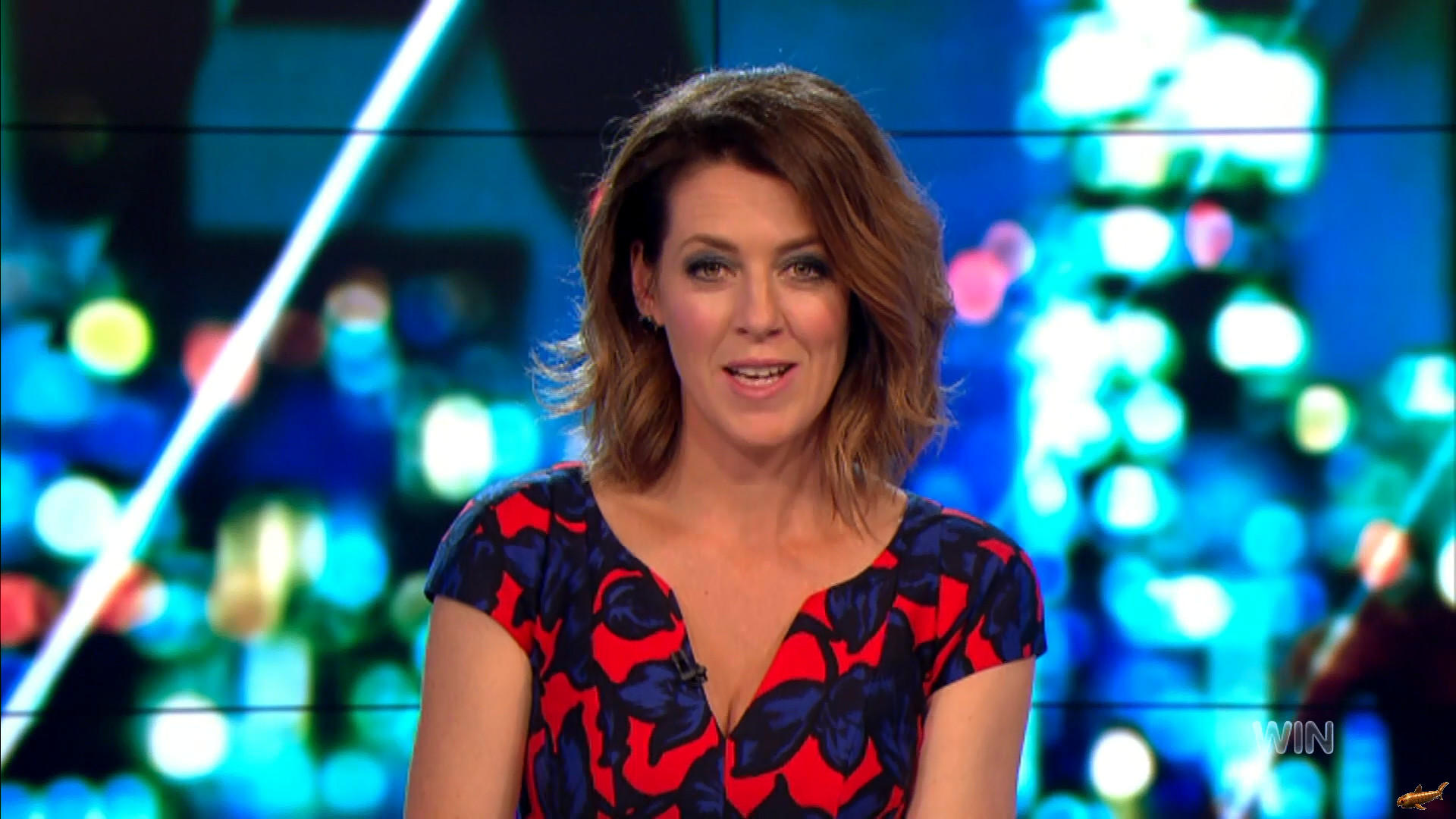 Clue: Monster described her life as being split between two worlds, "with part of me living in the shadows".
Evidence: In an interview with Sydney Morning Herald, Gorgi said: "My existence is two worlds put together. Yesterday I was shovelling horse manure into my trailer at home, and I love the juxtaposition of that to now, I'm just about to head in to makeup to get a full face." You can't get much clearer than that.
Clue: She said, "I've always loved horses and horses love this monster."
Evidence: Gorgi is a horse rider, and has always had a passion for horses.
Clue: One package showed monster had spent time in a laboratory or in a science class.
Evidence: Gorgi has a Bachelor in Science, and worked as a teacher at McKinnon Secondary College teaching biology, science and forensic science.
Clue: She said her work features "heavy material" which followed her shovelling horse poo into a sack with an "O" on it.
Evidence: The heavy material could be describing the news she discusses as a co-host on The Project or in her earlier gig on morning talkshow The Circle, which is alluded to by the "O" symbol.
Clue: Monster told us: "I am more than the voice behind the panel."
Evidence: She is regularly a panelist on The Project.
Clue: Monster is a country girl at heart, saying "I'm a little bit country and little bit glam," adding "It's only in the city that the outer me emerges, that is when I can tell the stories I need to tell".
Evidence: Coghlan lives in Ballarat but travels to Melbourne for her work on The Project.
Clue: She said, "Where I come from, people's thoughts are always going for gold."
Evidence: This could be interpreted in two ways. Firstly, she lives in Ballarat: home of the gold rush. Secondly, working on Channel 10, TV personalities often gun for the Gold Logie.
Clue: She was seen on the piano with the sheet music for Shania Twain's 'Still the One'. We also spotted a replica of Shania's 'That Don't Impress Me Much' getup and Monster said "I have never felt more like myself than when I've acted like someone else."
Evidence: Gorgi was once a Shania Twain impersonator, performing in the country singer's tribute show.
#MaskedSingerAU Monster: Gorgi Coghlan

She did a tribute Show. pic.twitter.com/wkK2hctQZw

— 👻SalaGal (@salagal1) October 8, 2019
Clue: Monster credits the number 31 as a game-changer.
Evidence: Before getting her big break, Gorgi worked on community television station, Channel 31.
Clue: She's a friendly monster and said she would "offer you the fur off my back or somewhere to sleep".
Evidence: Gorgi featured on album The Spirit of Christmas in 2016, which raised funds for The Salvation Army.
Clue: She said she once sang at the MCG for the AFL Grand Final.
Evidence: Gorgi performed at the pre-match of the AFL Grand Final in 2003.
Gorgi Coghlan is 1000% monster.
Performed 2003 AFL Grand Final #MaskedSingerAU pic.twitter.com/E1neTspN2c

— Josh White (@whitie007) October 14, 2019
---
Robot is…
Cody Simpson
Clue: Robot confessed: "I was created by the digital age."
Evidence: Cody was discovered on YouTube by Sean Campbell.
Clue: He said "Growing up, I was surrounded by gold."
Evidence: Cody grew up on the Gold Coast.
Clue: Robot cares deeply about the environment and was seen picking up rubbish and stashing them in 'UN' bins.
Evidence: Cody is an 'Ocean Advocate' for The United Nations Development Programme.
oh yep it's Cody Simpson #MaskedSingerAu pic.twitter.com/sWmfiEVy0S

— Jenna Guillaume (@JennaGuillaume) September 23, 2019
Clue: Robot hinted at being a professional swimmer and his personal clues were swimming trophies.
Evidence: Cody won two gold medals at the 2009 Queensland Swimming Championships.
Robot Clue: He said "As a young robot, my favourite animal was the butterfly," but added he now prefers "something that goes 'tweet'".
Evidence: Cody preferred swimming stroke was butterfly and now he spends a lot of his time on Twitter.
Clue: Robot admitted "I headed East like a moth to a flame, but I soon realised others were controlling my program. I felt like such a clone! So I short-circuited the production line and I'm now very much my own robot."
Evidence: Simpson moved to Los Angeles in 2010 when he was 14 years old. But in 2014, he left his record label, Atlantic Records, due to creative differences and started working on his own solo album.
#MaskedSingerAU @lindsaylohan Guessed Cody Simpson correctly. pic.twitter.com/l7VcLtnf4p

— 👻SalaGal (@salagal1) October 15, 2019
Clue: Robot said he hates bubblegum pop and he doesn't use auto-tune. We also see a security guard pop Robot's bubble gum.
Evidence: Before he left his record label, Cody was doing bubblegum-pop songs, including a cover of 'I Want Candy'.
Clue: Robot was pictured playing chess with his bodyguards.
Evidence: In an interview with Imagista, Cody said "I was a very good chess player and was in a chess club in school."
Clue: Robot shared that he had spent time with MC Hammer.
Evidence: This clue is intended to cause confusion but what it is referencing is that both Cody and MC Hammer were part of the same doll line.
Another thought for the Cody Simpson/MC Hammer clue. They were both part of the same doll line.https://t.co/jvsSvC1pks
#MaskedSingerAU

— Christopher DeBono (@Swiftnissity) October 14, 2019
Clue: Robot was seen strumming on a guitar with 'I love Flo Rida' on it.
Evidence: Cody's debut single 'iYiY' featured Flo Rida.
Clue: We see a table stacked with three black hats, a bowl of spaghetti and a pile of Russian dolls.
Evidence: Starting its run in 2018, Cody starred in the lead role of Dmitry in Anastasia on Broadway in New York City, which is symbolised by the top hats, Italian food and Russian reference.
–
So there you go! After living and breathing The Masked Singer clues for the past month, I really need a holiday.