Gretel Killeen On Being Exposed By Two 'Big Brother' Housemates On 'The Masked Singer'
On last night's first episode of The Masked Singer, comedian, author and original Big Brother host, Gretel Killeen was unmasked.
As a non-singer, she put in a pretty good effort against Robot (prediction: Cody Simpson), when she sang 'Fame', bringing weird, tentacled sex appeal to the unusual singing contest.
Dannii Minogue thought the Octopus might be Australian Idol star Paulini, while Lindsay Lohan, offering dark energy/international legitimacy to the show, pegged her as Courtney Act. But not before pointing out that lady octopuses eat their mates (!!!).
But Big Brother alumni Chrissie Swan and Reggie Sorensen clocked Gretel a mile away.
She ended up against Wolf and Alien at the end, and alas, it was decided that the Octopus' true identity should be revealed.
Punkee spoke to Gretel Killeen about the strange vulnerability in having your identity stripped from you on The Masked Singer, and how reality TV has evolved since Big Brother premiered in 2001.
Here's what Gretel Killeen had to say about her The Masked Singer experience:
On deciding to go on The Masked Singer
"The choice was about being brave, and I think that's really important – to push your own boundaries and find out who you are. I think a lot of people lead really fearful lives, and they're really small lives, and so I like to lead a big life and challenge myself. I was completely out of my comfort zone.
"The more serious side of it is that I do things I like that because then I can earn income and a profile and then I can help other people. So I was just back from Kenya where I did a walk for Young Care, which is for kids with disability – it's awareness for that.
"I do something like The Masked Singer and have a hoot doing that, and then that buys me time and profile to do other things. So literally, using my voice for other people. That's important to me."
On how it felt to have the public and judges guess who she was, and who pegged her immediately
"I know of two people personally who recognised my voice, and it was Chrissie and Reggie from Big Brother. They both spotted it. I think that might be a testament to how important the voice was to them when they – I mean I never sang to them – but how important hearing outside contact was during Big Brother. You know, that it was a really vital thing for them.
So got it right 😀🎉🎉🎉🎉🎉🎉🎉🎉🎉🎉🎉@oshergunsberg #TheMaskedSinger https://t.co/ygnQUUq7Je

— REGINA SORENSEN (@BBreggie) September 23, 2019
"Other people in the public were thinking I was Courtney Act – she's a wonderful singer and gorgeous, so there's no problem there. And other people thought that I was Olivia Newton-John which is, of course, [was] high praise indeed. It was nice that people actually thought I was a singer – not everybody did – so that was flattering."
On the weird as hell secrecy of the show
"We can't seek comfort from other people because other people can't know who we are, even on the set. We have like one person who's the person you're allowed to talk to and then some people who help you dress and the producer, and that's it. Other than that you have no communication.
"Then you get in a costume that you can't see through, can't see out of, or can't walk in, and you can't see the audience. And you're doing something you've never done before, which is singing like this, with an egghead on your head. Anything that would normally make you feel safe is not there.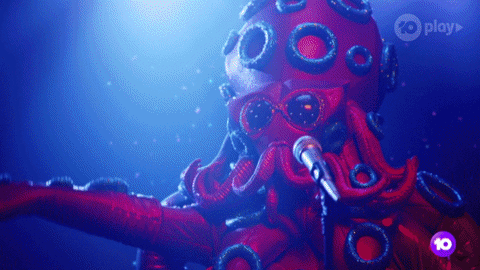 "No one knows who you are and you're not allowed to talk to anyone. So you actually lose your personality. You can't connect and communicate with people. So all you have is the grit inside you that keeps you going."
On what she learnt doing The Masked Singer
"I know that I have grit and determination. I think one thing that happened to me is that I just got a little: I like human contact, I like humans, and to not be able to hug, it made me realise how much I love connecting with people. That's probably the main thing I learnt.
"I'm more than happy with my own time, but… It's also interesting to not have any of your successes or any of your personality traits there with you, because you're just treated, you're called Octopus, or you're called Alien. Your name is gone, everything is gone. So you've just gotta have this little ball of grit and determination inside you."
On how it would've been nice to be the Unicorn, but that's just not how the cookie crumbles
"I was rung and they said, 'Oh, we think you'd be good as the Octopus,' and I wasn't sure if that was a flattering thing or not, as you can imagine. They said, 'It's this metaphor, because you work in a whole lot of different areas and you've got fingers in different pies, so therefore the eight arms is relevant.' And I thought, okay, fair enough.
"I did think, oh, the Unicorn is a lovely idea, kids are gonna love the unicorn, but I was the Octopus. And I enjoyed being the octopus, I must say. It would've been a little bit more comfortable with less arms, but then just I would've been an Egghead."
On returning to reality TV – but this time as a contestant, not the host
"I guess the difference is that that I've hosted shows and here I was at the other end of it. That's an important thing to do too – to just surrender and let other people be in control of you. It's an interesting experience and everybody was great. This was the very first show we've ever done in Australia like this, and it was intense for everybody, but we got the ratings this morning and everybody's thrilled to bits, because I think it was the top show of the night. So that's great."
On how reality TV has changed since Big Brother launched in Australia in 2001
"It was a different world then. Facebook didn't exist. You used to vote by text message. The first people who went into Big Brother –YouTube didn't exist," Gretel said. "So the people who went into it weren't looking for fame at all, they were looking for an experience and an adventure.
"I think there were really interesting qualities that were pursued then. Big Brother in those days was about, the original essential theory was, watching people in a house. It was really an anthropological study of how will people relate for 12 weeks in a house. Now [reality TV has] evolved.
"I think it's really, really important in all of our mediums to try and maintain a good message for kids of respect. That's why I like this show [The Masked Singer] because it's putting ourselves out there and not taking ourselves really seriously. I think that's really vital.
"It's respecting each other and looking after each other on the show. You know, like how you can see the characters hugging and holding hands. It's not belittling of anyone, it's praising people for giving it a go."
–
The Masked Singer returns tonight at 7:30pm on Channel 10.