The Weeknd & Bella Hadid Might Be Dating Again AKA This Can't Get Any Messier
Important celeb 'ship update: Selena Gomez is dating Justin Bieber and The Weeknd is possibly dating Bella Hadid. Yes, again. The past is repeating itself, everyone is switching boyfys left, right and centre and it's all kinds of petty.
I LOVE IT.
While only days ago we were reporting that The Weeknd was dating JB's ex Yovanna Ventura, guess what? The world turns fast so KEEP UP, KEEP UP.
This is what's happening now. In the ultimate switcharoo, The Weeknd has got his sweet revenge on Selena after she went running back to the Biebs following their split. The 'Starboy' singer is having secret hangs with his ex, aka Victoria's Secret model Bella.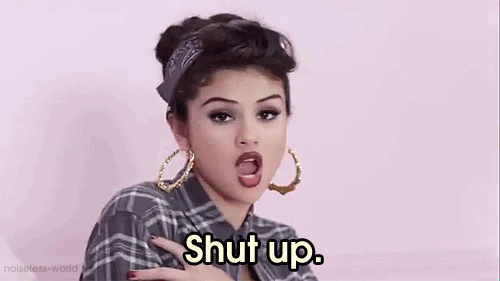 It wasn't just some innocent meet-up either, The Weeknd was spotted leaving Bella's apartment in New York City, so the two of them are as good as back together/ at least banging.
LMAO he look hella sneaky pic.twitter.com/F9v5lAvlur

— The Weeknd's Style (@AbelsOutfits) November 16, 2017
While Justin and Selena aka Jelena continue to be glued at the hip. They were even recently seen visiting one of their old date haunts in Lake Balboa, Los Angeles.
I guess all's fair in love and petty, messy hot people drama.
Twitter is divided over the celebs running back to their exes:
Bella Hadid & The Weeknd might be back together?
Did he and Selena just pretend to be in love for months to piss off their ex & then run back to them after they got sick of each other? ????

— vanessa ???? (@nessaXviolet) November 15, 2017
So y'all easily threw shade at Selena when she was with Justin but don't have a single word to say about Abel aka The Weeknd apparently getting back with his ex Bella?

— many???? (@SecuteDua) November 15, 2017
Hearing that Bella and The Weeknd have been seen 'hanging' out recently got me hyped af ????????????????????????

— Zainab (@Zainabb_p) November 15, 2017
The Weeknd seen leaving Bella Hadid's apartment two weeks after breaking up with Selena..???

I

fucking

LOOOOOOOOVE IT!

— mel (@mellywellykinz) November 15, 2017
ok, after selena and the weeknd broke up

selena and justin bieber got back together
the weeknd and bella hadid also got back together

wow what a concept?

— vianne (@112nv) November 16, 2017