End Of An Era: The Top Viral Moments From 'Keeping Up With The Kardashians'
It's safe to say that when the Kardashian family signs off in 2021, they'll leave a lasting—if not surprising—impact on pop culture.
Who could have predicted that the stars of a reality show about a somewhat famous family would define the 2010s? From the screen to social media to real-life conversations, the Kardashian-Jenner family has had the whole world tuning in and wanting more.
Over 20 seasons and 14 years of filming, we've decided to take a look back on some of the most viral (and memorable) moments.
1. When Kim Kardashian lost her diamond earring: S6, Ep 12
Even if people who have never seen an episode of the show will recognise this one. On a family trip to Bora Bora, Kim is thrown into the ocean by her then-boyfriend Kris Humphries. Her $75k diamond earring falls out and just like that, Kim's iconic crying face was born. If you think it doesn't get more iconic… it does. While Kris Jenner attempts to console Kim, Kourtney thinks it's time to put things into perspective for her diva sister and that's how the iconic "Kim, there are people that are dying" was first uttered.
2. When Kim took a selfie of herself when Khloe was going to prison: S3, Ep 1
There is no better time to take a selfie than when you're dropping your sister off at jail… you heard that right. For context, Khloe violated her probation after getting arrested for a DUI – so she had to serve a 30-day sentence in jail. On the way to drop Khloe off, the Kardashians couldn't contain their amusement – cracking jokes and watching Kim take selfies. Kris scolded "Kim, would you stop taking pictures of yourself, your sisters going to jail". Apparently, Khloe only served three hours of her 30-day sentence due to overcrowding – making it a great story to tell the grandchildren!
3. Kris Jenner's "You're doing amazing sweetie": S1, Ep 4
Momager Kris Jenner watches on as Kim Kardashian poses nude for Playboy magazine. To give a little encouragement, Kris starts snapping her own pictures and champions Kim by saying "You're doing amazing, sweetie". This iconic moment didn't really take off until 2014 when it turned viral on social media and is now the go-to hype phrase.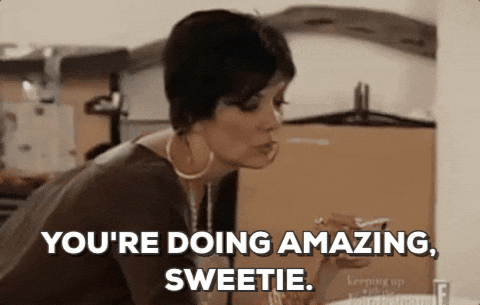 4. Kim and Kourtney fight: S18, Ep 1
If you think your family is the only one that fights, think again. Although not humorous, it's hard to forget the catfight between Kim and Kourtney. In the season 18 premiere, the two sisters broke out into a fight as Kim accused Kourtney of not putting in effort when it came to filming. Things got heated and soon turned physical – with Kim kicking and slapping her older sister, leading Khloe to have to jump in and break up the row.
5. Kris Jenner's allergic reaction: S7, Ep 9
Ah, now that's a botched job. Whilst on vacay in the Dominican Republic Kris Jenner has an allergic reaction to something. She suggests that maybe it was the food, but Kim has alternate motives. "Did you really sneak here to get your lips done?" she mocks. It doesn't take long before Kris finds herself on display for the whole family.
6. Kim's Speech at the White House to Trump: S19, Ep 3
In 2018, Trump invited Kim Kardashian to speak at the White House to advocate for prisoners – particularly a case on a woman serving a life sentence for drug offences. Kim has been urging the president to pardon 63-year-old-great-grandmother, Alice Marie Johnson who has spent more than two decades behind bars and is not eligible for parole. Kim argues that she is a woman without a prior conviction, a model inmate. In a letter from Johnson she says "I'm a broken woman. More time in prison cannot accomplish more justice."
A week after Kim visited, Trump granted clemency, releasing Alice Marie Johnson soon after from a life sentence. This memorable moment has gone down in KARDS history and for all the right reasons.
7. Kourtney gives birth to Mason: S4, Ep 11
How can we not mention the first baby born in the Kardashian family, Mason Disick. Kourtney was the first of the famous siblings to give birth, welcoming Mason in December 2009 onscreen for the world to see! She was also the first (and so far, only) who pulled out her own child during labour making it one of the most viral births in history.
8. Kourtney impersonates Kim: S17 Ep 12
The season 17 finale shows the Kardashian-Jenner clan impersonating each other as a "team-building activity". Every impression was great, but Kourtney's impersonation of Kim definitely outshined everyone. "My pants are yeezy. My shoes are yeezy. I have seven stylists that put me in sweats and leggings… just like, that effortless look, you know, but… it's really actually a lot of effort" said Kourt (as Kim). Talk about savage!
View this post on Instagram
9. Kourtney's Droopy Lip Moment: S9, Ep 6
After a visit to the dentist, Kourtney joins Khloe for lunch but the anaesthetic in her lip hadn't worn off yet. They both find it very amusing and it's impossible not to laugh along with them as Kourtney tries to explain to Khloe what the hell happened.
Want to reminisce on more Kardashian drama? Check out some of Kourtney Kardashian's best one-liners here.