The Loosest Moments In 'Big Brother' History, Ranked
Big Brother is back, with a brand new season just around the corner, and it's got us feeling all nostalgic about the original series — and its loosest moments.
In its heyday, Big Brother provided phenomenal TV, genuine drama, and absolutely hilarious scenes. From Tully and Drew's tumultuous relationship to Merlin's silent protest, oh and that time the series sent in twins who had to pretend to be one person. It was reality TV at its finest.
But which moment across the show's 11 seasons trumps the rest? It's time to rank them all!
The loosest moments in Big Brother history, ranked:
#26. Corey Worthington Enters The BB House, Season 8
When it was revealed that the notorious party teen would be heading into the BB house, we expected fireworks. But when it came down to it, it was just a 16-year-old in a house full of adults, and he didn't stir any drama whatsoever. Corey stayed in the house for ten days.
#25. Ben Throws A Glass Of Water On Bradley, Season 9
Tensions boiled over when Bradley joked that there was a rift between the old and new housemates, which prompted Ben (a new housemate) to throw a glass of water in Bradley's face. It was high drama, extremely unexpected, and eventually led to Ben calling out the young contestant for his behaviour in the house.
#24. Kieran Wears Grubby Beige Undies, Season 2
Kieran came in as an intruder on season two and I still have night terrors over his filthy-looking beige undies, which he insisted on wearing around the house. He eventually became known for his nickname 'The Beige Hornet', and I'm not even kidding.
#23. Bridgette Loses All Her Possessions, Season 8
After an evicted housemate voted for Bridgette to lose all her possessions indefinitely, she almost left the show, then spent most of her time in the house crying about it…and wondering what "indefinitely" meant.
#22. Celebrity Miriam Enters The BB House, Season 4
Model Miriam Rivera appeared on her own reality show There's Something About Miriam, a dating series that waited until the final episode to reveal to Miriam's suitors that she was transgender. It was awful, and Miriam entered the BB house under a similar premise. Looking back, the whole thing was beyond tone-deaf.
#21. Stacey Dates A Cardboard Cutout Of Ryan Gosling, Season 9
Stacey's dream of dating Ryan Gosling was fulfilled when Big Brother gifted her a cutout of the heartthrob, and she carried him with her everywhere she went. This truly was the weirdest timeline.
#20. Lawson Cheats On His Girlfriend With Cat, Season 11
Following Tully and Drew the previous season, this was the series' second-biggest cheating scandal as magician Lawson started a relationship with nurse Cat, despite it being known that he had a girlfriend outside the house. Weirdly enough, Lawson and Cat ended up dating until 2019.
#19. Chrissie Vs. Ben, Season 3
Ben was the worst and Chrissie told him so, labelling him a bully as women around Australia cheered her on. Chrissie ended up placing runner-up behind Reggie, and became one of the series' biggest success stories and a household name. While Ben, errr….who?
#18. Tim Yells Out His Vote For Tully, Season 9
Tim was a loose unit at the best of times, and he provided the most savage nomination moment of all time when he yelled out, "did you get that Tully??" while nominating Tully. I think she got it.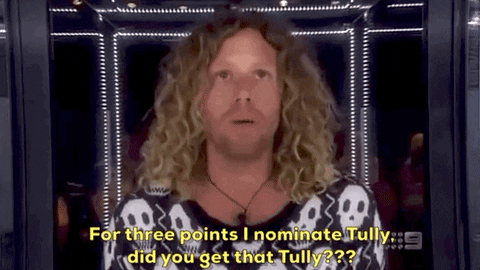 #17. Layla & Angie Fight Over Sam, Season 9
In one night, intruder Sam kissed both Layla and Angie — two best friends at the time. They ended up having a screaming match over it, Layla spotted a hickey on Angie's neck, and their friendship in the house was never the same.
#16. Tim Plans His Non-Existent Birthday Party, Season 10
Tim brought nothing but chaos to his season, making him one of my favourite winners of all time. But his funniest moment (and there are heaps) was convincing the whole house one day that it was his birthday, and making them believe they would be having a party that night. It wasn't Tim's birthday and the party never came.
#15. Ben Gets Stuck In The Pool While Drew/Tully Argue, Season 10
I remember watching this moment on the daily show and thinking it was the funniest thing I'd ever see in my lifetime. Watching it in 2020, I back my original assessment. Tully and Drew constantly argued in their season, and during a particularly heated fight, Tully told Drew to keep his voice down, but he said there was no one around. At this point, Ben announces himself and it turns out he was stuck in the pool the entire time.
The whole scene is actual art. Please do yourself a favour and watch the below clip in full:
#14. Krystal Seduces Gaelan In The Spa, Season 6
Big Brother: Up Late was the wildest of times, and one specific memory I have never been able to shake is the time Krystal tried to seduce an unresponsive Gaelan in the spa. Despite her flirtatious splashing about, he really wasn't having a bar of her and it's still very funny to this day.
#13. Gemma Is Savagely Voted Out By Her Housemates, Season 11
This is the only season 11 moment to make the list, and while it may have been a snoozer of a season, the first eviction was absolutely savage. Housemates had to choose between the bottom two contestants, and stand behind who they wanted to stay. It was between Jake and Gemma, and only one person stood behind Gemma. The eviction was quickly called out for promoting bullying. Not cute.
#12. Paul Vs. Merlin, Season 4
Before Merlin's silent protest on his eviction night, he was already making waves for his explosive argument with fellow housemate Paul, who attacked Merlin over not being an Australian citizen. It was ugly, and Paul's comments haven't aged well.
#11. The Boys Do A 'Reverse-Kanga' In The Women's Toilet, Season 5
Under Dean's direction, the boys kept leaving 'reverse-kangas' in the ladies' toilets, and if you don't know what a kanga is, here's the clip (in the same video, Logan David suggested defecating on their bathroom floor as well.) Another moment to be filed under: men are disgusting specimens.
#10. David Absolutely Implodes, Season 6
David was accused of being calculating for using his nomination to save another housemate — rather than himself — which left David offended that his motives were being questioned. This led to the farmer chucking a massive tantrum and announcing he was going to leave. Thankfully, he didn't.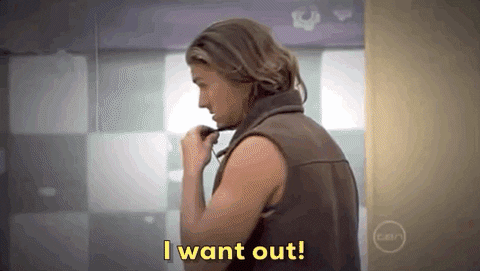 #9. Jess & Marty's BB Wedding, Season 2
For a short moment in time, Jess and Marty were Australia's answer to Romeo and Juliet. They had a whirlwind romance which culminated in a faux-wedding in the BB house, before having a real wedding…which again aired on TV. They sadly split after only 15 months of marriage.
#8. The Turkey Slap, Season 6
The BB house was rocked when two housemates, John and Ashley, held down fellow contestant Camilla as Ashley put his genitals in her face. The whole thing aired on Big Brother: Up Late, and the next day John and Ashley were removed from the house, and Prime Minister John Howard called for the show to be axed.
#7. Everything Vesna Ever Did, Season 5
Vesna as a housemate was a revelation, and a scene where she sat beside Dean on a bed plucking her pubic hairs, or as he said "picking at her burger", is still one of the loosest moments to date.
#6. The Dancing Doona, Season 1
It was pretty tame compared to what was about to come, but when Christina and Peter hooked up under the doona on the first season, all of us watching at home lost our innocence forever.
#5. Merlin's Silent Protest, Season 4
A moment for the history books. Merlin sneaked in a 'FREE TH(E) REFUGEES' sign, which he held up on stage after he got evicted, while refusing to say a word.
#4. Gretel Takes Zero Shit From Michael, Season 5
Michael was a classic pot-stirrer, and during a post-elimination interview he told Gretel that he had been unfairly edited. She was not here for that, telling him: "Listen mate, if you're going to tell me on a show I've worked on for six years, that we've edited something, and it has not been edited, I'd like to know who told you that."
I remember watching this and screaming, as it was a side of Gretel we'd never seen before. What a boss.
#3. Bree Gets Wrongly Evicted, Season 4
Lol. What a fuck up. Bree was given her marching orders out of the house, only to be sent back in after Gretel revealed they'd stuffed up the voting. Wesley was rightfully evicted in her place, and Bree ended up coming second that year.
#2. The Logan Twins Pretend To Be One Person, Season 6
As BB went along, the twists the series served up became more frequent, but nothing ever will compare to the Logan twins debacle: two brothers who don't actually look identical attempting to fool their housemates into accepting them as one person. The results were hilarious, and they were predictably called out after a few days. However, this didn't spoil their chances as Logan Greg ended up winning the season.
#1. Tully Cheats On Her Girlfriend With Drew, Season 10
There's been a lot of BB relationships, but they all pale in comparison to Drully. Tully entered the house with a girlfriend but fell for Drew, leading to her partner publicly dumping her. Then after Tully was evicted, she reentered the house to tell Drew she was now single. CHILLS.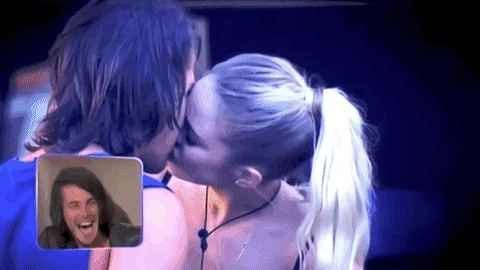 It was truly a moment in reality TV history we will never forget, but oh boy, it was a mess.