Everything We've Learnt So Far From Jeffree Star & Shane Dawson's Documentary
The only thing worth talking about right now (besides The Bachelorette, of course) is Jeffree Star and Shane Dawson's YouTube series. I'm obsessed.
This is the second season of the series, with the first The Beautiful World of Jeffree Star seeing Shane immerse himself into Jeffree's lifestyle, aka living a life of ludicrous luxury.
Most of this year's season has focused on the conception and creation of the two YouTube giants' first makeup collaboration. Don't get it twisted, the docuseries is clearly just a thinly veiled ad for their Conspiracy Collection. But it has worked a treat, as the entire collection has almost sold out worldwide and ICYMI we gave the palette a glowing review.
some people are like "I GOT IT" and i'm over here like:#ShanexJeffree #ShaneDawsonXJeffreeStar pic.twitter.com/Uburl4Z7Eo

— 🦋frida (@fridajohh) November 1, 2019
But aside from their makeup collab, the documentary has spilled all kinds of tea on some longtime feuds and controversies, so we've picked out some of the spiciest moments.
We've only seen six parts of the nine-part series and already we're shook.
Here's Everything We've Learnt So Far In Shane Dawson & Jeffree Star's Documentary:
Shane DID NOT Fuck His Cat
There was an entire episode dedicated to this small controversy (which seemed to be a much bigger deal to Shane) as the YouTuber felt forced to confirm that he, well, here's the infamous tweet…
i didnt fuck my cat. i didnt cum on my cat. i didnt put my dick anywhere near my cat. Ive never done anything weird with my cats. I promised myself i wasnt going to make apology videos after last years thing so im just trying to be as short and honest with this as possible. (1/?)

— Shane Dawson (@shanedawson) March 18, 2019
The rumour sprung from an old podcast episode where Shane had joked about errr, ejaculating on his cat and the clip spread like wildfire, leading to the hashtag #ShaneDawsonIsOverParty trending.
The episode showed Shane's reaction in real-time and the scandal absolutely rocked him. "Today was a not good day because the whole internet thinks I fucked my cat," he said before confirming one more time, "It's physically not possible, but we're not gonna get into that. Imagine…Imagine anyone putting their dick anywhere near a cat. Literally not possible."
Me watching the series :#JeffreeXShane pic.twitter.com/DskEJQxjas

— cooking in animal crossing? (@potatertomater) October 19, 2019
OK, good to know!
---
Shane Would Have Proposed To His Boyfriend If It Wasn't For #CatGate
The part-two to the controversy that most of us didn't see was that at the time Shane was preparing to propose to his boyfriend, Rylan Adams, before it got derailed by #CatGate.
"This whole situation ruined not just my day. It ruined so many things," Shane said, as he showed screenshots of texts trying to coordinate the proposal with Ryland's mom. Thankfully, after the controversy died down, Shane proposed and Ryland said 'YES'. Cute!
HE SAID YES!!!!!! :,))))) pic.twitter.com/phbJZydX2l

— Shane Dawson (@shanedawson) March 20, 2019
---
Jeffree Reckons He & Shane Were Targeted In A Joint Attack
Just when we thought things couldn't get any more melodramatic, Jeffree had a legit crisis. His factory was burgled and millions of dollars worth of makeup was stolen from his facility, which happened at the same time that Shane was hit with accusations about his cat.
"When it rains it pours, right?" he told Shane. "I woke up today and $1 million of product was stolen from my warehouse last night. We believe that it was an inside job and I'm in full panic mode."
While some might think this was a random attack, Jeffree saw the entire thing as deeply personal and that he and Shane were "targeted" by potential enemies. "Some people just do not want to see us win," he said.
WHAT THE FUCK DO I DO NATE HAD ME ON THE FLOOR #JeffreeXShane pic.twitter.com/oMjCt81aaV

— ʀᴏ | ᴄᴏʟʟᴇɢᴇ ʟɪғᴇ (@gIossyro) October 19, 2019
"For all of this shit to happen within the same timeframe it almost feels like someone's out to get both of us. And I know that's probably impossible; if they're getting us both at the same time then we actually should be fucking worried. But it's so scary because it's the unknown," Jeffree says.
I don't quite see how Shane's old clip surfacing is connected to a makeup heist but Jeffree was pretty convinced. "We're done playing," he warned.
---
The Beef With James Charles Was Briefly Hinted At
I can safely assume that most of the people that watched the series were there for the James Charles tea. Sadly, Shane confirmed over the weekend on Instagram Live that most of the drama has been cut from the final episodes as he decided it didn't reflect the message of the series. Watch Shane explain it all here.
But thankfully we've already been gifted some little droplets of tea so far. First up, in the series premiere, Jeffree was telling Shane about Morphe holding meet-and-greets with influencers like James Charles and Jaclyn Hill. To this Shane asked "We like them?", and Jeffree replied, "Yes…today". This was perhaps a warning of what was to come with the Tati Westbrook drama that Jeffree inserted himself into.
Me!! Even though I don't have the James Charles pallet #JeffreeXShane @shanedawson @JeffreeStar pic.twitter.com/H7B6XJWseu

— Selenerr 💋 (@SelenaGomora24) November 1, 2019
But things got extra tense when Shane and Jeffree decided they wanted to launch their collection in November. In an awkward phone call, a Morphe executive warned them that another influencer had a launch date around the same time.
"I think that there will likely be an anniversary of the James Charles palette we launched last November… we haven't clarified the exact timing," they told Shane and Jeffree.
But the duo weren't having it. Instead they wanted their collection to be the only Morphe launch in November and it looks like they got their way. Morphe prioritised the launch of Conspiracy and James' mini palette was released in October instead. Game, set, match.
Morphe pushed up James Charles re-launch to make room for the Shane Dawson palette. Bye sister 😂 #ShanexJeffree pic.twitter.com/YK6Iw7tZSx

— JUSTICE FOR BLAKE (@realitytvtrash_) October 18, 2019
after the launch of the #ShanexJeffree palettes this is gonna be everyone when James Charles and that mini palette get brought up

— Dustin Dailey ♏️ (@ThreeDailey) October 19, 2019
---
Drama With Nikki Tutorials Was Reignited
If you're not across the drama between Jeffree, Nikkie Tutorials (aka Nikkie de Jager) and Too Faced cosmetics, here's a quick summary. Too Faced released a palette in collaboration with beauty influencer Nikkie and she made barely any money from the deal. At the time, Jeffree was friends with Nikkie and called out Too Faced founder Jerrod Blandino for underpaying her.
Okay, now that we're all caught up, in the second episode of the documentary, Jeffree spilled even more tea. Jeffree said that Nikkie was paid only $50k for her Too Faced palette – while the brand sold over $10 million of products.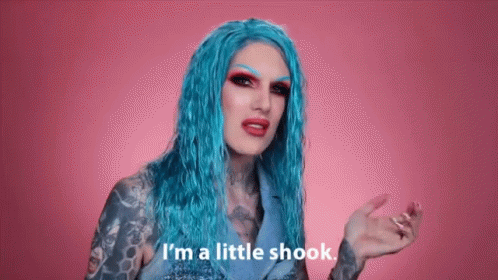 "When she told me, I was so horrified. And when I kind of let that secret out it turned really ugly," Jeffree explained. "I've seen YouTubers and other influencers take dirt because they didn't know."
Nikkie has since replied to Jeffree's comments, backing up everything he said in the series on Twitter.
I signed my contract with TF back then because I was naive & didn't know better. at the end of the day, I signed it, it's my own fault— but what I'll never forgive is that "allegedly" they changed the palette's quality behind my back. 1000's of negative reviews & I was clueless

— NikkieTutorials (@NikkieTutorials) October 6, 2019
I had to see all these negative reviews, while the palettes I had were outstanding. "they lying in their videos to get views" is what I was told. I don't care about the money.. but I had to fight YEARS to prove my authenticity and gain your trust again. 💔

— NikkieTutorials (@NikkieTutorials) October 6, 2019
and to any newer influencers about to get a collab: GET A LAWYER AND TRIPLE CHECK THAT SHIT!!!!!!!!!!!! 😇😅✨ #lessonofthedecade

— NikkieTutorials (@NikkieTutorials) October 6, 2019
---
Shane Has Missed Out On Thousands Of Dollars In Sponsorship
In episode three, Jeffree revealed that Shane could have made thousands from some of his past Instagram posts. Pointing out an unsponsored giveaway with cosmetics brand Anastasia Beverly Hills, Jeffree told him, "Anastasia could have paid you $200,000+ to do this giveaway. You just gave them so much free publicity which is so cool because they're friends of mine but you could have done at least $250,000 Instagram sponsorship."
Shane lost his damn mind. "So I could have made $200,000?" Shane replied. AWKWARD.
–
With the last eps dropping in the coming weeks, I've got to admit it's a utterly fascinating series and I am hooked.
Literally me everytime a new episode comes out #JeffreeXShane pic.twitter.com/XGYQzPJZnI

— Marcus Alvarez (@ma629_marcus) October 19, 2019
I've never watched Shane Dawson or Jeffree Star before, but I've watched every minute of the #JeffreeXShane documentary series and it's been brilliant 👏 pic.twitter.com/EfSjV9QNay

— Kip (@KipClips) October 29, 2019